Men's Team
1
Things We Love: Gabriel Jesus' tale and #SharkTeam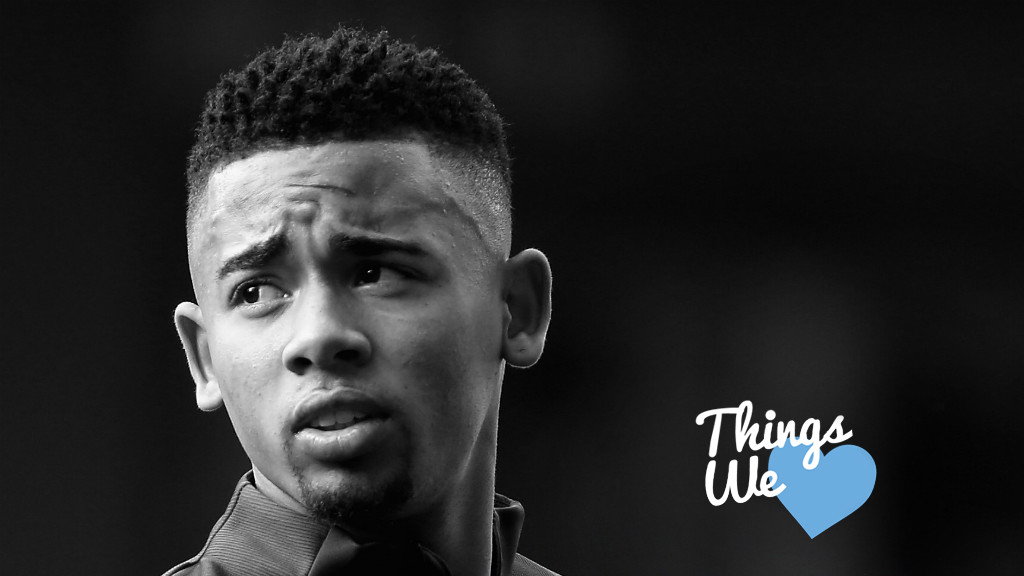 BRAZILIAN MAGIC: In our latest edition of Things We Love, Gabriel Jesus talks us through his life...
A new emoji, the story of Gabriel Jesus and fantastic Phil Foden all feature in our latest edition of Things We Love…
Emoji joy
The big news of the week… the introduction of a new emoji – and it's just for City!
Inspired by the personable, social media savvy Benjamin Mendy, Twitter have created a new emoji for our Shark Team hashtag!
Go forth, use and enjoy!
Ahahah its official !! The #SharkTeam emoji NOW on Twitter 😍😍😍
Thanks fam @mancity 👍🏾 #WeKeepEating

— Benjamin Mendy (@benmendy23) December 15, 2017
---
Call Your Momma
We're big fans of pieces by the Players' Tribune. Their latest offering is extra special as it features our very own Gabriel Jesus.
The Brazilian talks us through his life – from his upbringing in Peri Jardim to his footballing journey – and his time at City, including the true meaning of his 'telephone' celebration.
An absolute must-read. Here's the article in full.
---
Fantastic Phil
An incredible week for Phil Foden saw the youngster scoop the BBC's Young Sports Personality of the Year award before helping City to the semi-finals of the Carabao Cup with a penalty shoot-out victory over Leicester.
With a World Cup gold medal, plus the Golden Ball, and a first-team debut, Stockport-born Foden has enjoyed an exceptional year.
Congratulations, Phil on your award. Richly deserved.
Congratulations to @PhilFoden on winning the BBC Young Sports Personality of the Year award! #mancity pic.twitter.com/sG2CXF4P4X

— Manchester City (@ManCity) December 17, 2017
---
Mini me
Another adorable shot of Danilo and his little lad.
Just look at those facial expressions! Like father, like son.
All together now… Awwwwwwwwwwww!
Comunidade ! Rs 🤣❤️🔵 #quemdiriahein #debicaspromundo #mancity pic.twitter.com/7UPZNco9D0

— Danilo Luiz (@2DaniLuiz) December 18, 2017
---
Merry Christmas, ya filthy animal!
Very cheeky but very good from SPORF, who parody Christmas classic movie Home Alone with Pep Guardiola 'playing' the mischievous and clever Kevin McCallister.
It's the thought process behind this that amuses me most, as if someone was watching the film and commenting on Kevin's ability to constantly overcome the villainous Harry and Marv.
Somehow, that drew comparisons with Guardiola's City and thus, this work of art was created…
---
Christmas Number One
Kudos to Jenny's mum, who ensures there'll be a Blue Christmas in their household!
@ManCity When your mum decides that @PepTeam belongs at the top of the tree as well as the league table 👕⚽️🙌🏼 #bluechristmas pic.twitter.com/JlSH82ckJE

— Jennybobbs (@jennybobbs) December 12, 2017
---
Zoology
I have to admit, I cannot explain the meaning of this but I like the description of City as a 'lion zoo' – whatever that means…
Manchester City are having a good time, but they're one lose away to reveal their weaknesses. Now they're a lion zoo, but if they lose, they will become just an animal zoo where there's even possible to see Pandas, Penguins and many more like that

— Mohamed Amin (@bin_elhadji) December 17, 2017
---
A Kun-derful New Year
This is such a brilliant idea. I wonder how many people will put it into action?!
If you watch the Dzeko goal go in against QPR at 11:57:52 on New Year's Eve, Martin Tyler will say 'AGUEROOOOOOOOOOO' at exactly midnight.

Start your new year off right.

— Footy Accumulators (@FootyAccums) December 20, 2017