Men's Team
1
David Villa hails Silva as one of Spain's greatest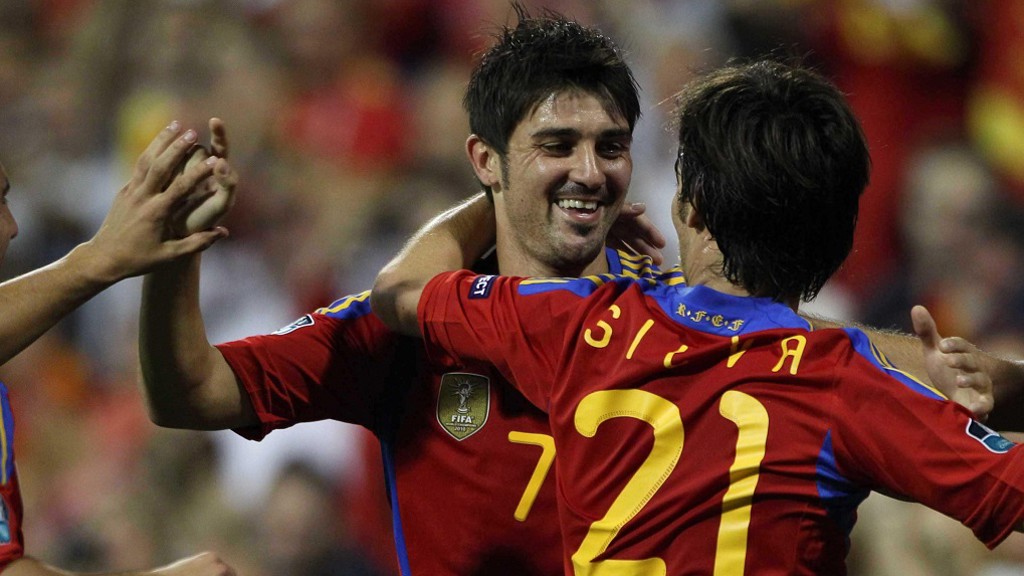 INTERNATIONAL BRIGHT YOUNG THINGS: David Villa and David Silva back in 2011
One of Spain's greatest strikers has paid his own personal tribute to David Silva.
The City playmaker clocked up his 300th appearance for the Blues in the 3-1 win over Hull City and his former Valencia and Spain team-mate David Villa admits 'El Mago' is one of the best players he's played with.
The New York City FC striker said: "First of all, congratulations to David Silva who has done such great things at Manchester City.
"To play 300 games is a lot. It was a pleasure to play alongside him, both for the national team and for Valencia. For me, he's one of the best players in the last ten years in Spain. Again, congratulations and I hope he plays so much more.
"He's an amazing talent – when we played together for Spain, he played much of the time behind me and he gave me a lot of chances on goal. He helped me a lot with the finishing and it was a real, real pleasure to play with him."
Asked whether he believes Silva gets the recognition he deserves, he said: "I think everybody likes him, everybody who likes football and appreciated the game likes David Silva.
"The people love him a lot in Spain and in Manchester and in England because of the way he plays and the way he is. He has the recognition but he hasn't finished yet – the moment to recognize someone is maybe at the end of their career and David has a lot of years left in his life to play football.
"He has earned a lot of respect – it's not easy to play for City for seven years and play so consistently. Only some players can do it and Silva has done it. To do it with a team like Manchester City, he has done really well. He has so much respect in Spain for this."
Villa also believes Silva can continue to climb the Spain caps and goals ladder in the coming years.
Villa is La Roja's all-time top scorer with 59 goals from 97 appearances and says Silva can climb to third above Fernando Torres in the next few years – he will need another nine goals to achieve this notable feat – but Villa is backing the Blues' No.21 to do exactly that.
"Can he do it? Yeah, for sure – he's scored a lot of goals in the last year," he said. "Always, he's scored goals but now he plays a lot further forward under the national coach Julen Lopetegui and I think he can do it."