Men's Team
1
Where to watch: City v Barcelona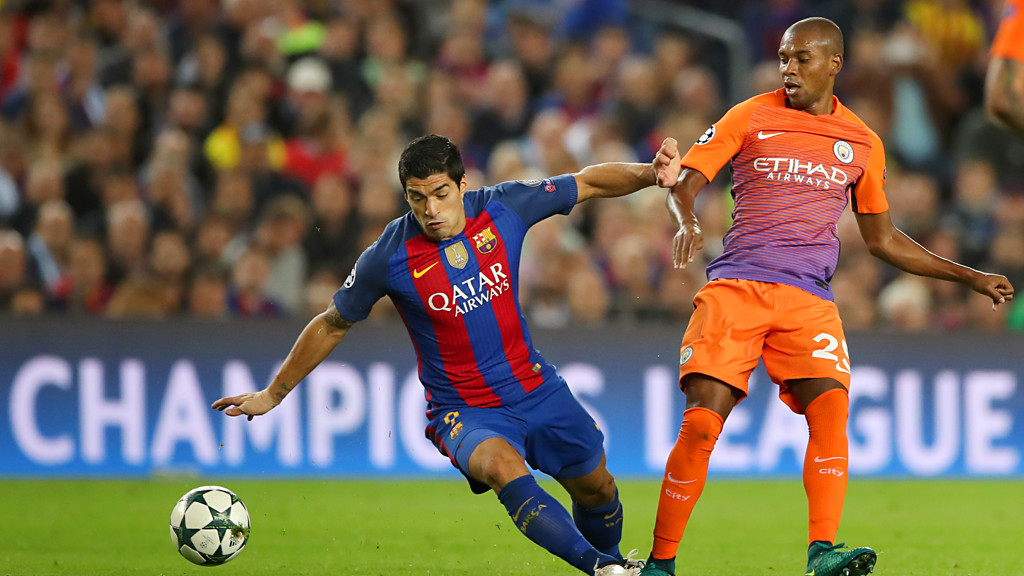 FALLING OVER: In an attempt to run on the ball, Suarez falls over under Fernandinho's pressure
Man City look to take revenge for their heavy loss to the Catalans in Barcelona, here's how to watch the action.
A 7:45pm kick off in the UEFA Champions League, UK fans will know to catch the action live on BT Sport.
But for those fans tuning in from across the globe, these are the TV channels you need...
| | |
| --- | --- |
| Afghanistan | Rah-e-Farda |
| Algeria | beIN SPORTS CONNECT Arabia |
| Andorra | TV3 |
| Angola | SuperSport 3 Africa |
| Argentina | Fox Sports Cono Sur, FOX Play Latin America |
| Australia | beIN Sports Connect Australia, beIN Sports 1 Australia |
| Austria | Sky Sport 5/HD, Sky Go Deutschland, Sky Sport 1 HD |
| Bahrain | beIN SPORTS CONNECT Arabia |
| Barbados | FOX Play Latin America |
| Belgium | Proximus 11+, Club RTL |
| Benin | SuperSport 3 Africa |
| Bolivia | Fox Sports Cono Sur |
| Bosnia and Herzegovina | BHT 1, RTRS TV, Federalna TV, Arena Sport 3 |
| Botswana | SuperSport 3 Africa |
| Bulgaria | Voyo Sport, Ring.bg |
| Burkina Faso | SuperSport 3 Africa |
| Burundi | SuperSport 3 Africa |
| Cameroon | SuperSport 3 Africa |
| Canada | TSN4, TSN GO |
| Cape Verde | SuperSport 3 Africa |
| Central African Republic | SuperSport 3 Africa |
| Chad | SuperSport 3 Africa, beIN SPORTS CONNECT Arabia |
| Chile | Fox Sports Chile, Fox Sports Cono Sur, FOX Play Latin America |
| China | PPTV Sport China, QQ Sports Live |
| Colombia | FOX Play Latin America, Fox Sports Cono Sur |
| Comoros | SuperSport 3 Africa |
| Congo | SuperSport 3 Africa |
| Congo DR | SuperSport 3 Africa |
| Costa Rica | FOX Play Latin America |
| Cote D'Ivoire | SuperSport 3 Africa |
| Croatia | Arena Sport 3 |
| Curacao | FOX Play Latin America |
| Cyprus | Cytavision Sports 1, Cytavision Sports HD |
| Czech Republic | ČT Sport |
| Denmark | Viasat Ultra HD, TV3+ HD, Viaplay Denmark |
| Djibouti | beIN SPORTS CONNECT Arabia, SuperSport 3 Africa |
| Dominican Republic | FOX Play Latin America |
| Ecuador | FOX Play Latin America, Fox Sports Cono Sur |
| Egypt | beIN SPORTS CONNECT Arabia |
| El Salvador | FOX Play Latin America |
| Equatorial Guinea | SuperSport 3 Africa |
| Eritrea | SuperSport 3 Africa |
| Estonia | Viasat Sport Baltic |
| Ethiopia | SuperSport 3 Africa |
| Finland | Viasat Sport Premium, Viasat Football HD, YLE TV2, YLE Streaming, Viaplay Finland |
| France | beIN Sports 2 |
| Gabon | SuperSport 3 Africa |
| Gambia | SuperSport 3 Africa |
| Germany | Sky Go Deutschland, Sky Sport 5/HD, Sky Sport 1 HD, TeleClub Sport Live |
| Ghana | SuperSport 3 Africa |
| Greece | OTE Sport 2 |
| Guatemala | FOX Play Latin America |
| Guinea | SuperSport 3 Africa |
| Guinea-Bissau | SuperSport 3 Africa |
| Honduras | FOX Play Latin America |
| Hong Kong | Super Soccer Channel 61, Cable TV Channel 201 HD |
| International | TV3 En Vivo, Radio Barca |
| Iran | beIN SPORTS CONNECT Arabia |
| Iraq | beIN SPORTS CONNECT Arabia |
| Ireland | BT Sport Live Streaming, Eir Sport 1, BBC Radio 5 Live, BT Sport 2 |
| Italy | Premium Calcio 1 |
| Japan | Sukachan 0, SKY PerfecTV LIVE |
| Jordan | beIN SPORTS CONNECT Arabia |
| Kenya | SuperSport 3 Africa |
| Kuwait | beIN SPORTS CONNECT Arabia |
| Latvia | Viasat Sport Baltic |
| Lebanon | beIN SPORTS CONNECT Arabia |
| Lesotho | SuperSport 3 Africa |
| Liberia | SuperSport 3 Africa |
| Libya | beIN SPORTS CONNECT Arabia |
| Lithuania | Viasat Sport Baltic |
| Madagascar | SuperSport 3 Africa |
| Malawi | SuperSport 3 Africa |
| Mali | SuperSport 3 Africa |
| Mauritania | beIN SPORTS CONNECT Arabia |
| Mauritius | SuperSport 3 Africa |
| Mexico | Fox Sports Cono Sur, FOX Play Latin America |
| Montenegro | Arena Sport 3 |
| Morocco | beIN SPORTS CONNECT Arabia |
| Mozambique | SuperSport 3 Africa |
| Myanmar | Skynet Myanmar |
| Namibia | SuperSport 3 Africa |
| Netherlands | Ziggo Sport Voetbal |
| Nicaragua | FOX Play Latin America |
| Niger | SuperSport 3 Africa |
| Nigeria | SuperSport 3 Nigeria, SuperSport 3 Africa |
| Norway | Viasat Fotball Norway, Viaplay Norway |
| Oman | beIN SPORTS CONNECT Arabia |
| Palestinian Territory | beIN SPORTS CONNECT Arabia |
| Panama | FOX Play Latin America |
| Paraguay | Fox Sports Cono Sur |
| Peru | FOX Play Latin America, Fox Sports Cono Sur |
| Poland | Canal+ Polska |
| Portugal | Sport TV2 |
| Qatar | beIN SPORTS CONNECT Arabia |
| Romania | Pro TV, Dolce Sport 1 |
| Russia | NTV+ Sport Online |
| Rwanda | SuperSport 3 Africa |
| Sao Tome And Principe | SuperSport 3 Africa |
| Saudi Arabia | beIN SPORTS CONNECT Arabia |
| Senegal | SuperSport 3 Africa |
| Serbia | RTRS TV, Arena Sport 3 |
| Seychelles | SuperSport 3 Africa |
| Sierra Leone | SuperSport 3 Africa |
| Slovakia | ČT Sport |
| Slovenia | Kanal A |
| Somalia | beIN SPORTS CONNECT Arabia |
| South Africa | SuperSport Maximo 2, SuperSport 3, SuperSport 3 Africa |
| South Sudan | SuperSport 3 Africa, beIN SPORTS CONNECT Arabia |
| Spain | TV3, Antena 3 |
| Sudan | beIN SPORTS CONNECT Arabia |
| Swaziland | SuperSport 3 Africa |
| Sweden | Viasat Ultra HD, Viasat Sport Premium, Viaplay Sweden |
| Switzerland | TeleClub Sport Live, Sky Sports 1 Switzerland |
| Syria | beIN SPORTS CONNECT Arabia |
| Tanzania | SuperSport 3 Africa |
| Togo | SuperSport 3 Africa |
| Trinidad and Tobago | FOX Play Latin America |
| Tunisia | beIN SPORTS CONNECT Arabia |
| Turkey | Tivibu Spor 4 |
| Uganda | SuperSport 3 Africa |
| United Arab Emirates | beIN SPORTS CONNECT Arabia |
| United Kingdom | BBC Radio 5 Live, BT Sport Live Streaming, BT Sport 4K UHD, BT Sport 2, BBC Radio Manchester |
| United States | Fox Deportes, Fox Soccer 2GO USA, Fox Sports 1 USA, Fox Soccer Plus, Fox Sports GO |
| Uruguay | Fox Sports Cono Sur, Fox Sports Uruguay, FOX Play Latin America |
| Venezuela | FOX Play Latin America |
| Yemen | beIN SPORTS CONNECT Arabia |
| Zambia | SuperSport 3 Africa |
| Zimbabwe | SuperSport 3 Africa |