Men's Team
1
Guardiola and De Bruyne up for top awards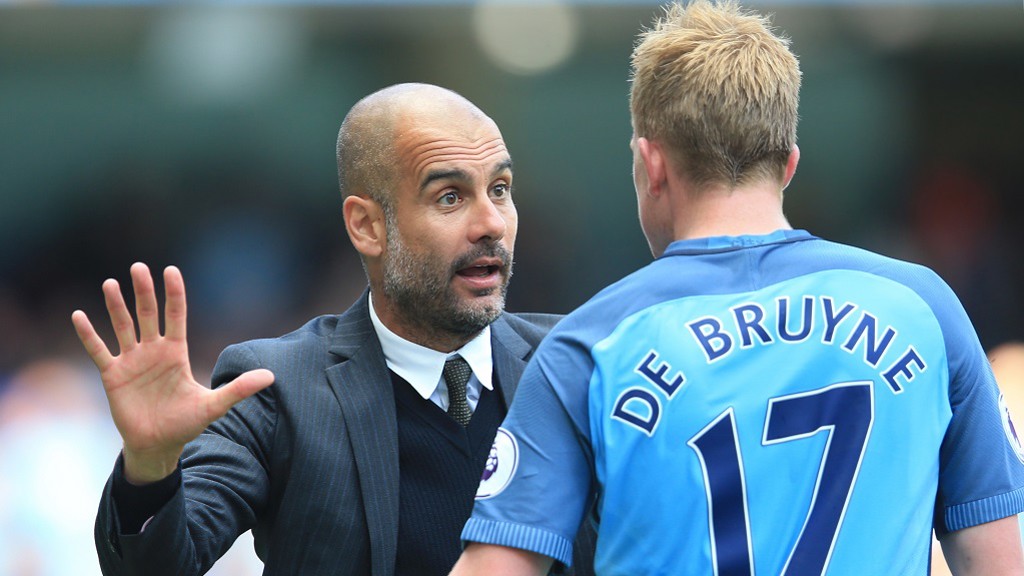 SEPTEMBER AWARDS: Pep and Kevin in contention
City boss Pep Guardiola and midfielder Kevin De Bruyne are on the Premier League shortlists for the Manager of the Month and EA Sports Player of the Month awards respectively
Pep was nominated for the August Premier League award but was pipped by Hull City boss Mike Phelan.
With a 100% League record in September plus victories in the Champions League and EFL Cup, the only game the Blues failed to win was the 3-3 draw with Celtic.
He faces stiff competition against Liverpool's Jurgen Klopp, Crystal Palace boss Alan Pardew, Arsenal manager Arsene Wenger and Spurs' chief Mauricio Pochettino.
Watch De Bruyne's goal against United below
De Bruyne had a superb September for City with two goals and two assists, but that barely tells the whole story.Integral top almost everything good the Blues were doing last month, the Belgian also had made five crucial interceptions and had an 83% passing accuracy and a 100% tackle rate during his 245 minutes on the pitch.
KDB is up against Liverpool's Adam Lallana, Spurs striker Heung Min Son, Arsenal forward Theo Walcott and Everton striker Romelu Lukaku.
Your votes count so you know what to do! Vote below...
EA SPORTS Player of the Month award