First Team News
1
Fernandinho grants Brazilian fan's birthday wish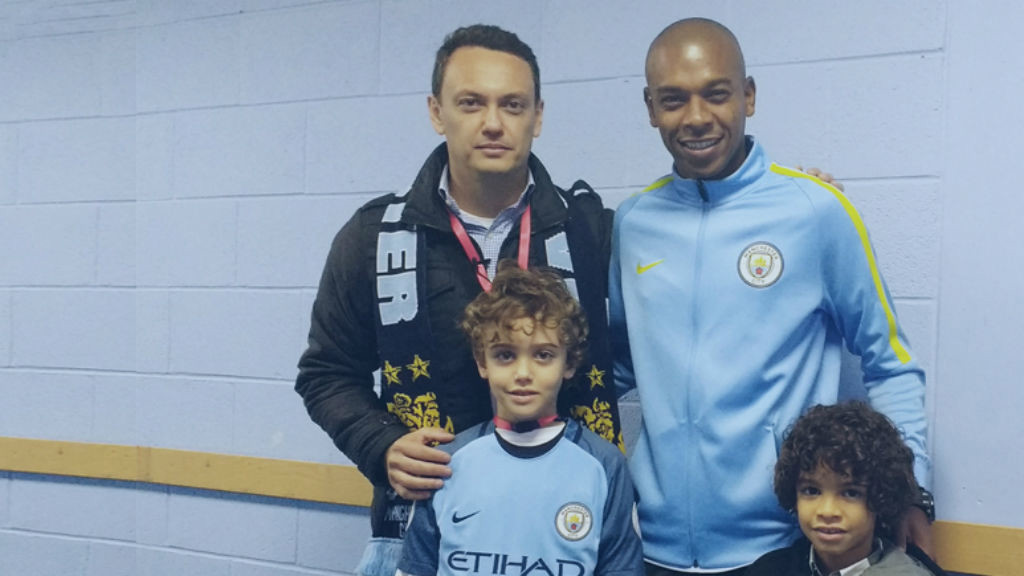 SMILE FOR THE CAMERA: Fernandinho and his son pose for a picture with Vitor and Cesar
Have you ever imagined sending a message to a City player and not only get a reply from them, but also the chance to meet him, talk to him and get an autograph?
That was exactly what happened this weekend when Fernandinho replied to a fan in Brazil and invited him to be his mascot during the game against Southampton.
The midfielder's passion and dedication to Manchester City and the Brazilian National team makes him a hero for many young fans.
César Albino is a Brazilian fan living in Ribeirão Preto, in the state of São Paulo. When the father asked his 9-year-old son Vítor what would he like for his birthday, the response was swift.
Vítor said: "Dad, I want to fly to England and watch a Manchester City game!"
City v Southampton, at the Etihad Stadium, was the chosen match. They only stayed for the weekend, but had enough time to live an experience that father and son will carry forever.
A week prior their fly from São Paulo to London, César Albino decided to try and reach Fernandinho. Without many hopes or expectations only using the power of social media, he reached out to our midfield player.
What followed was something perhaps unique in the modern football.
The first message Cesar had on his phone when he landed in England, was from Fernandinho.
Vítor, not only met Dinho, but also walked on the pitch holding hands with the Brazilian star!
They arrived in Manchester on Sunday morning and not even the cold of the north stopped the enthusiasm of this young Brazilian fan.
César Albino said: "It was incredible. We landed in England for the first time in our life and the first message I had on my phone was from Fernandinho answering my request.
"I could not believe it. I never thought that an international player would ever pay attention to my message."
"Vítor is obviously very happy and so am I. He is a little bit shy, but we are both living a dream.
In fact, shocked and shy, Vítor even had the chance to shake hands with our manager, Pep Guardiola in the tunnel.
Vítor said: "He shook my hand and asked me where I was from. I said I am from Brazil."
César and Vítor are also Palmeiras supporters, where Gabriel Jesus is currently playing. Father and son now have more than enough reasons to follow Manchester City and the performance of our Brazilian players in England.
César has no doubts that with Fernando and Fernandinho in the team, Gabriel Jesus will adapt well and the team will benefit from this Brazilian chemistry.
"Of course I want to see Gabriel Jesus become a champion in Brazilian and after that, I hope he will come to help Manchester City win the Premier League title and celebrate in big style."
"Gabriel Jesus is a fast creative player. I am 100% sure that he will be a great complement to Pep's team.
Of course I am sad that he is leaving Palmeiras, but I am also very happy because he is coming to my English team. The Premier League is fantastic and great for any player."
At the of the match, Fernandinho made this day even more exceptional.
There was time for a chat, autographs, pictures and a fellow countryman's hug.
At the end, Vítor turned to his father with a smile and said: "Dad, Fernandinho is so cool and friendly!"
Don't miss the special feature, coming soon on CityTV.