Men's Team
1
Guardiola: Sending off ended contest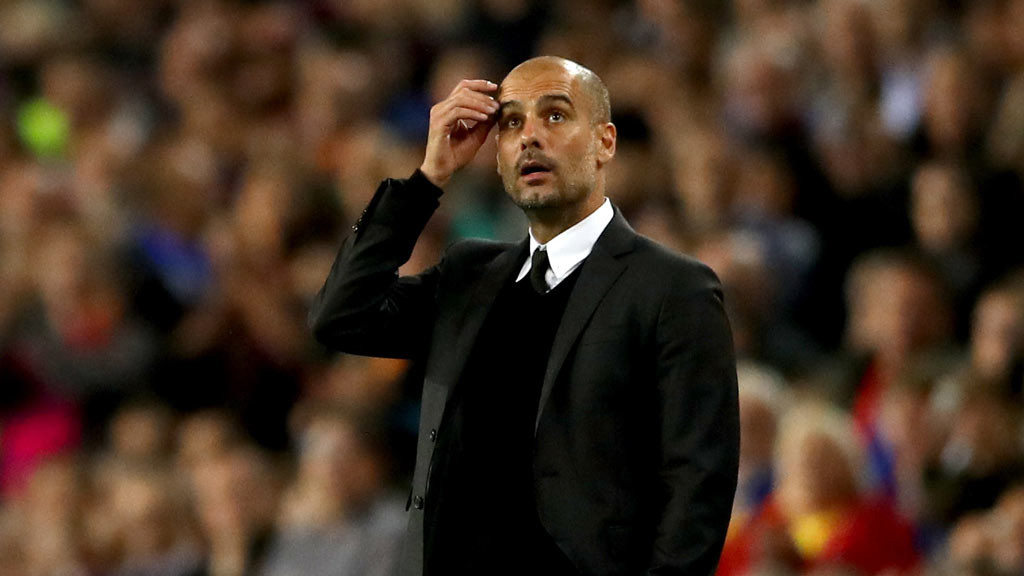 TOUGH NIGHT: Pep Guardiola
Pep Guardiola was in a philosophical mood after City's 4-0 defeat to Barcelona.
The Blues' boss admitted the sending off effectively ended his team's chances at the Nou Camp and says his players have to cut out the costly errors that have punished in recent weeks – but felt his team caused Barca problems up until the sending off.
"It is hard to play Barca, but until we went down to ten players, it was open and we were competing against a team with a big personality," said Pep.
"The first goal was due to an unfortunate slip and then for 10 minutes we were a little bit confused, but we were there; we were in the game.
"We were pressing, we had the possession and we made the chances but we didn't take them and you have to do that to win the game - especially against this team.
"But after the red card, it was over. Every game since Celtic has been the same – we have had own goals, missed penalties and we need to change the way things have been going.
"We created enough chances and arrived at the by-line many times - enough chances to score one or two goals. We know Barca and if you give their strikers an opportunity, they punish you."
Trailing by one goal, the game swing firmly in the hosts' favour when Claudio Bravo was sent off early in the second-half for a professional foul.
With only 53 minutes on the clock, that left the Blues a mountain to climb, not to mention losing skipper Pablo Zabaleta through injury and the impressive Nolito to allow Willy Caballero on as sub within the space of a few minutes.
"I spoke with Claudio; he is disappointed but it's part of the game," revealed the City boss "Football is a game of mistakes; he knows what he did, but until the last day of my career as a coach, I will try to play from our goalkeeper.
"There are moments you have to kick the ball out, but he tried to play it and sometimes it happens. He has a lot of experience and he's one of best goalkeepers of the last 10 years. I don't have any doubts about him. He is disappointed but he will learn from that."
Pep also said leaving top scorer Sergio Aguero on the bench was purely a tactical move, adding: "He didn't warm up but it was OK – I wanted one more midfield player in that position and that was the reason why he didn't start.
"I spoke with him and he was good. The decision was made this afternoon. So we are disappointed tonight, but we knew from the beginning it would be a tough group - now we have to focus on Southampton."