Men's Team
1
Aguero: De Bruyne conversation key to 150th goal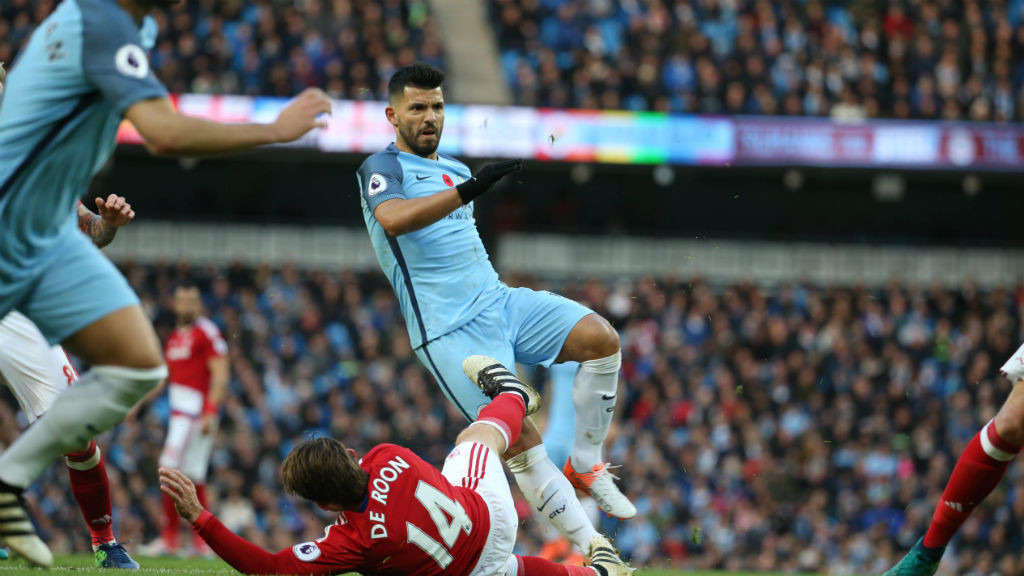 DETERMINED: Aguero fires an effort at goal but he can't beat Valdes
Sergio Aguero has revealed the secret behind his landmark goal against Middlesbrough on Saturday.
The Argentine ace scored his 150th goal for the club with a simple close-range tap in after a wonderful ball in from Kevin De Bruyne on the right-hand side.
Having been tightly marked by the Boro defenders for much of the game until that point, Aguero spoke to De Bruyne moments before the goal and told him he exactly what kind of delivery he wanted to try and get in behind the defence.
And De Bruyne obliged, whipping in a sensational cross that left Aguero with a straightforward chance inside the area.
"I talked to Kevin before the goal and told him to put it there for me because the defence was marking me all the time, and he did it so well, I was happy with that," he said.
City dominated the first half and enjoyed 76 per cent possession, with Middlesbrough failing to muster a single shot on goal.
However, Aitor Karanka's side left with a point after a spirited second-half fightback that saw Marten De Roon equalise late on.
Aguero admitted he was disappointed with the result given the way City dominated the ball - but says it's something he has come to expect because of the strength of the Premier League.
"It was a strange match because we controlled the game but in the end we end up with a bad feeling because I thought we could have won," he said.
"We did a great match on Tuesday [the 3-1 win over Barcelona]. We were very excited for this game to try and win but we all know the Premier League is very complicated competition – any team can beat you and anything can happen.
"Look at what happened today - we create many chances, they didn't and we end up drawing."