Men's Team
1
Writers Panel: Game of the Season so far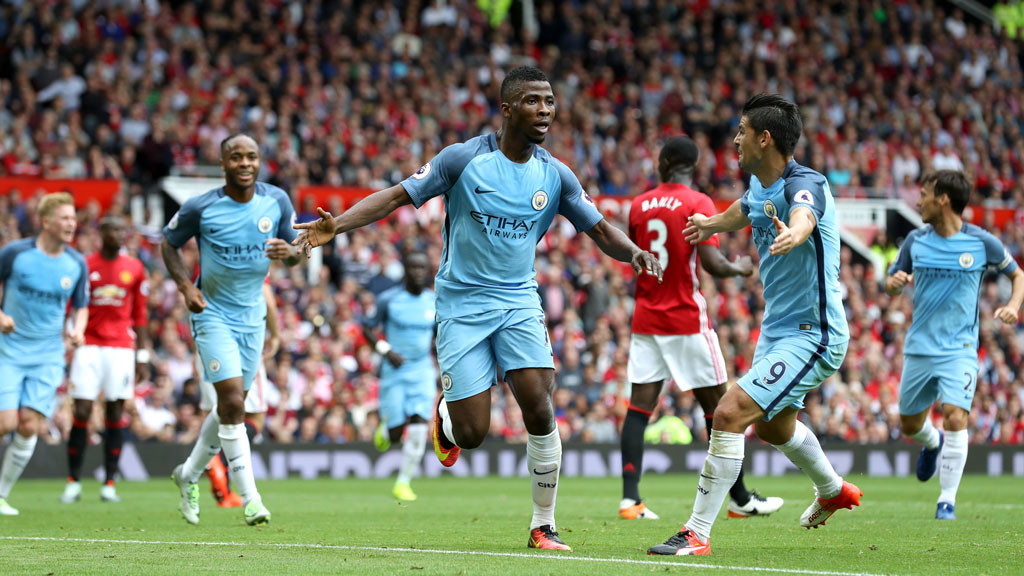 IT'S IN! Iheanacho celebrates
It's been a fascinating start to Pep Guardiola's time in charge of City – but which match stands above the rest? Our Club journalists discuss their Game of the Season so far.
David Clayton - City 3-1 Barcelona
What was not to like about our win over Barcelona – a victory that may prove to be pivotal in the Club's history as we look to move to the oft-mentioned 'next level'?
Some journalists suggested it was the night City fans finally fell in love with the Champions League – maybe they're right – but in simple terms, it was one of the best performances by a City team many of us have ever seen.
It was all the more impressive that the game seemed to be following an overused script when Lionel Messi put the Catalans ahead, but not this time. Something changed. For one, we actually had a bit of luck – arguably the first time we could claim that against Barca – but that was merely a bonus. The energy, pressing and belief was superb and something we've waited a long time to see.
Watching City go on to dominate what many believe to be the best team on the planet in a thrilling second half will stay with this writer for a long time. Barcelona were rattled, out-played and out-thought – but I'm glad we don't have to play them every week…
Caroline Oatway – Celtic 3-3 City
Perhaps not the best result in terms of City's Champions League hopes but the trip to Celtic Park heralded plenty of entertainment.
On a rare evening off, this journalist was fortunate enough to take her place amongst her Blue brothers and sisters in the away end, and the atmosphere we encountered when we walked up the steps to our seats was spine-tingling. We were in for a special night.
Six goals would follow – all celebrated with a crescendo of noise and 'flying limbs' – and every attack sparked expectation.
It was breathless. The game could have gone either way, and the final whistle was met with disappointment – not merely for the fact City's incredible winning run had been halted – but because it signalled the end of a pulsating encounter.
A strange choice for game of the season perhaps considering some of the other options – but this one will live long in my memory.
Jack Mumford – Stoke 1-4 City
The build-up to Pep Guardiola's first away trip in the Premier League could hardly have included more clichés.
Whether the Catalan coach could translate his beautiful style of football to the uniquely blustery conditions at Stoke City has been debated endlessly since his first record-breaking season in charge of Barcelona. He answered that question emphatically in August.
Rejuvenated and eager to impress, City's midfield trio of David Silva, Kevin De Bruyne and Raheem Sterling controlled the match from start to finish.
City could have already been in front when Ryan Shawcross fouled Nicolas Otamendi and gave Sergio Aguero the chance from the spot. The Argentinian tucked home before scoring his second and, despite a Bojan penalty that gave Stoke hope, City saw out the match expertly.
Nolito's late double completed a day that signalled Pep's era at the club was already in full flow.
Rob Pollard – United 1-2 City
For me, it has to be the Manchester derby at Old Trafford in September. The scoreline suggests a tight game, but the level of superiority City managed in the first half was frightening. United couldn't lay a glove on them.
Anyone still doubting Guardiola's approach left Old Trafford that afternoon convinced he was absolutely the right appointment. We've seen some great performances since the takeover in 2008 – but this was different, more comprehensive than anything that's gone before. The football was beautiful, quick and inventive. Silva and De Bruyne were unplayable.
Even in the second half when United rallied, City had numerous chances on the counter. To go to Old Trafford, against the most expensively assembled football team in the history of the game, and have over 60 per cent possession and create so many clear chances was remarkable.
A real high in an already brilliant season.