First Team News
1
Gladbach v Man City: The view from Germany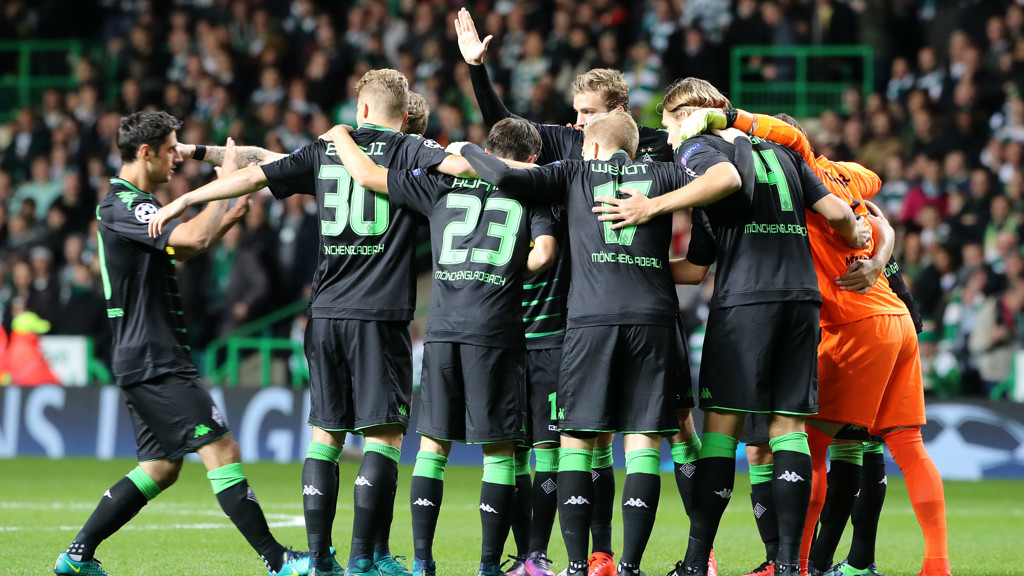 DECLINE: The Germans have struggled for form this season
Manchester City take on Borussia Monchengladbach on Wednesday knowing a point at Borussia Park will seal qualification to the last 16 of the Champions League for the fourth consecutive season.
Ahead of the game, Club journalist Rob Pollard spoke to BT Sport's German football expert Archie Rhind-Tutt to get the inside track on Gladbach, a side who currently sit 13th in the Bundesliga table after disappointing in the first few months of the season.
Archie…welcome to ManCity.com. Give me a sense of how Gladbach have been playing this season. From the outside it looks as though it's been a tough campaign.
They've been attacking without much responsibility at the back, is the diplomatic way to phrase it. There's not a lot of love at the moment from the fans towards Andre Schubert, a coach who only last year was leading them on the most incredible run. But things have turned really quite sour. Before this weekend they hadn't scored in any of their previous five games, or, indeed, won any of them – and that run became six when they lost to their arch rivals Cologne at the weekend, which is a massive blow.
It's actually quite interesting that Schubert's fortunes have taken such a turn ever since he signed a new contract back in September. Since then they've not been able to get the results in the Bundesliga. They're still a dangerous team going forward but they look bereft of confidence and not capable of taking their chances.
Who is playing well for them?
Lars Stindl has been a constant since he joined the club. He's the captain, he scored on Saturday, is still a very good finisher and is certainly one of the ones who doesn't shirk taking responsibility. Thorgan Hazard, brother of Eden, has also been particularly dangerous this season. He's probably been having his best campaign, although it's been interrupted once or twice through injury.
You would definitely say they are stronger going forward, particularly with Raffael, Hazard and Stindl. They have so many options going forward. This is what forms part of the frustration. They do have so much quality and yet it's not working.
The Gladbach fans have got very used to the ways of Lucien Favre, the manager before Schubert, and Favre was held in very high regard by the them. There was a good piece by a local newspaper last week arguing that even though Schubert managed to recover the situation last season and qualify for the Champions League, Favre's shadow is, to a certain extent, still hanging over him. And he's still struggling to emerge from it now.
Every week Max Eberl, the sporting director, is having to come out and defend Schubert. It's fair to say Gladbach are in a very tricky situation right now.
What formation is Schubert tending to use, and why, in your opinion, are they struggling so much defensively?
It's been mainly a 3-4-3 that they've been playing – and the problem is they leave themselves so open at the back.
Having said that, Cologne only created two chances on Saturday. They were really quite fortunate to win. Gladbach are going through one of those phases right now where everything they try just isn't working. I don't think necessarily all of it can be put down to tactical mishaps – but I don't think the way that Schubert sets them up is helping, particularly in away games.
If they had a few more points away from home – they've won, I think, three away games in 2016, which isn't great – then that would take the pressure off to an extent. That said, Cologne were only the second team to go to Gladbach and win at Borussia-Park in 2016, in the Bundesliga, that is, because Barcelona have gone there and won as well.
It's still going to be a difficult game for City but if they score early, then even though Gladbach will be savouring the Champions League, I think that could really turn the crowd a little bit.
Celtic got a 1-1 draw earlier this month in their Group C game at Borussia-Park. What did you make of that match and what can City learn from it?
It was classic Gladbach - take the lead, control the game but don't take their chances and Celtic punished them for that. It almost epitomised what's been happening over the past few weeks because it's not like they've been out of the games they've been playing and they've often looked like the team most likely to score still, apart from away at Hertha, which they lost 3-0.
At home they are still the aggressors. But City are side capable of going to Gladbach and controlling the game, which isn't something many can do. I spoke to Andre Schubert ahead of the first City game earlier this season and was trying to put it to him that it was Andre Schubert v Pep Guardiola, which hadn't worked out too badly last season – but he is very much of the mind that it's not the two coaches going against each other, it's the two clubs.
Schubert really needs a lucky break; the sort of breaks that seemed to come to him every week last season. But, at present, he seems pretty down on his luck.
Is it a psychological issue for them? It seems they are doing a lot of things right but just not able to get over the line and get positive results.
That could explain it. On Saturday, there's no way they should have lost to Cologne. They had by far the best of the game.
Perhaps psychologically they are a little fragile at the moment and could do with a fixture that wasn't against Man City!
Archie is the reporter for BT Sport's European Football Show. You can find him on Facebook at Facebook.com/archiert1 or on Twitter @archiert1