Men's Team
1
They said what? Quotes of the season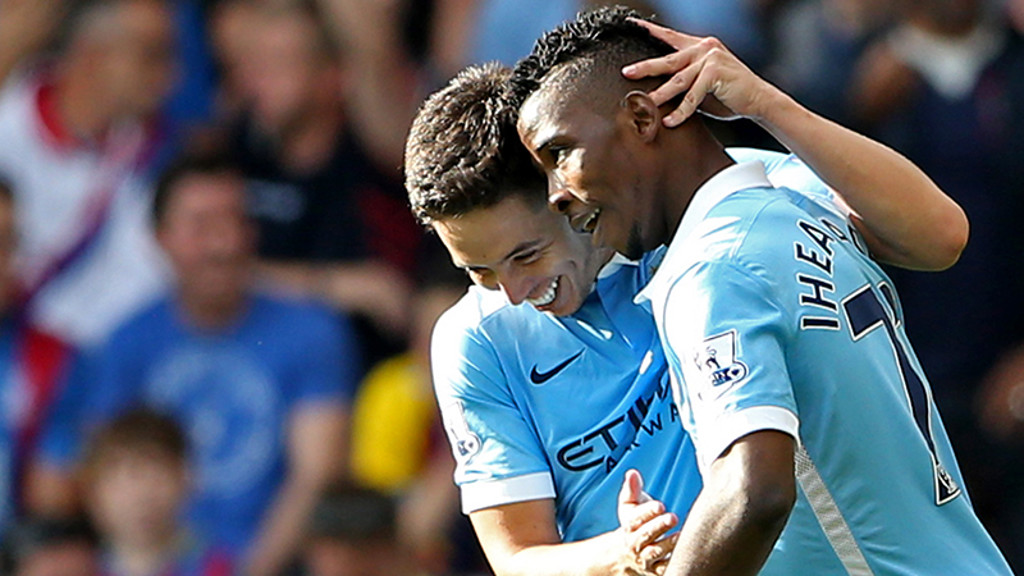 Kelechi and samir
From the poignant to the bizarre; from the measured to the creative - we've trawled back through what was at times a bumpy season to see what was said by our players, manager or by others...
16 August
After making it two goals from the opening two games, Vincent Kompany shrugged off comparisons with Sergio Aguero: "I'm definitely learning from him! But as a defender, it isn't what I take most pride in. I'm very happy with the two clean sheets so far. If I can contribute up front then great but the clean sheet is what makes me sleep well at night."
12 September
A star is born as Kelechi Iheanacho announces himself in spectacular style. After scoring the winner against Crystal Palace he said: "I will try to do my best in in training and in games if I'm introduced. I'm hoping to do great for the team. It's not easy. We have great players here but I have to keep working hard."
17 November
Following the dreadful attacks in Paris, England took on France a few days later at Wembley and as La Marseillaise was played before the game, Samir Nasri tweeted: "Not talking football for a min and let's appreciate the respect the English have shown."
22 November
David Silva reacts to Colin Bell's assessment that the Spaniard is the new 'King': "I don't often take much notice of what people say about me but when somebody like Colin Bell says such nice things, it means a great deal."
28 February
"It's amazing, we won this cup. It was a hard, hard week for me. We have the trophy now – it's fantastic for the supporters. It's emotional for me, for my family – this is for sure for me, for all my people, for my family in Argentina.
"The saves were just intuition – I tried to watch all the penalties last night but my intuition helped me. The manager gave me the opportunity to come here and play for this club in this final. It's a very proud day."
13 April
Zlatan Ibrahimovic reacts to PSG's 1-0 defeat at the Etihad: "If it had gone well, nobody would say anything, and now people will say we gave it away. The second half was better, when we reverted to our normal tactics, but we gave away two games.I think we are a better team, but we lost tonight and we drew 2-2 at home, so all the best to Manchester City."
16 April
Ahead of Kevin De Bruyne's first game back at Stamford Bridge since his departure he said he felt he had nothing to prove: "It is it what it is and I'm just going there to try and help City win the game which is really important for us.
"If we want to put pressure on the teams around us, it's obviously better to take three points so maybe that will work in our favour because there's no pressure on Chelsea to win now."
Of course, he stole the show with a sublime performance - even though Sergio grabbed a hat-trick!
4 May
After City's narrow defeat to Real Madrid, Joe Hart said: "I don't think they've really created much apart from a few half-chances, corners, set pieces. They've scored with a deflected cross. It's frustrating. On the other hand, we've not been knocking at the door working Keylor Navas off his feet. But that's football - you've got to take your chance."
17 May
Sergio Aguero reveals his thoughts on the season ahead and incoming boss Pep Guardiola: "Lionel Messi has told me he is very impressive and other players with whom I have spoken have said the same.
'I think he is a coach who will put a lot of pressure on the players and we need that. There is a reason that the club invests in important players and then a coach is very important. We hope that Pep adapts to the club and decides how we are going to play. But it is fundamental that next year we advance a bit more."