First Team News
1
We're back on track says Clichy
KICKER: Gael Clichy in action
Gael Clichy and Raheem Sterling were understandably happy with City's 4-0 win over Aston Villa, with both hoping it is the start of a strong run in for the Blues.
Clichy continued his impressive form in defence as City recorded a clean sheet for the first time in seven attempts and he said the win over Villa was crucial and dedicated the victory to the supporters.
"It's always our objective to take three points every time we play a Premier League game but we also wanted to give our fans a good performance because they are behind us from the first game of the season until the last," said Clichy.
"I think we played really well today and it was also good to keep a clean sheet. We will take it game-by-game but we will try and play like we did today going forward.
"Four goals is good and more would have been nice, but we played well and are happy with the way things have gone today.
We are confident we can close the gap on the teams above us, we know we have the quality and the mood is really good so we are going to go for it.
Sterling gave an impressive cameo from the subs bench, scoring his 11th of the season just six minutes after replacing Wilfried Bony.
The England winger admitted the team had been through a rough patch, but hoped this was the start of a strong run in for the Blues.
The last meeting...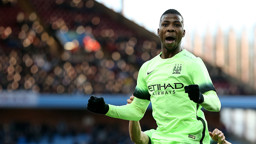 "Losing three Premier League games in a row has not been easy to take and we knew that we had to get back to somewhere near our best today and we're happy with the way things went," said Raheem.
"Winning this game was the most important thing – it would have been nice to have scored more goals, but winning 4-0 and keeping a clean sheet is good and we now need to continue playing like this against Norwich next week.
"It's going to be a close finish with maybe just a few points in it so there is everything to play for and I think one or two teams around us are going to feel the pressure in the weeks that remain and I think it will be an exciting finish."