Men's Team
1
Head-to-Head: Sterling v Martial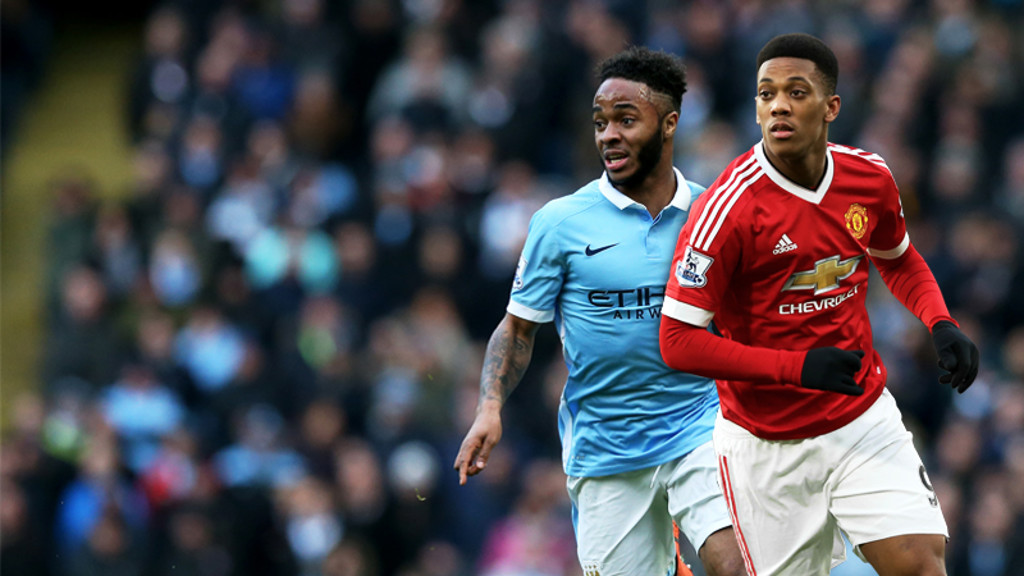 HEAD-TO-HEAD: Sterling v Martial
The 171st Manchester derby is right around the corner so we compared two of the key players that could play at the Etihad…
Raheem Sterling and Anthony Martial both arrived at their respective clubs in the summer of 2015, but how do they compare to each other in the Premier League?
We decided to investigate…
Appearances
The City man edges this category with Raheem making four more appearances than the French international. Six of those appearances have been from the bench, while Martial has missed three games due to injury.
Sterling - 27
Martial - 23
Goals scored
United's summer signing edges this category by one with seven goals compared to Sterling's six.
Martial's latest in the Premier League came on 13 February in the defeat at Sunderland, while Raheem last got his name on the score sheet in the 4-0 home win against Villa on 5 March.
Sterling – 6
Martial - 7
Goals inside the box
All of Sterling and Martial's goals have been fired in from within the area! Will that change this weekend?
Sterling - 6
Martial - 7
Shot accuracy
City's no.7 draws the scores level with this category as his shot accuracy is 12% better than United's number nine.
Sterling – 60%
Martial - 48%
Shots per game
Both like to get forward and have a pop at goal but it's another stat that Raheem leads in with him having 0.6 more shots per game than Anthony.
Sterling - 2.5
Martial – 1.9
Passing accuracy
In the modern game, wingers are involved in more phases of the match and are consistently involved in the build-up of attacks. Sterling takes this one with a slightly better passing accuracy.
Sterling - 86.1%
Martial – 78.3%
Average passes
As well as having a better passing accuracy, the 21-year old also averages more passes in the Premier League this season.
Sterling - 29
Martial – 27.8
Assists
He might not pass the ball as much, but Martial has assisted one more goal in the top flight of English football compared to Sterling this campaign.
Sterling - 2
Martial - 3
Chances created
However, Raheem gets the tick for this category having created seven more chances than the United man. Hopefully there will be more created this Sunday!
Sterling - 35
Martial - 28
Dribbles per game
United's number nine has been deployed in a more attacking role than Sterling for part of the season and it reflects in the dribbles per game stat column…
Sterling - 1.4
Martial – 2.7
Crosses
Raheem make its 6-4 after notching up another tick in the crosses category with a total of 14 crosses more than Martial in the Premier League.
Sterling – 50
Martial - 36
Successful take ons
Martial might have the higher number of successful take ons, but it's Sterling who has the higher percentage with 51% of his take ons successful compared to Martial's 44%.
Sterling – 39/76 = 51%
Martial – 61/140 = 44%
So we make that 8-4 to Raheem in our head-to-head stats preview but will the two fare when City and United meet at the Etihad on Sunday? Let us know on Twitter, @MCFC!