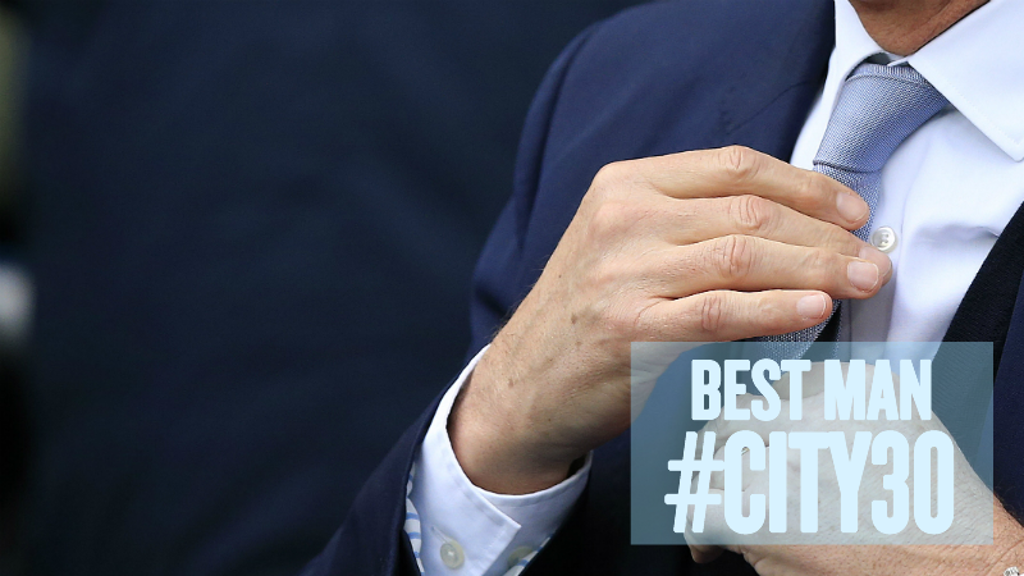 WHO WOULD YOU PICK?: City boss best men
It's the Day Two of our brand new web feature, #City30.
On Wednesday, we kicked off our June series in which we ask you for your fun thoughts and special memories on a particular category each day throughout the month.
Our first piece saw fans vote on their favourite away days (check that out here). Day two heralded a new topic...
Picture this: you've proposed; your partner's agreed to marry you. The hard part - the big question - is out of the way, right? Wrong.
The big question is yet to come... which former City manager would you pick as your best man?! And why?
We had a fair few suggestions, with all sorts of reasons! So without further "I do"... (Sorry, ado!)
@MCFC Roberto Mancini surely. Always a classy man #City30

— Kenny (@kennymcfc12) June 2, 2016
@MCFC #city30 KING KEV! The game misses his passion

— Wesley1894 (@POpGozEDaWeEzlE) June 2, 2016
@MCFC mine would be pelligrini as he is spit for my dad and would be fun on the photos. Father of the bride or best man #City30

— Lesley (@lesleygodd1982) June 2, 2016
#MCFC #City30 Big Malcolm (I'll have a cigar and make it a big one ) Allison, because it would be such fun !

— Dr Zircon (@Dr_Zircon) June 2, 2016
@MCFC Kevin keegan so we could all wear track suits n talk about how far we've come I would just love that !!! Love it #City30

— Luke Woody Woodward (@luke_woodymcfc) June 2, 2016
@MCFC gotta be Stuart Pearce, because then there will be more than one psycho attending #City30

— Security Penguin (@PenguinSecurity) June 2, 2016
#City30 It could only be Joe Mercer. Great speaker with a great sense of humour!

— Allan Cawley (@HovisBlues) June 2, 2016
@MCFC #City30 id have Pellers, he'd keep everyone in check and be charming whilst doing it. He's a man of his word so he'd be perfect

— Silky Ilkay (@SilkyIlkay) June 2, 2016
@MCFC Manuel Pellegrini just cause he's the Charming Man. #City30

— Leam Fox (@LeamFox14) June 2, 2016
@MCFC good job former manager, Pep would put everyone's wardrobe to shame #City30

— Daniel Watson (@DanWatson93) June 2, 2016
#city30 @MCFC roberto Mancini always..💙 what a passionate💪🏻 man he was...

— agueroisk10;) (@aniket_nar) June 2, 2016
@MCFC Imagine the speech! #City30 pic.twitter.com/WK5vneqLZq

— CPN (@NieldyMCFC) June 2, 2016
@MCFC There's a correct answer here... #City30 pic.twitter.com/hujA5GRFp6

— Mark Booth (@markbooth_mcfc) June 2, 2016
@MCFC #City30 Mr Mancini 100% Reckon he could throw a crackin' party and wouldn't take no nonsense from anyone!

— Wattsy 90 (@Wattsy0205) June 2, 2016
@MCFC I would keep it quiet and then announce Brian Horton and watch everyone saying "Brian who?" before he calls out Rosler & Walsh #City30

— Adam Sherratt (@MadaMCFCadaM) June 2, 2016
@MCFC #city30 Pearce! Imagine the speech - it'd be an emotional roller coaster as he switched from calm and relaxed to psycho Pearce

— Harry Newton (@Harry_Newton_) June 2, 2016
On behalf of the (imaginary) bride and groom, I would like to thank everyone here for sharing in this unique and special occasion.
Tomorrow's assignment... City's hard men! Tweet in your suggestions @MCFC using #City30!