Men's Team
1
Impressive Belgium sweep Hungary aside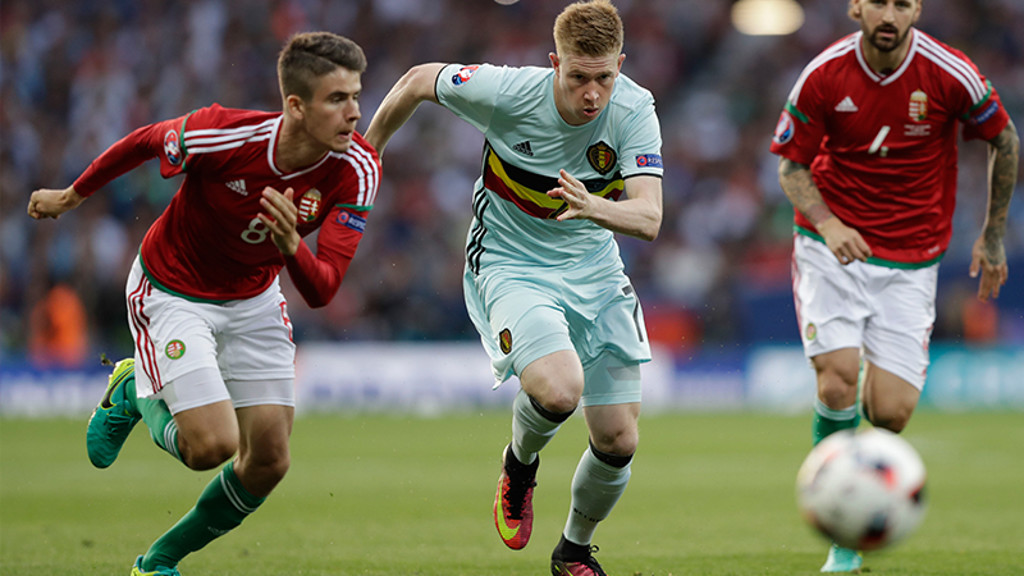 HUNGARY FOR THE BALL: KDB hunts down the ball
Four goals for Belgium give them the path to the quarter final...
It only took 10 minutes for Belgium to get on the score sheet. Our City superstar, Kevin De Bruyne curved in a wonderful free kick from left wing that found the head of Toby Alderweireld. The ball flew straight past the Hungarian goal keeper, setting the tone for the rest of the first half.
Hungary were able to cause trouble for the Belgians as they created a number of chances that may have worried Thibaut Courtois, kicking the ball agonisingly wide a few times.
It wasn't until the second half when Hungary got into their stride. The Hungarians, threatened the 0-1 score line with wave after wave of attack. Belgium seemed to get a chance or two every now and then but with the majority of possession and determination to level things up, it was the Hungarian side that looked most likely to the next goal.
It wasn't meant to be however, two quick flashes of brilliance from Eden Hazard saw Belgium ease their way into the quarter final. One assist at 77' and one goal at 79' from Hazard saw Belgium with a three goal lead... The thrashing wasn't over for Hungary. Yannick Carrasco added one more off another KDB assist at 91' to allow the Belgians to win the game 0-4.
They'll play Wales next on Friday.