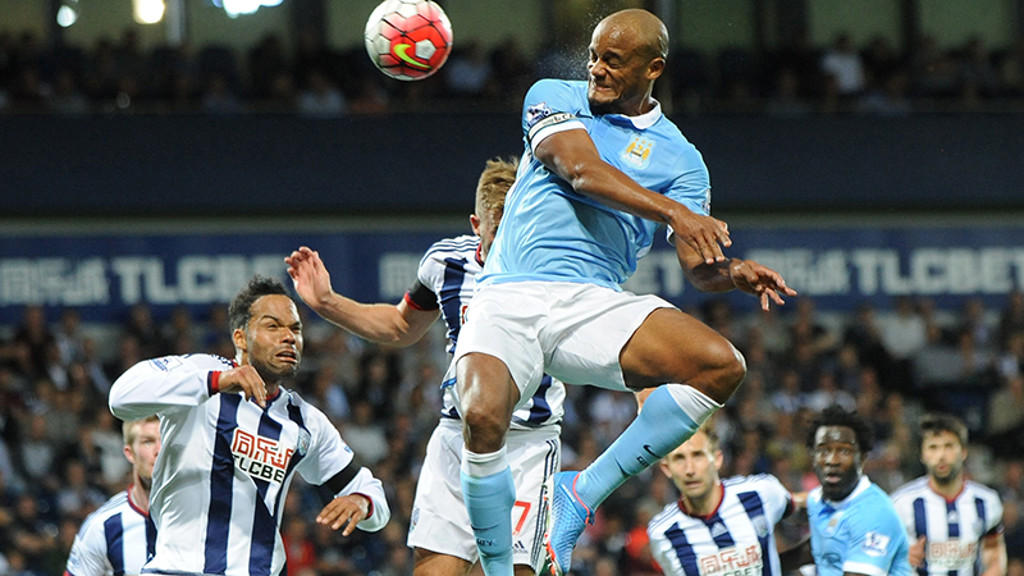 Vincent
Time to top our monster City player off by deciding the best header of the ball.
Vincent Kompany
The skipper has been the team's best header of the ball for several seasons now.
The Belgian is powerful and commanding both on the ground and in the air with a good leap, keen eye and raw power.
Kompany also chips in with some important goals – who could forget his headed goal against Manchester United on the title run-in or the stunning goals he scored away to Liverpool and West Brom.
If FrankenCity needs an aerial powerhouse, Kompany must be in the mix.
Dave Watson
Watson was a central defender for the Blues from 1975 to 1979 and there were few better in the air.
A strapping No.5, Watson scored the odd goal but it was his defensive prowess that made him so formidable.
Like Kompany, Watson's aerial command make him a strong contender for the header category.
Andy Morrison
Few headed the ball with quite as much conviction as Andy Morrison.
A veritable tour-de-force in the air, Morrison thumped in a number of goals for City with his head and the warrior of the back four cut a fearsome figure for opposition strikers.
It's 15 years or so since Morrison last played for City – will that cost him in the voting?
Micah Richards
When it comes to natural spring, few can match Micah Richards.
Richards had that mystifying ability to 'hang' in the air, rising sooner than his opponent and invariably winning the duel.
Many believe his best position was centre-back, though he never really had the chance to play in that role while with City.
Can Micah's heading prowess find a place in FrankenCity?
Honourable mentions…
Edin Dzeko
The Bosnian chipped in with his fair share of headed goals – one in particular springs to mind!
Joe Royle
Royle scored plenty of headed goals for the Blues and throughout his career.
Niall Quinn
Nicknamed 'the Big Irishman', it's fair to say that Quinn's size meant he didn't have to leap much as he already had a three or four inch height advantage over defenders marking him.
He was also an expert at the deft knock-down – most often for David White's benefit.
Richard Dunne
The former City skipper wasn't the tallest but he was formidable in the air.
Dunne was intelligent and used his body strength to give him and advantage when challenging in the air.
Mick McCarthy
Another aerial master, McCarthy was rarely beaten in the air during his time with City – and he once scored a thumping headed goal against United to earn a 1-1 draw in the mid-1980s?