Men's Team
1
Bayern Munich v City: Global TV listings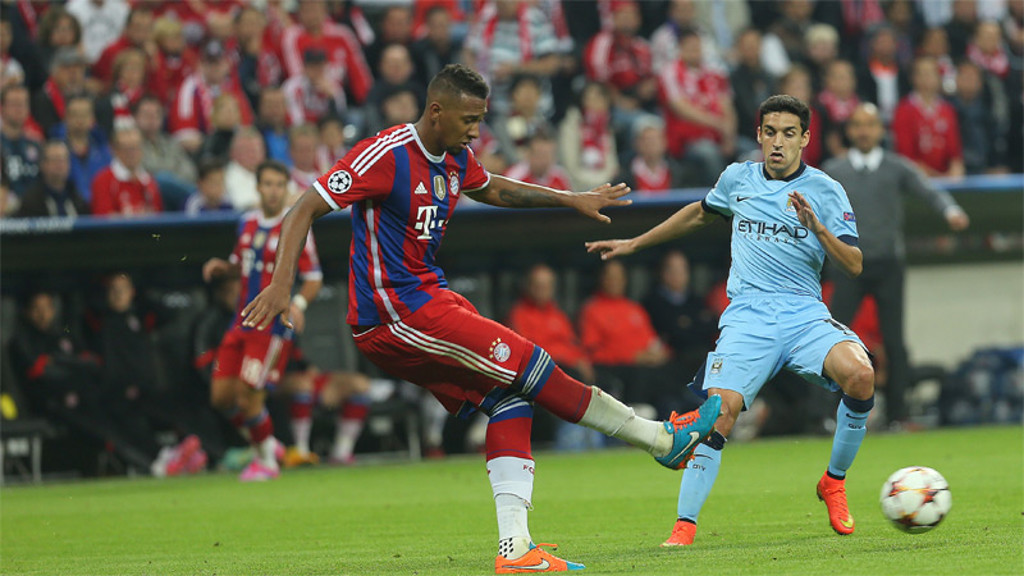 FAMILIAR FACE: Pep Guardiola knows a thing or too about our first pre-season opponents.
It's been a long summer, but City are back as Pep Guardiola's pre-season preparations kick off with a return to former club Bayern Munich.
It's a first chance to see Pep's Blues in action and here's how you can tune in from around the world, courtesy of livesoccertv.com.
| | |
| --- | --- |
| Angola | SuperSport 3 Africa |
| Argentina | FOX Sports 2 Cono Sur |
| Austria | ZDF |
| Benin | SuperSport 3 Africa |
| Bolivia | FOX Sports 2 Cono Sur |
| Bosnia and Herzegovina | SportKlub 1 Serbia |
| Botswana | SuperSport 3 Africa |
| Burkina Faso | SuperSport 3 Africa |
| Burundi | SuperSport 3 Africa |
| Cameroon | SuperSport 3 Africa |
| Cape Verde | SuperSport 3 Africa |
| Central African Republic | SuperSport 3 Africa |
| Chad | SuperSport 3 Africa |
| Chile | FOX Sports 2 Cono Sur |
| Colombia | FOX Sports 2 Cono Sur |
| Comoros | SuperSport 3 Africa |
| Congo | SuperSport 3 Africa |
| Congo DR | SuperSport 3 Africa |
| Cote D'Ivoire | SuperSport 3 Africa |
| Croatia | Sportklub 1 Croatia |
| Denmark | Viaplay Denmark,TV3 Sport 1 |
| Djibouti | SuperSport 3 Africa |
| Ecuador | FOX Sports 2 Cono Sur |
| Equatorial Guinea | SuperSport 3 Africa |
| Eritrea | SuperSport 3 Africa |
| Ethiopia | SuperSport 3 Africa |
| Finland | Viasat Sport,Viaplay Finland |
| Gabon | SuperSport 3 Africa |
| Gambia | SuperSport 3 Africa |
| Germany | ZDF |
| Ghana | SuperSport 11,SuperSport 3 Africa |
| Guinea | SuperSport 3 Africa |
| Guinea-Bissau | SuperSport 3 Africa |
| Hong Kong | Now Sports 2 |
| International | Bet365,LS.tv |
| Ireland | BT Sport 1 |
| Italy | Sky Calcio 1,Sky Sport 1 HD Italia,Sky Supercalcio HD |
| Kenya | SuperSport 3 Africa |
| Lesotho | SuperSport 3 Africa |
| Liberia | SuperSport 3 Africa |
| Macedonia | SportKlub 1 Serbia |
| Madagascar | SuperSport 3 Africa |
| Malawi | SuperSport 3 Africa |
| Mali | SuperSport 3 Africa |
| Mauritius | SuperSport 3 Africa |
| Mexico | FOX Sports 2 Cono Sur |
| Montenegro | SportKlub 1 Serbia |
| Mozambique | SuperSport 3 Africa |
| Namibia | SuperSport 3 Africa |
| Niger | SuperSport 3 Africa |
| Nigeria | SuperSport 3 Nigeria,SuperSport 11,SuperSport 3 Africa |
| Paraguay | FOX Sports 2 Cono Sur |
| Peru | FOX Sports 2 Cono Sur |
| Poland | Polsat Sport |
| Portugal | Sport TV1 |
| Rwanda | SuperSport 3 Africa |
| Sao Tome And Principe | SuperSport 3 Africa |
| Senegal | SuperSport 3 Africa |
| Serbia | SportKlub 1 Serbia |
| Seychelles | SuperSport 3 Africa |
| Sierra Leone | SuperSport 3 Africa |
| Slovenia | SportKlub 1 Slovenia |
| South Africa | SuperSport 3 Africa,SuperSport Maximo,SuperSport 3 |
| South Sudan | SuperSport 3 Africa |
| Spain | TDP,Esport3 |
| Swaziland | SuperSport 3 Africa |
| Sweden | Viaplay Sweden |
| Tanzania | SuperSport 3 Africa |
| Thailand | Channel 3 Thailand |
| Togo | SuperSport 3 Africa |
| Uganda | SuperSport 3 Africa |
| United Kingdom | BT Sport 1 |
| United States | Fox Deportes |
| Uruguay | FOX Sports 2 Cono Sur |
| Zambia | SuperSport 3 Africa |
| Zimbabwe | SuperSport 3 Africa |