Men's Team
1
Pellegrini: First goal key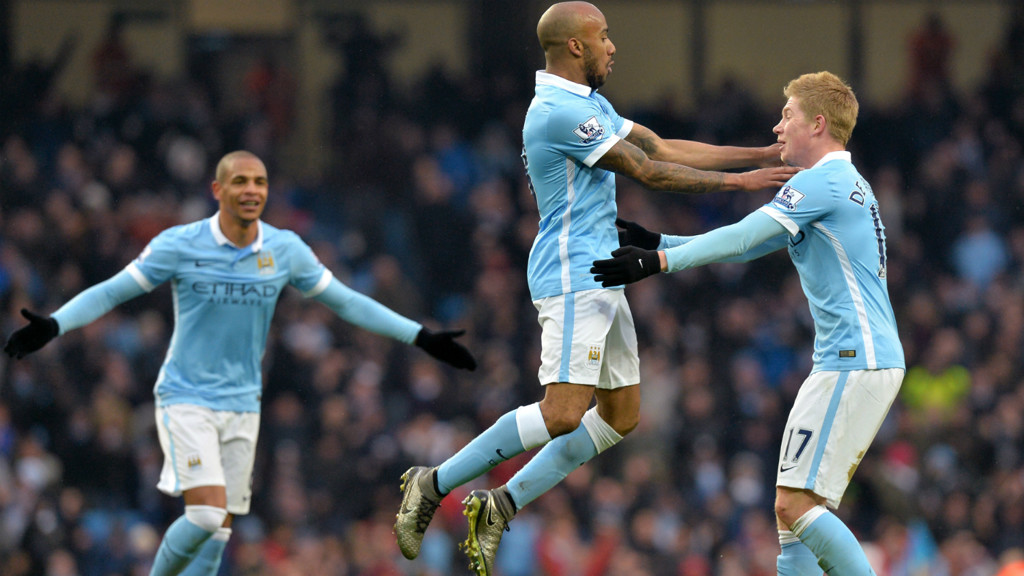 DELPH FROM DISTANCE: Fabian jumps in celebration at his opener
Manuel Pellegrini believes the opening goal was crucial in City's victory over Crystal Palace.
The Blues were forced to be patient as the visitors applied early pressure, but once the hosts had secured the lead, they rarely looked like relinquishing it.
The Chilean, who made five changes to the squad following Wednesday's draw with Everton, was delighted to witness his side net three more, lifting themselves back to the top of the Premier League table.
"It was very important to win, having made five changes," he told reporters. "We have to play so many games in January and it is very important to have the whole squad involved in what we are doing if we are to remain a competitive team in all of the competitions.
"I think it was important to score the first goal. When we are able to score the first goal, we know we are going to have more space.
"We are used to playing eight or nine players behind the ball. We don't always score but with space, we are more dangerous.
"The two goals gave us more space as they've had to go for the draw. That allowed us to use that space and score two more.
"To have made so many changes but win the way we did is very useful for the future."
Fabian Delph broke the deadlock for the home side, firing in an effort from 30 yards that crept under keeper Wayne Hennessey. Now enjoying a run of games, the midfielder is showing exactly why City signed him - and Pellegrini was delighted.
"I'm very happy with his performance," he reflected. "He had bad luck at the start of the season with different injuries.
"He has settled down now and he makes a good work ethic and gives us good build up."
Sergio Aguero also starred in the clash, scoring two and creating another for David Silva.
When asked whether he felt the Argentine was back to his best, Pellegrini replied he felt his striker already was.
"In the last game, he didn't score because Howard made two beautiful saves," he added, "but he was making all the moves he normally does when he is 100% fit.
"In every game, he will continue to improve."
Following another impressive display for youngster Kelechi Iheanacho, the Chilean was equally complimentary.
"Kelechi is a very important player," he said. "Every game he plays, he takes positively. Today, he had a great impact.
"I had to make the substitution because Aleks Kolarov was injured and we needed tall players for set pieces.
"He has a bright future at this Club."
On the subject of Kolarov's knock, Pellegrini admitted the Club are as yet unaware of its severity and will know more after the weekend.
"We'll see on Monday," he insisted. "Aleks had a kick in his calf - we don't know if it's a muscle injury or just a kick."
Yaya Toure was rested for the encounter, starting on the bench. Pellegrini explained it was merely for the Ivorian's benefit, dismissing any suggestion the midfielder would be unhappy with the decision.
"He played a good game against Everton and he had less than 72 hours to recover," he continued. "I didn't think he could complete the full game with high pace.
"If we couldn't score, it would be useful for him to be fresh for the last 30 minutes.
"He is a professional, he works very well and he understands what I think. He agreed with me."
Hopeful of keeping the stars of his squad fit, Pellegrini believes the Blues can continue to fight on all fronts with similar displays to the one against the Eagles.
"One of the merits of the squad is to be involved in all competitions," he declared.
"We were without important players in the first part of the season. With all of our players 100% fit, our squad will be stronger but for different reasons, we couldn't play with Silva, Aguero or Vincent Kompany.
"We must be able to win games regardless - that's why I was so happy with the complete squad from the beginning.
"If from now to the end of the season, we have top players, our team will be stronger.
"If not, I absolutely trust the other players. Today and against Everton, we didn't have any problem playing with Martin Demichelis and Nicolas Otamendi - both of them played very well.
"We need Vincent Kompany but we can play without him. Of course, for our team, it is important to have our top players 100%.
"I am happy we didn't concede and kept the clean sheet but we scored goals too. We have not changed our style - we are playing the same way.
"We are continuing with our mentality to try and score goals."