First Team News
1
History boy Kompany eyes Capital gain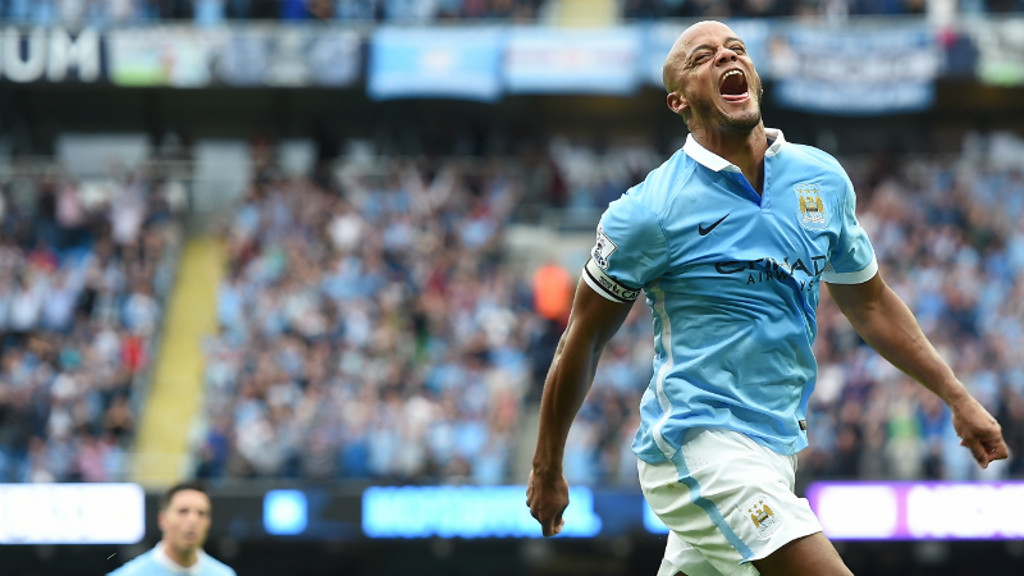 Vincent Kompany celebrates his goal against Chelsea
In a wide-ranging interview, defender Vincent Kompany discusses what Sunday's Capital One Cup final means to him and the Club...
History boy Vincent Kompany is determined to write another chapter of success into the City record books against Liverpool.
When the Belgian centre-back strides out onto the Wembley turf on Sunday, it will be 40 years to the day since Dennis Tueart's famous overhead kick helped the Blues to League Cup success in 1976.
City winning trophies went out of fashion faster than flares after that 70s success - it was 35 years before we broke the hoodoo with FA Cup victory in 2011 – but success is now back in vogue in the blue half of Manchester.
The unforgettable Premier League title win in 2011/12, then the league and League Cup double in 2013/14, has seen feast replace famine for City fans.
Kompany knows better than most the journey the Club have travelled having signed back in August 2008. Over seven years down the line, Kompany hopes that journey is still just beginning.
Reflecting on last season's trophyless campaign he said: "Last season hurt a lot – and that's a good thing.
"This is a club that wants to get into the habit of winning trophies every single year and when that doesn't happen, you want to feel a big sense of disappointment.
"You want it to hurt. If it hurts, you know you are doing something good. If it doesn't hurt, then something is rotten.
"The first time we qualified for the Champions League was an unbelievable satisfaction. Then we won the FA Cup, then came the Premier League.
"For the blue side of Manchester, these were the biggest events in 40 years.
"When I came to City, the game that all the fans talked about was the Wembley game against Gillingham. Winning a second division play-off was the biggest thing that many of our fans had seen.
"I'm not dismissing how important that game was, because it is a big part of who we are and where we have come from.
"But, in the last few years, City fans have lived their dreams. They are now supporting a club that wants to win trophies every single year and are disappointed when it doesn't happen.
"That's a good environment to be in, if I am honest. We want to build a club that expects to win trophies - and then asks questions if those targets don't get met."
With boss Manuel Pellegrini leaving City in the summer, the word legacy is being bandied about ahead of the game.
Kompany accepts that angle is attached to final, but believes it goes beyond the manager.
"Winning a trophy would be good for Manuel, it would be good for the players, and it would be good for the club," he said. "We all want to leave a legacy.
"I don't think our club, at this moment in time, can take anything for granted.
"This is such a big game for Manchester City. We aren't in a position yet where we can just count this game as just another final because we haven't done enough to earn that.
"Maybe it is forgotten that when I came to City, the club wasn't in a great place and had not won anything since 1976.
"The supporters suffered so much pain and I know from talking to them that those tough times made what has happened in recent years even better.
"Any opportunity for success that comes our way has to be grasped. We have to be hungry.
"This club is still being built. There is a huge gap for us to fill before we can be anywhere near the biggest clubs, even in England.
"I look at this game as an opportunity to take Manchester City one step closer to the biggest names in English football.
"We aren't one of the biggest clubs yet – but we will be. One day we will be part of it.
"Over the coming years we can close the gap by winning trophies every single season."
Commenting on City's rollercoaster history, Kompany added: "It isn't just winning trophies that makes you a great club. I really believe that.
"Winning trophies is an absolute must for us now, of course, because of the investment that has been made.
"But Manchester City isn't a new club. It's an old club, with a lot of history, a club that has had a lot of ups and downs.
"Football isn't just about celebrating success. Football is about handling disappointments as well – and I don't think there are many clubs out there who have had such a varied past.
"That's why I love City and why I love being the captain. I don't need other people to tell me what Manchester City means because I feel a part of it.
"Of course, this is a period where we can be successful.
"The only pressure is not to under-achieve. I don't think we have.
"This is a great period for Manchester City, but this is a club that will never forget where it has been.
"It is easy to talk about the good times, but it is the bad times that make you strong – and our fans have been through things that supporters of other clubs would only have nightmares about.
"When I came here, I wanted to learn about our history.
"The players we have now will always be remembered for the things we have won, but what is just as important is to remember what others have also done for the club.
"People like Paul Dickov and the Goat (Shaun Goater) are an important part of our history. They will never be forgotten.
"You go back a few more years and you get to Mike Summerbee, Tony Book and Colin Bell.
"Our success doesn't put those guys in the shadows. If anything it gives them an even more prominent place."
In future, Kompany will surely take his place among those legends, but the skipper was uncomfortable when asked if he will be remembered as one of the Club's great captains.
"Look, not yet," he said. "I am far too ambitious to stop now. I want to win more.
"I also think that the next City captain will overshadow everything that I've done or will do because this club is going to achieve seriously great things.
"What I think this team will be remembered as is the team that brought success back to Manchester City.
"Myself, Pablo Zabaleta and Joe Hart were there when the rebirth of Manchester City began.
"No matter what comes in the future, it will all have been built on the platform that we left behind.
"I take great pride from the fact I was there when this transformation started.
"I haven't finished yet. I want to be a part of this thing for as long as I possibly can."