Manuel Pellegrini expressed his delight to see Willy Caballero emerge as the star of City's Capital One Cup final triumph.
The Argentine shot-stopper made three excellent saves in the penalty shoot-out - plus another from point-blank range in extra-time - to hand the Blues their first piece of silverware of the season.
The Blues boss dubbed the goalkeeper 'a great hero' in his post-match press conference, adding he is proud of every member of the team.
"I am very happy - and not because this is my final season with City and I have won a trophy," he said. "I am very happy for a lot of things.
"I am very happy for the performance of the team - we played against a very difficult team in Liverpool. You remember the game we played at the Etihad...
"We played very well and I am very happy for Willy Caballero. He deserved this moment.
"Willy is a very good goalkeeper. In the penalty shoot-out, he waited until the Liverpool players shot - he never guessed, and that's why he saved three penalties.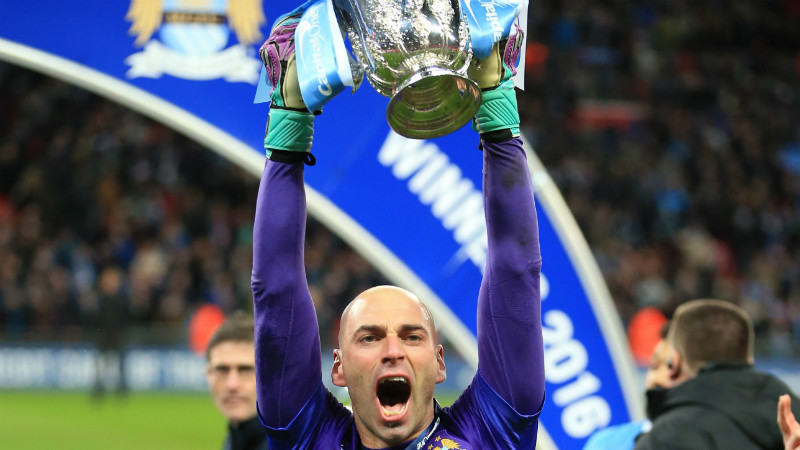 "I am also happy for Joe Hart - he is not only a good goalkeeper but he is also a good person. He was very supportive of Willy.
"I am very happy with the squad I manage and I would have preferred to lose the title than to lose my words and not have Willy play.
"We deserved to win in 90 minutes and he made a very good save in the extra 30. If we are not going to win it in normal time, I prefer to win it in the way we did with Willy as a great hero.
"The decision to play him against Chelsea was important to help us to win these two games - to win on Wednesday and this trophy.
"I am also happy to have won a title in February. It is important for the trust of team in the way we we are working.
"We are not going to give up on the Premier League - we have to play for another 36 points - and we have made a huge step in the Champions League.
"To win the title, we have to have a lot of trust."