Men's Team
1
Man City v Arsenal: Freeze frame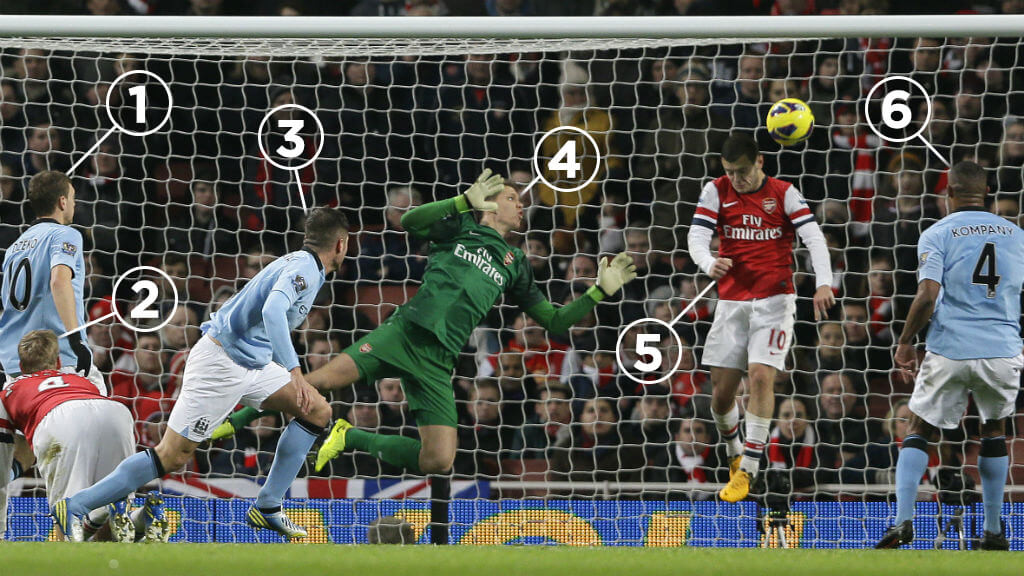 MOMENT IN TIME: City v Arsenal in 2013
Jack Wilshere was in the right place at the right time in our freeze frame picture of the Gunners and City - what's the story of the shot?
The match
City travelled to Arsenal on 13 January 2013 still in the title race and pulled off an impressive 2-0 victory. The Gunners had Laurent Koscielny sent off early and although Edin Dzeko missed the resulting penalty, City went ahead through James Milner. Big Bosnian striker Dzeko did then get his name on the scoresheet, before Vincent Kompany was sent off late on for City.
The moment
Javi Garcia's goal-bound header is cleared off the line by Wilshere as City piled on the pressure.
The players
1

Edin Dzeko

The Bosnian Diamond was often on the end of crosses for City but on this occasion he was watching on. City's number 10 left the Etihad Stadium for Roma in summer 2015, initially on a loan deal. He is currently enjoying a good season for the Italians, with 17 goals in all competitions so far this campaign.
2

Per Mertesacker

The big German centre-back joined Arsenal all the way back in 2011 and has become a senior member of the Gunners squad. He picked up a serious knee injury at the start of the season and is yet to make an appearance in 2016/17.
3

Javi Garcia

Spanish defensive midfielder Javi Garcia had a two-year stint with City from 2012-14. He was not always an automatic first choice, but he was a combative presence and a threat in the air, as our freeze frame shows. He's now a regular for Zenit St Petersburg in the Russian Premier League.
4

Wojciech Szczesny

Polish stopper Szczesny was beaten all ends up in this picture, but luckily for him his defender was on the line. Still just 26, Szczesny spent the 2015/16 season on loan with Roma, and has been loaned there again for the current campaign, playing alongside Dzeko.
5

Jack Wilshere

Better known for his gliding midfield runs and sharp passing, Wilshere is the last line of defence in our pic. The 24-year-old went on loan to Bournemouth at the start of the season.
6

Vincent Kompany

City skipper Kompany watches on as Wilshere clears, hoping to latch onto a rebound, but it wasn't to be. The Belgian centre-back is battling his way back to fitness after a knee injury sustained against Crystal Palace.

Watch highlights of the match below