First Team News
1
H2H: Man City's De Bruyne v Chelsea's Hazard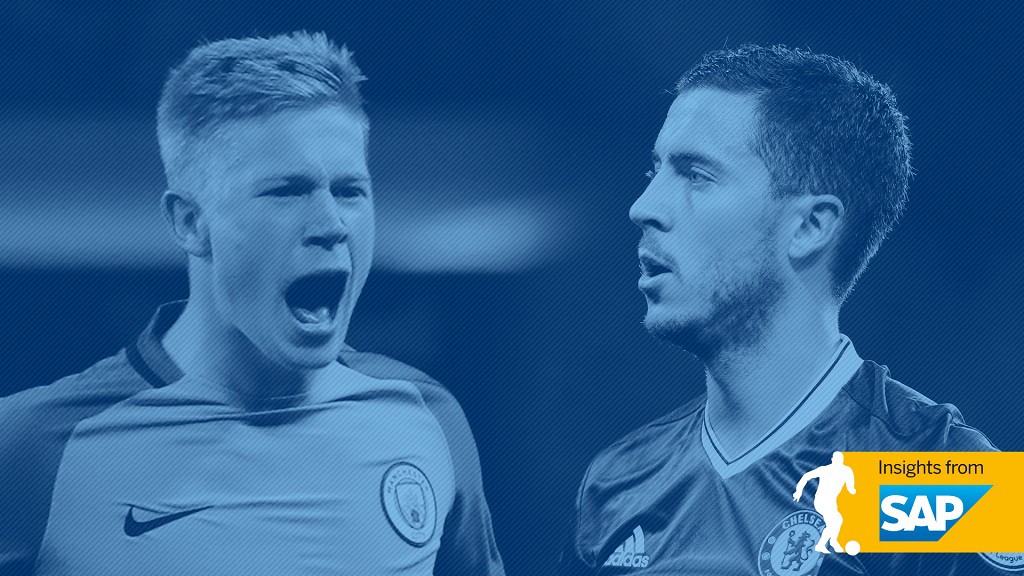 GIFTED: De Bruyne and Hazard go head-to-head
They are both spearheading their team's title challenge, but who edges our latest head-to-head battle?
De Bruyne vs Hazard: The stats...
Both De Bruyne and Hazard have been somewhere near their brilliant best so far this season and have each had a massive influence on their side's excellent starts to the campaign - but what are the stats behind their sizeable contributions?
We take a closer look at facts and figures behind the headlines…
Games/Goals/Assists - overall Premier League totals
De Bruyne 40 apps 9 goals 17 assists
Hazard 151 apps 48 goals 31 assists
2016/17 season…
Hazard has been more prolific in front of goal so far this season, but there's still a long way to go. De Bruyne is the assist king with seven in the Premier League compared with Hazard's one to date...
Games/Goals/Assists
De Bruyne 12 apps 2 goals 7 assists
Hazard 13 apps 7 goals 1 assist
Premier League wins/losses (overall)
Hazard has played three more campaigns than KDB, but the Belgians compare favourably percentage-wise
Wins/Losses
De Bruyne 23/5
Hazard 89/26
How the goals were scored…
Both players are predominantly right footed, with KDB scoring all nine of his Premier League goals with his favoured foot. Hazard scores one in four with his left peg and it's worth noting he's also scored 10 penalties for Chelsea to date.
Right/Left/Head/Penalty
De Bruyne 9-0-0-0
Hazard 33-11-4-10
Other stats (overall)…
Through balls /Crosses/Cross accuracy/Big chances created
De Bruyne 22 268 29% 18
Hazard 41 341 18% 37