Men's Team
1
Newcastle v City: Opposition view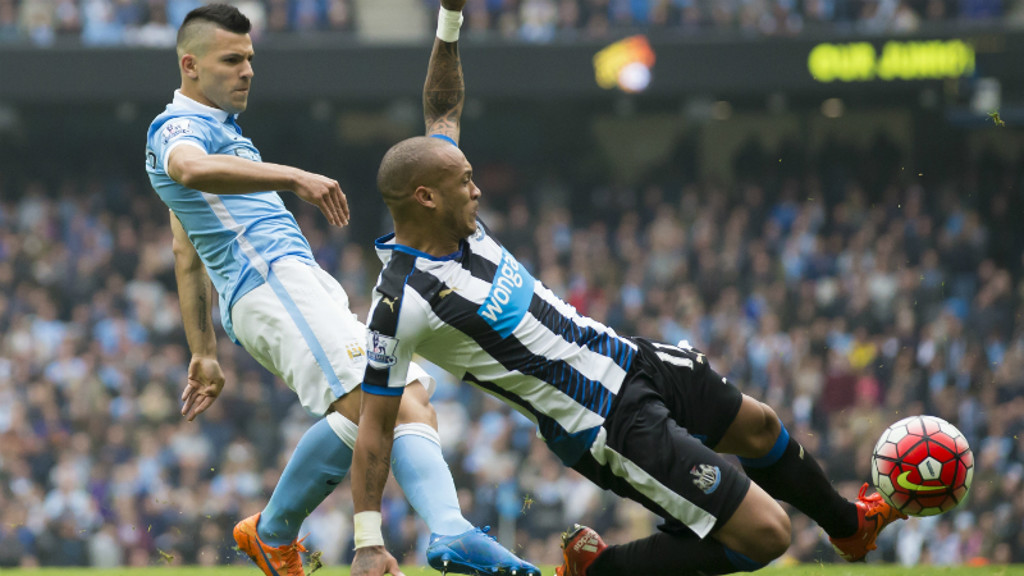 Sergio Aguero second goal
Ahead of Tuesday's meeting in Newcastle, we quizzed a fan of the Magpies on their thoughts and predictions...
This week's supporter is Edward Harrison who is the editor of Newcastle United fan site The Newcastle United Blog.
Here's what he had to say...
How are you feeling ahead of the game?
As good as you can after we had one point from the previous seven games before beating Swansea 3-0 on Saturday. It's not a good time for the team to collapse - but we now hope to come back with maybe three wins in the last five games and if we can do that - we could even be safe.
After a much needed victory over Swansea City, how much confidence does this give the players ahead of City?
It gives our players a lot of confidence because it's the first win in eight games, so that was a terrible run to be on at the business end of the season. We are hoping our players will keep playing well and get some wins so we can still avoid relegation - but it's going to be very tough.
How will the Magpies line-up? Who will play and in what formation?
It could even be an unchanged side from Saturday when Jonjo Shelvey and Aleksandar Mitrovic were benched - but both came on and played well in the second half. Rafa has said in his press conference he has still not decided on the team or who will be captain. Rafa usually plays in a 4-2-3-1 formation so that will be the formation.
How do you think Newcastle should approach this?
I think Rafa will want to keep it a little cautious at the beginning to stay in the game and let our players gain some confidence. But Rafa is very experienced of course and will have a decent game plan in place to try to win the game - we cannot afford to concede too many goals in this game.
Where will the key battles take place? Who should both sides be wary of?
We will have to somehow contain the in-form Sergio Aguero - and we do have some defenders out injured including captain Fabricio Coloccini and Daryl Janmaat at right back is also out for this game.
We will also somehow have to contain Kevin De Bruyne. But at Rafa's press conference he said we have to worry about more players than just Sergio Aguero and De Bruyne.
What are your score predictions?
I have to go with Newcastle and hope we get a shock 2-1 win.
Where do you think both teams will finish this season? Do you think avoiding relegation is still possible, despite still having to play Liverpool and Spurs?
Avoiding relegation is still possible for us it's whether we can get three wins in the last five games after getting only seven in the first 33. Manchester City should be able to finish in the top four - maybe 3rd? I'll say we will finish in 17th place and just avoid relegation. As a lifetime Newcastle stretching back a long long way - relegation will be an unmitigated disaster for Newcastle. That's especially true after we spent £82m on players this season. The club has been badly mismanaged from the top for far too long.