First Team News
1
Reign in Spain: Can Kun finally down Real?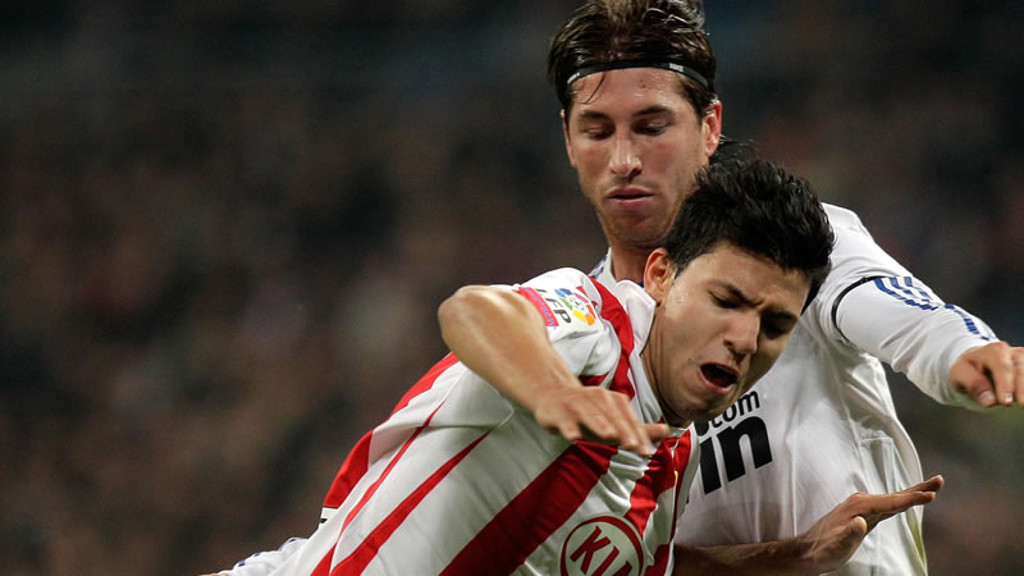 KING KUN: Aguero returning to Madrid
You'd have paid more than a penny for the thoughts of Sergio Aguero when the UEFA Champions League semi-final draw was made and City were paired with Real Madrid.
A return to the city where he had his first taste of European football, sharpening his prodigious predatory skillset and producing his best for City but not at the Vincente Calderon where he was, and still is, loved.
Kun brought a Premier League ton up at St James' Park on Tuesday night and is steadily climbing up City's all-time top scorers list.
However, there is one itch that Sergio will be desperate to scratch in the upcoming tie with the ten-time European champions.
During a five-year association with his former employers Atletico Madrid, Kun scored three times against Los Blancos but never finished a match on the winning side against their fiercest rivals.
So what is the story of City's record-breaking striker in the Spanish capital?
Surely no other club in European football can boast an equally prodigious lineage of world class goalscoring talent from the continent than our fellow UEFA Champions League semi-finalists have enjoyed over the last decade.
Diego Forlan, Radamel Falcao, Diego Costa and, of course, Sergio Aguero, all reached superstar status during their respective times with the brilliantly-nicknamed "Mattress-Makers".
Atletico may not have been responsible for initially unearthing these South American stars-to-be in the first place but there's no question they've provided the ideal proving ground for their talents to emerge on the European stage.
Aguero arrived at the Vicente Calderón Stadium in 2006 as an 18-year old with a rocketing reputation in the world game, ignited three years earlier when he became the youngest debutant in the Argentine Primera División at the tender age of 15 years and 35 days.
Kun's 23 goals in 54 appearances for Independiente and his role in Argentina U20s' FIFA World Youth Championships triumph (in tandem with a certain Lionel Messi) led Atletico to lay down a club record £15m for his services.
It would prove to be a snip.
Although Atletico were a very different beast to Diego Simeone's title-contending, Champions League regulars we know nowadays and there was a familiar whiff to the fatalistic "it could only happen to us" outlook of their supporters, their Argentine hitman became a firm fans' favourite.
He'd go on to forge a formidable strike partnership with Uruguayan striker Diego Forlan, who remembers his first impression of the teenager.
Forlan recalled: "I knew then that he was world-class. He had everything. He was quick, strong and a confident boy who knows he's a good player, without being arrogant."
Initially eased into European football by then-Atletico supremo Javier Aguirre, Kun still managed a respectable return of seven goals from his first La Liga season but it was when Fernando Torres departed for Liverpool in the summer of 2007 that Kun really took Spanish football by storm.
In a time in the club's history when their 2000 relegation to the Segunda Division was an all-too-recent memory, Aguero was one of the most decisive protagonists in Atletico's best season for more than a decade.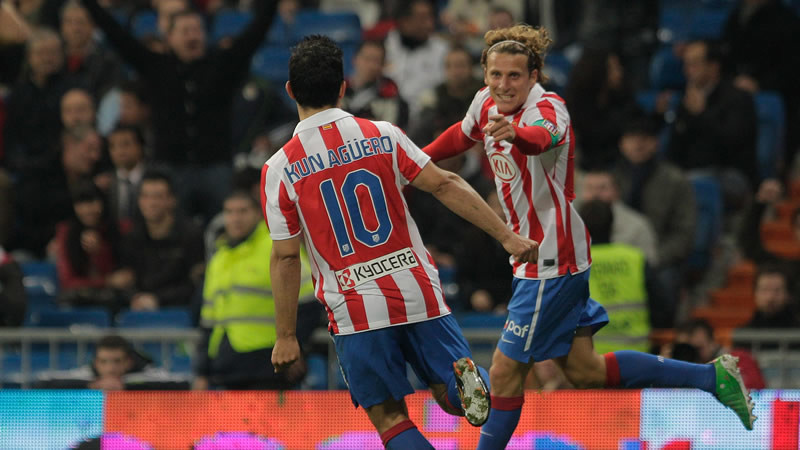 For Aleti's Head coach Aguirre, Kun was "untouchable", as he netted 27 times in all competitions, including the opener against Real in the first Madrid derby of the campaign.
Kun finished third the season in the race for the Pichichi trophy, leading Los Rojiblancos to fourth place and the promised land of the Champions League for the first time since 1996/97.
"He is becoming an idol," Aguirre said at the time, "This is a player who came here and dazzled everyone with his football, his goals, his age and his talent."
He built on these successes in his next two seasons, scoring 21 and 19 goals respectively, striking up that telepathic understanding with Forlan which helped Kun towards his first European title, the Europa League in 2010/11.
It was during this season also that Sergio had what was, at that point, his most famous game.
Forlan remembers: "We started up front against Pep Guardiola's Barcelona, in March 2009, the year they won everything.
"We were 2-0 down at home after 30 minutes to goals from Lionel Messi and Thierry Henry.
"Then Aguero and I started to click. We scored four times – two each – and won 4-3. They were great goals, too, with Aguero getting the winner right at the end. It was our finest performance together."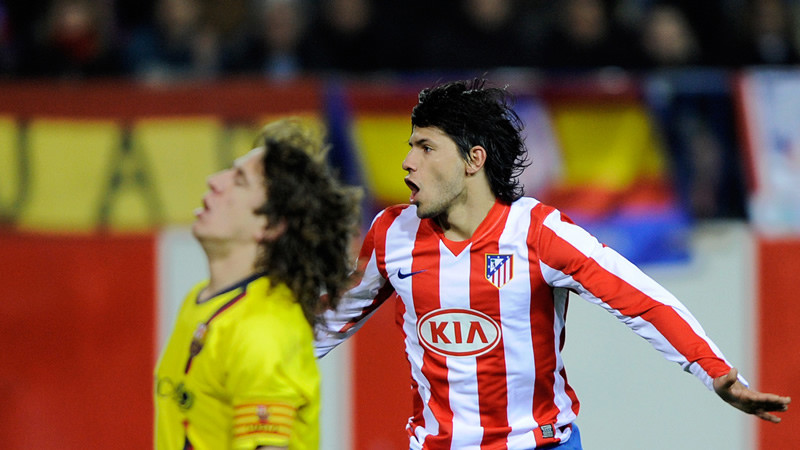 Quique Sanchez Flores, now in the managerial hot-seat at Watford, managed Sergio between 2009 and 2011 and also recalls their time together fondly.
Before City met Watford earlier this season, Flores told mcfc.co.uk: "He is a very special player and a totally different striker. Sergio was key to us in helping the team to win trophies and we enjoyed some great times with Atleti."
It was during his final campaign in Spain which arguably cemented Kun's status as one of the continent's deadliest strikers, as he scored 20 league goals for the first time in his career.
Aguero hit a then-career-high 27 goals in all competitions, the last three of which represented his first hat-trick, as well as his 99th, 100th and 101st goals for the club in the win over Mallorca.
After the game Kun hinted that this would be his final contribution to the cause, stating: "I'm proud of having achieved this total of 101 goals with Atletico Madrid because it means that I always gave my all for this shirt and left my skin on the field."
As far as one of his Vincente Calderon striking successors Diego Costa is concerned, Kun had no equal.
Costa declared: "I knew when Sergio was at Atletico, he was God and I loved watching him. He is, for me, the best I saw play. He was the best as a teammate. I learnt a lot playing alongside him."
Those three goals did prove to be his last in red and white as the summer came, ushering in a new sky blue era in Sergio's remarkable career.
The rest, as they say, is history.
134 goals, two Premier League titles, two Capital One Cups and a Premier League Golden Boot in five seasons at City have left supporters wondering whether they're witnessing the club's greatest-ever striker.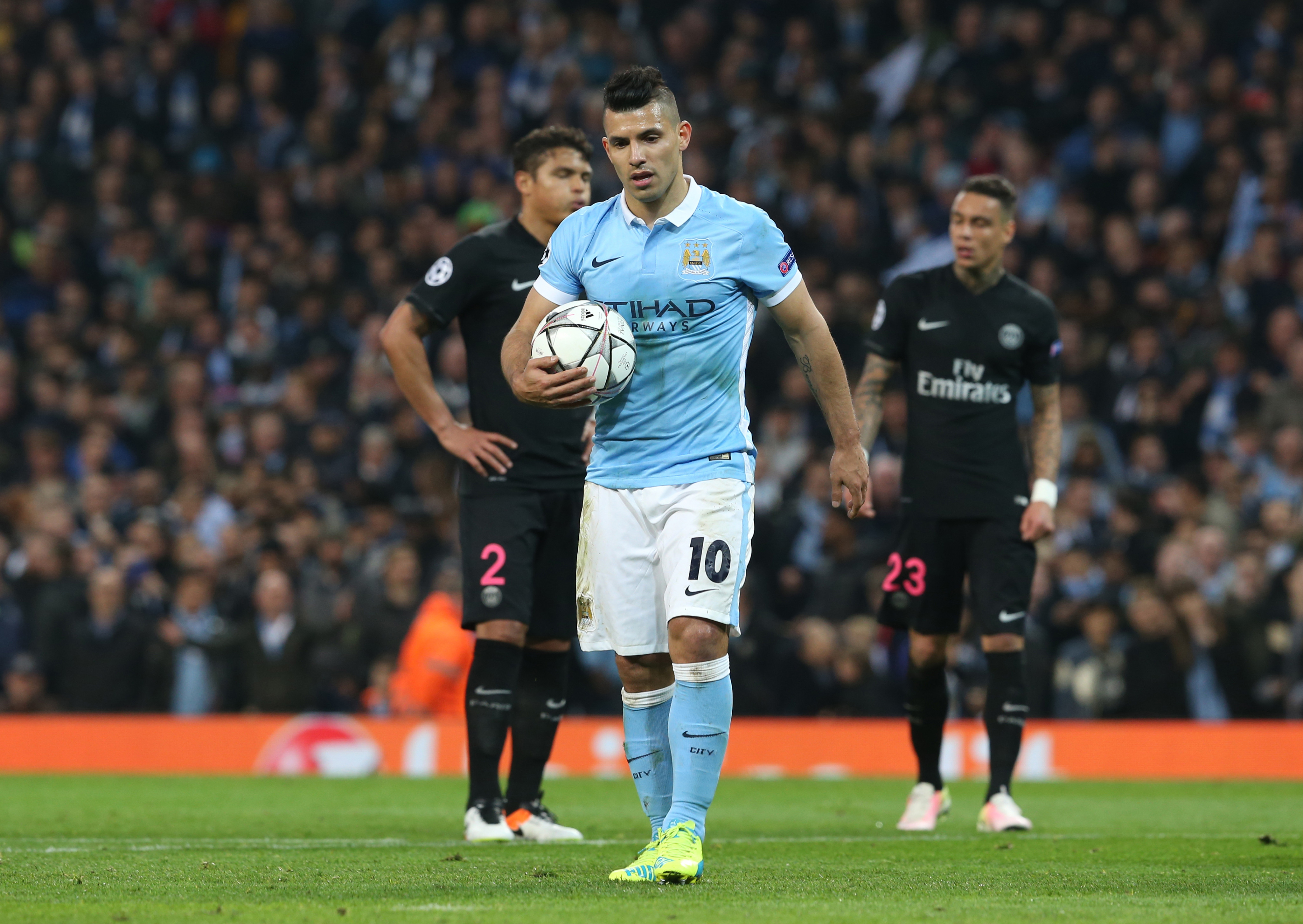 Now, with familiar opponents locked into his crosshairs once more, can Kun right his historical wrong and finally down Europe's most successful club on the grandest stage in continental club football?
If he can, City's talisman might just be on a collision course with those Atleti supporters who once worshipped him in Milan next month…