First Team News
1
City v Real Madrid: Played for both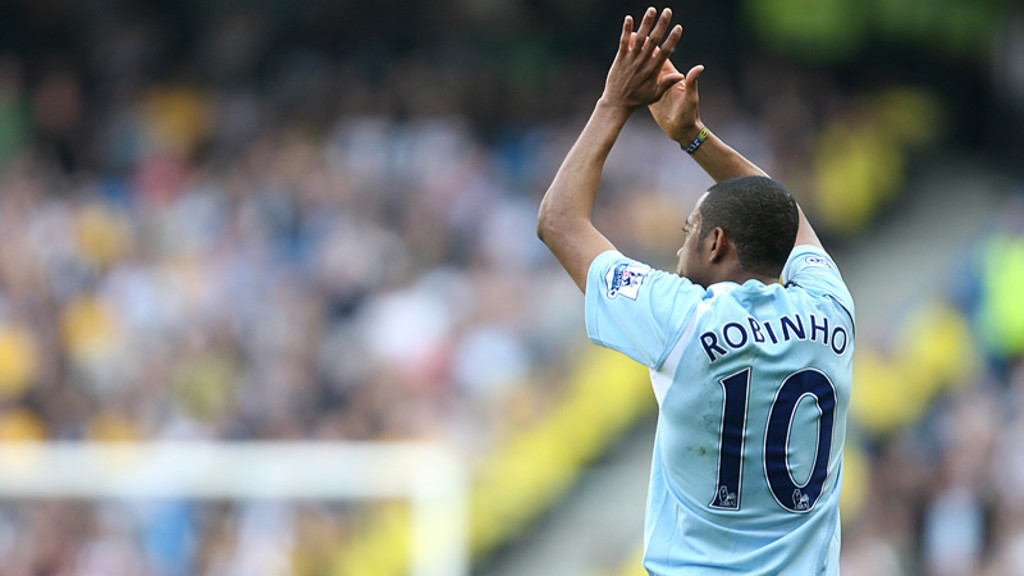 ROBINHO: One of the most exciting transfers ever?
Ahead of Tuesday night's showdown with the ten-time European champions, we look at players who've worn both the sky blue of City and the white of Real Madrid…
Steve McManaman
One of the first and most famous beneficiaries of the "Bosman ruling", Steve McManaman was a free agent when he swapped Merseyside for Madrid in 1999.
He would go on to become the first Englishman to win the UEFA Champions League with a foreign club – a feat he achieved twice, in 2000 and 2002, scoring in the final and claiming the Man of the Match award in the first of those triumphs.
When he finally brought the curtain down on his La Liga career, World Cup winning manager Vincente del Bosque paid tribute to the Liverpudlian.
Del Bosque said: "I was very happy with Macca. He was a caballero, a gentleman, a stupendous guy; he always had a smile, he never complained, he was great, a leader.
"He was exemplary ... and a good footballer too, very good. A fantastic player in every sense."
Steve's career was winding down when he joined City in 2003 but his experience told in the 44 appearances he made over two seasons at the City of Manchester Stadium.
Nicolas Anelka
Real Madrid paid a reported £23m for then-Arsenal striker Nicolas Anelka in the summer of 1999 but the Frenchman struggled to replicate the form displayed in North London in the Spanish capital.
A disagreement with Del Bosque in March 2000, which saw him suspended by the club, seemed to be the beginning of the end of Anelka at the Santiago Bernabeu.
He joined PSG and enjoyed a successful loan spell at Liverpool before Kevin Keegan brought him to City for a club record £13m fee.
Anelka was a big hit in his time at City, scoring 45 goals and finishing as top scorer in his first two seasons in Manchester.
Robinho
Arguably the most exciting and unexpected transfer in the Premier League era, Robinho's transfer to City in September 2008 almost single-handedly launched the "deadline day" coverage seen on rolling sports news channels to this day.
The Brazilian was seen as the heir-apparent to Pele when he burst through the ranks at Santos, forcing Real Madrid to swoop in 2005.
Robinho's time in Madrid was far more successful than it's often painted as, with the forward earning Ballon d'Or nominations and winning La Liga twice but a dispute over a contract renewal eventually led to his famous move to the Premier League.
Excellent in his first season at City where he finished as the club's top scorer with 14 goals, the start to his second campaign was blighted by injury and he ended up moving to Milan in the January transfer window.
Still remembered fondly by supporters in Manchester, Robinho's arrival is still seen as a defining moment in the establishment of City as a major force in English football.
Emmanuel Adebayor
Another man who represented both sides, current Crystal Palace striker Emmanuel Adebayor believes that the upcoming tie between his former teams is impossible to call.
"It's going to be a difficult tie for Madrid. I played for City and I know how hard it can be for opponents to play in their stadium," Adebayor told AS.
"I can guarantee they [City] are not weak at all. When you have a player like [Sergio] Aguero, who scores a goal almost every time he plays, you cannot say they are weak.
"They have [Yaya] Toure, [David] Silva, [Kevin] De Bruyne is flying since returning from injury and [Samir] Nasri has also come back well.
"In Spain, they may think that Madrid will win, but I guarantee you it will be a difficult tie. I think it's 50-50."
Javi Garcia
A graduate of Real Madrid's youth Academy, Javi Garcia only made three La Liga appearances for the club before making his name in Portuguese football with Benfica.
He joined City on the final day of the 2012/13 summer transfer window and went on to win the Barclays Premier League and the Capital One Cup in 2013/14.
Now playing for Zenit, Garcia won the Russian Premier League title in 2014/15.