First Team News
1
Garcia hoping for Black Cats call
Manu Garcia is one of a number of youngsters who will be hoping City have a long run in the Capital One Cup.
The 17-year-old play-maker was on the bench against Crystal Palace and played in a number of the Blues' pre-season matches and he didn't look out of place alongside some the more established stars at the Club.
With Kelechi Iheanacho already making an impression this season and Patrick Roberts pressing for his first team debut, Garcia could feature against Sunderland on Tuesday evening as Manuel Pellegrini continues to blood promising young talent.
"I've been training with the first team quite a lot this season and it is really good to work with them because we have so much quality in our squad," said Manu.
In all honesty I didn't expect to go on tour with the first team but things went really well and I'm really happy with the way things are going

...Manu Garcia...
"The Capital One Cup is a competition that is really exciting for all the younger players because we know there is a possibility that we could play and maybe show what we are capable of. It's really positive, not just for me, but for the Club."
One of the Elite Development Squad's most promising talents, Garcia admits David Silva is something of a role model for him and somebody he would love to emulate.
He said: "Silva is somebody I really admire and watch closely – and not just because he's Spanish – it's his movement and the way he plays which is amazing.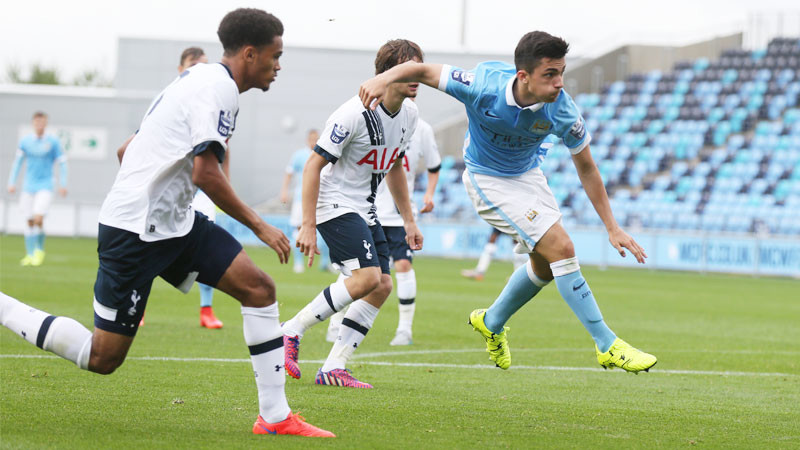 "As for my own style, I like to see a lot of the ball, try to combine and bring as many players into the game as possible while always looking for the final pass. It would be fantastic if I was to play some part of the game against Sunderland but I will have to wait and see.
"I always get nervous before a big game and this would be no different, but it's more of a nervous energy than anything else and once I have my first touch, I forget about everything and settle down immediately.
"I think Sunderland will go with the majority of their regular starting XI because they haven't started the season well and this is a very important game for them.
"They know if they can win a game against City, it could be the springboard for their season and give their players and fans a huge lift.
"But we want to go as far as possible as well so it should be an interesting game and if I am given the chance to play, I will be ready."