Men's Team
1
Navas relishing challenge for places
web-jesus-navas-in-action
Jesus Navas admits competition for places at City has never been fiercer, but believes it to be a major plus for the squad.
The pacey winger clocked up his 100th City appearance at Crystal Palace last weekend, but was on the bench against Juventus in midweek – a rare occasion that the former Sevilla star was not used.
In fact, with 196 chances created in his first century of appearances, Navas is one of the most prolific creator of opportunities in the Premier League.
Now he's hoping he can force his way back into the team against West Ham, but accepts there will be plenty of squad rotation in the coming months.
"The competition for places does not just keep me sharp – it keeps everyone in the whole squad sharp because we know we have to perform to a high standard continually" said Navas.
"It's good to be competitive when everyone wants to be in the starting line-up. We are doing something very important this year we are thinking game by game and the next one is against West Ham, so this is the match we have to be focused on.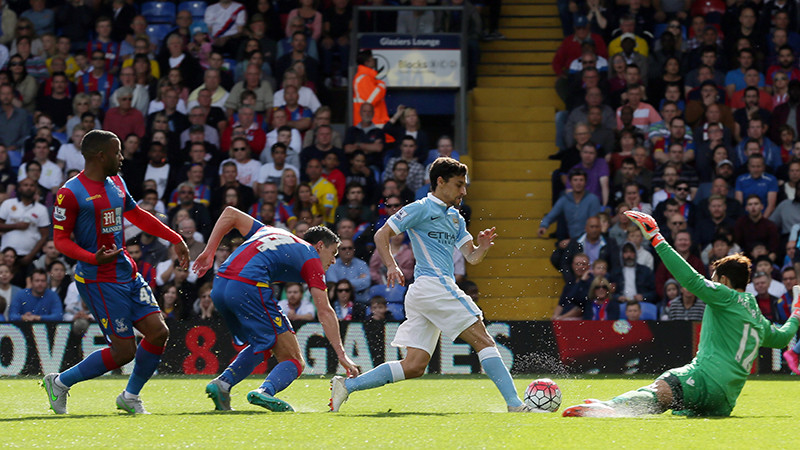 "They have started very well, especially away from home so we will be wary of them. Any team that wins at Arsenal and Liverpool in successive away games is dangerous so we need to be at our very best.
They look to be a team who are perhaps better suited playing on the road with a fast counter-attack so it should be a good, open game

...J Navas #15...
"We just want to keep winning and the more points we get on the board, the better. We are only focused on ourselves, getting three points every week and winning our games so we aren't paying too much attention to what our title rivals are doing at this stage.
"We've only played five Premier League games and we just need to focus on the next game, prepare well and take it from there."
On a personal note, Navas added: "I am very happy at City and I am enjoying my time with the Club. We've made the best start possible in the opening weeks but there is such a lot of hard work still to do.
"We want to win every competition we're in and I believe we have the players to do that. The past two years have gone really quickly for me but I have a lot of great memories already.
"I always try to do my best on every training session to have the chance of playing the following game. Here all the players feel important.
"It's not possible to play in every game but of course, every player wants to play in every game so to reach 100 appearances for City so quickly is very pleasing."