First Team News
1
Six ruled out of Borussia clash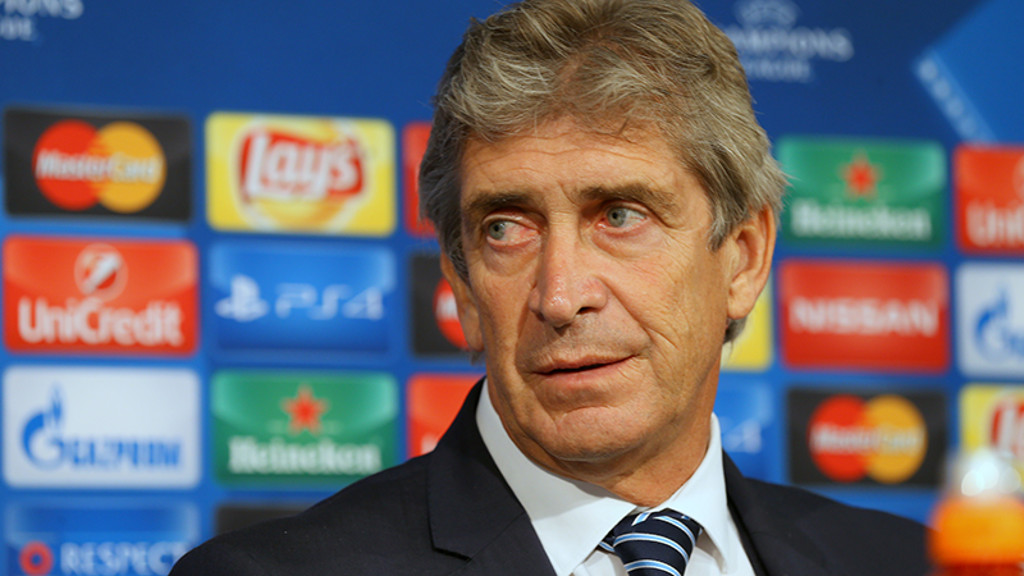 Manuel Pellegrini has confirmed that City will be without six first team stars when they take on Borussia Monchengladbach on Wednesday night.
Samir Nasri, Wilfried Bony, Gael Clichy, Fabian Delph, Eliaquim Mangala and Vincent Kompany have all been ruled out of the Champions League clash, but Joe Hart and David Silva have travelled to Germany with the rest of the squad.
Losing the skipper is a blow for the Blues, but Pellegrini emphasised that one player is not the difference between winning and losing.
The boss told the assembled press: "Of course Vincent is a very important player, he is our captain and he has started the season very well, but I don't think one player is crucial.
"We have won the last six games of last season without Vincent. I think it is the amount of injuries we have had that has been the more important thing. We have a strong squad but it is not easy to sustain eleven injuries [at once]."
After suffering defeat against a clinical Juventus in the group's opening game, the manager and players are keen to get a positive result against Borussia Monchengladbach, who also lost their opening game to Sevilla.
However, Manuel has emphasised that they will face a tough side in their quest for three points.
He added: "I expect a very good game against a very big club. We want to recover the points we dropped at home, but we must play with a very high quality. It is not a final but it is a very important game for us."
The Chilean was also positive about City's recent record in Europe, pointing out that his side have qualified for the last 16 for the past two years and then been handed a tough draw with Barcelona on both occasions.
"I don't think we have failed in Europe," said Pellegrini. "We have qualified for the knockout stages in my two seasons here, and then we lost to Barcelona who are the best team in the world.
"We have beaten Bayern Munich twice. Last season we won our last two games against Bayern Munich and Roma so we know how to do it. This season we lost to Juventus – a strange game."
The boss was sat next to Kevin De Bruyne throughout the pre-match media briefing, and he was full of praise for his newest signing, who has had fans and press purring with his recent displays.
The Belgian has scored in each of City's last three games, and added greater threat to an attack that has already picked up a plethora of plaudits so far this season.
However, Manuel is convinced that De Bruyne will only get better through playing and training alongside his new world-class teammates.
Manuel reflected: "Maybe he had to play before he was quite ready, and it would have been useful to have worked more with the team beforehand, but he has given his answer on the pitch.
"He is a very technical player, and playing with David and Yaya will help his development into an even stronger player."
De Bruyne admitted he was a little surprised to come into the side so quickly, but he is looking to maintain and even improve on the form that has won praise from across the Premier League.
Kevin revealed: "I think I came into the side more quickly because of the injuries, but I tried to get to a level that City players need. My start has been promising but I have to maintain this form and play better if possible.
"It is nice to score goals but I prefer to win to be honest. We need to get the results and then we see what happens in the other games."
The 24-year-old had settled in almost seamlessly following his move from Wolfsburg, but the midfielder reckons there isn't too much difference between playing in the Premier League and the Bundesliga – which he believes are the best two leagues in the world.
One of the more senior players at Wolfsburg, he is now learning from some of the best names in English and world football.
"I don't think there are a lot of differences with the Bundesliga, there are probably more similarities. You have to be tough to win every game, and even against the smaller clubs you have to be 100% to win. I believe that makes them the two best leagues in the world at the moment.
"I have fond memories of my 1 ½ years [in Germany], winning the Pokal and Supercup and the Footballer of the Year.
"We have a lot of guys who are older than me at Manchester City. At Wolfsburg I was one of the more experienced guys, so it was more natural for me to have a role as a leader there but I will try to do my thing the best I can."