First Team News
1
Guest columnist: Croft on Canaries clash
We caught up with former City and Norwich winger Lee Croft, ahead of Saturday's clash between the two sides.
The midfielder spent nine years with the Blues, making his way through the youth ranks to the first-team, before moving on to Carrow Road...
In Lee Croft's words...
It was good to be among the City fans at the derby last weekend. I go and watch the Blues whenever I get the chance.
I'm at Oldham Athletic these days and I'm enjoying being back in the north-west where all my family and friends are. I've had spells with Norwich, Derby County; then had a loan spell with Oldham before joining St Johnstone where I had a great time and won the Scottish Cup – the first major trophy of my career.
I was at the Sevilla game and I always get along to the games when we're not playing at the same time. It's been great catching up with City fans again – they were always great with me in all fairness – but I think they've always liked young players coming through and breaking into the first-team.
I think there's only Joe Hart left from my time at the club now Micah has gone but everyone asks me about my time with City and I've been a fan since I joined the club aged 12 and I've followed the Club's fortunes ever since.
It was a dream come true playing for City and I couldn't be happier with how things have gone over the past few years so I take great pride in saying I was once a City player and that I scored once for them as well!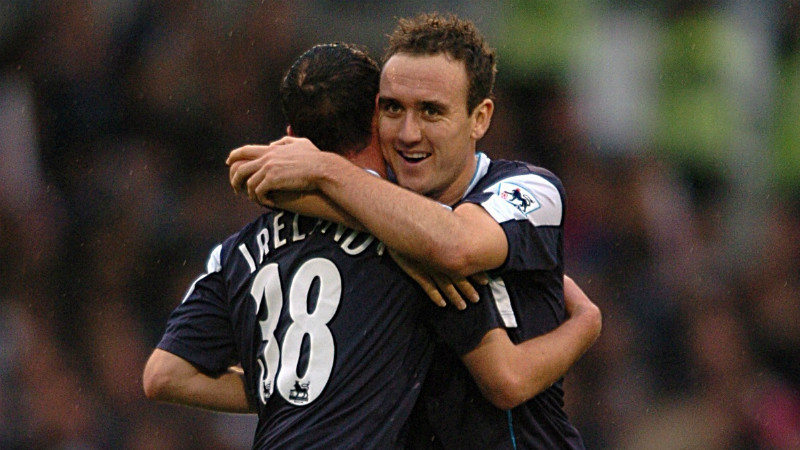 I won't be able to get to the Norwich game which is a shame because it would have been great to see two of my old clubs playing each other. I loved my time with Norwich and I won the Player of the Year in my third and final season with them.
I must admit, I regret leaving when I did but it felt right at the time and I wish them nothing but good luck for the future – but I would always want City to win, no matter who they are playing. Obviously if it was Oldham that would be different!
As for this season, I think City will win the Premier League and I hope we do well in the Champions League and all other competitions we're in this season. I also think Norwich will stay up – they've got a good manager and I think they'll be fine.
As for me, I'm taking my coaching badges now as I'm starting to think about what I'll be doing when my playing career ends. I came through City's Academy and I'd like to go down the patch of helping other kids develop so that's my main focus for the future.
Other than that, when the Latics aren't playing, I'll maybe see the City fans at the Etihad or in the away end of wherever we're playing.
---
Tickets are still available for the visit of the Canaries. Make sure you don't miss out on another memorable game and buy your tickets now.
Hospitality is also available from £99 + VAT. You can book online, call our hospitality team on 0161 385 2012 or email hospitality@mcfc.co.uk.