Men's Team
1
Juventus v City: Global TV listings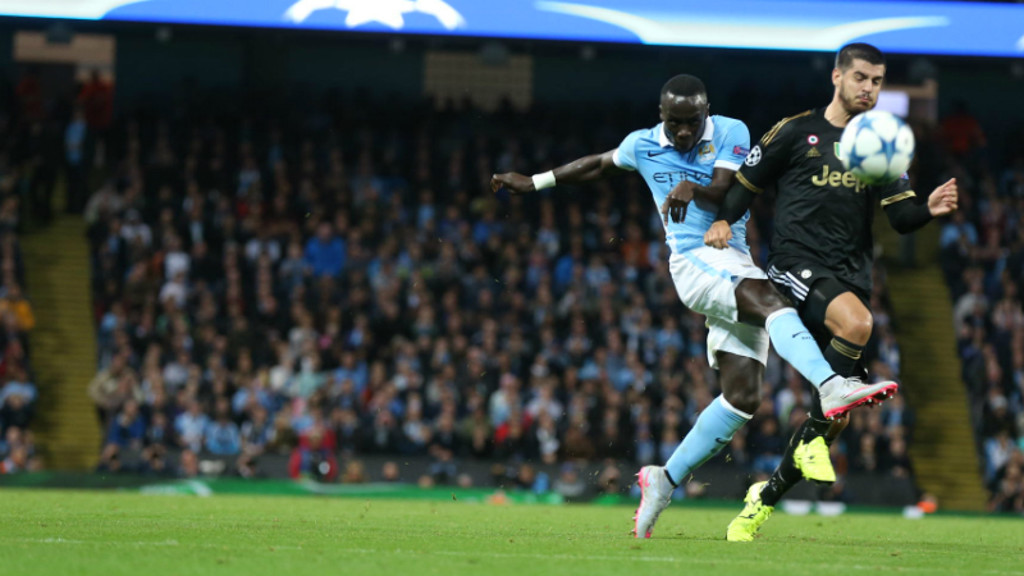 Sagna shot
City travel to Turin in Matchday Five of their 2015/16 UEFA Champions League campaign.
Manuel Pellegrini's men head into the clash in the knowledge three points would clinch top spot in Group D - but Juventus also need a win.
You certainly won't want to miss a kick so, to ensure you don't, check out this list of global broadcasters showing the game, courtesy of livesoccertv.com...
| | |
| --- | --- |
| Afghanistan | TEN Sports India |
| Albania | Tring Sport 1 |
| Algeria | beIN Sports Arabia 1 HD, beIN Sports Arabia 14 HD, beIN SPORTS CONNECT Arabia |
| Andorra | beIN Sports 1 |
| Angola | SuperSport 5 Africa |
| Argentina | FOX Sports Cono Sur, Fox Sports Cono Sur, FOX Play Latin America |
| Armenia | Armenia TV |
| Australia | beIN Sports Connect Australia |
| Austria | Sky Sport 3/HD, Sky Sport 1/HD, Sky Go Deutschland |
| Azerbaijan | AZTV |
| Bahrain | beIN Sports Arabia 1 HD, beIN SPORTS CONNECT Arabia, beIN Sports Arabia 14 HD |
| Bangladesh | TEN Sports India |
| Barbados | FOX Play Latin America |
| Belarus | Belarus 2 |
| Belgium | 2BE, Club RTL, Proximus 11+ |
| Benin | SuperSport 5 Africa |
| Bhutan | TEN Sports India |
| Bolivia | Fox Sports Cono Sur |
| Bosnia and Herzegovina | Arena Sport 3 |
| Botswana | SuperSport 5 Africa |
| Brunei | Astro Arena |
| Bulgaria | Ring.bg, Voyo Sport |
| Burkina Faso | SuperSport 5 Africa |
| Burundi | SuperSport 5 Africa |
| Cameroon | SuperSport 5 Africa |
| Canada | TSN4, RDS |
| Cape Verde | SuperSport 5 Africa |
| Central African Republic | SuperSport 5 Africa |
| Chad | beIN Sports Arabia 14 HD, beIN Sports Arabia 1 HD, beIN SPORTS CONNECT Arabia, SuperSport 5 Africa |
| Chile | Fox Sports Cono Sur, Fox Sports Chile, FOX Play Latin America |
| China | CNTV Sports, CCTV 5+ VIP, LeTV, Sina Sports, PPTV Sport China, QQ Sports Live, CCTV-5 |
| Colombia | FOX Play Latin America, Fox Sports Cono Sur |
| Comoros | SuperSport 5 Africa |
| Congo | SuperSport 5 Africa |
| Congo DR | SuperSport 5 Africa |
| Costa Rica | FOX Play Latin America |
| Cote D'Ivoire | SuperSport 5 Africa |
| Croatia | Arena Sport 3 |
| Curacao | FOX Play Latin America |
| Cyprus | Cytavision Sports 2 |
| Czech Republic | Digi Sport 3 |
| Denmark | TV3 Sport 2, Viaplay Denmark |
| Djibouti | beIN SPORTS CONNECT Arabia, beIN Sports Arabia 14 HD, SuperSport 5 Africa, beIN Sports Arabia 1 HD |
| Dominican Republic | FOX Play Latin America |
| Ecuador | Fox Sports Cono Sur, FOX Play Latin America |
| Egypt | beIN Sports Arabia 1 HD, beIN Sports Arabia 14 HD, beIN SPORTS CONNECT Arabia |
| El Salvador | FOX Play Latin America |
| Equatorial Guinea | SuperSport 5 Africa |
| Eritrea | SuperSport 5 Africa |
| Estonia | Belarus 2, Viasat Sport Baltic |
| Ethiopia | SuperSport 5 Africa |
| Finland | Viaplay Finland, Viasat Hockey |
| France | beIN Sports 1 |
| Gabon | SuperSport 5 Africa |
| Gambia | SuperSport 5 Africa |
| Georgia | 1TV |
| Germany | Sky Sport 1/HD, Sky Go Deutschland, Sky Sport 3/HD, TeleClub Sport Live |
| Ghana | SuperSport 5 Africa |
| Greece | OTE Sport 2 |
| Guatemala | FOX Play Latin America |
| Guinea | SuperSport 5 Africa |
| Guinea-Bissau | SuperSport 5 Africa |
| Honduras | FOX Play Latin America |
| Hong Kong | Cable TV Channel 203 HD, LeTV, Soccer Betting Channel 64, i-Cable Sports LIVE |
| Hungary | M4 Sports |
| Iceland | Stöð 2 Sport 3 |
| India | TEN Sports India |
| Indonesia | Orange TV Indonesia, beIN Sports 2 HD, RCTI - Indonesia |
| International | Youtube |
| Iran | Channel 3, beIN Sports Arabia 14 HD, beIN SPORTS CONNECT Arabia, beIN Sports Arabia 1 HD |
| Iraq | beIN SPORTS CONNECT Arabia, beIN Sports Arabia 14 HD, beIN Sports Arabia 1 HD |
| Ireland | BT Sport Live Streaming, BT Sport 2, Setanta Sports Ireland |
| Israel | Sport 5 Israel |
| Italy | PremiumSport HD |
| Japan | Sukachan 0, SKY PerfecTV LIVE |
| Jordan | beIN Sports Arabia 14 HD, beIN Sports Arabia 1 HD, beIN SPORTS CONNECT Arabia |
| Kenya | SuperSport 5 Africa |
| Korea Republic | SBS ESPN Korea |
| Kuwait | beIN SPORTS CONNECT Arabia, beIN Sports Arabia 14 HD, beIN Sports Arabia 1 HD |
| Latvia | Viasat Sport Baltic, Belarus 2 |
| Lebanon | beIN Sports Arabia 14 HD, beIN SPORTS CONNECT Arabia, beIN Sports Arabia 1 HD |
| Lesotho | SuperSport 5 Africa |
| Liberia | SuperSport 5 Africa |
| Libya | beIN Sports Arabia 1 HD, beIN SPORTS CONNECT Arabia, beIN Sports Arabia 14 HD |
| Lithuania | Belarus 2, Viasat Sport Baltic |
| Macao | TDM Desporto, TDM HD |
| Macedonia | MRT1 |
| Madagascar | SuperSport 5 Africa |
| Malawi | SuperSport 5 Africa |
| Malaysia | Astro Arena, Eurosport Asia |
| Maldives | TEN Sports India |
| Mali | SuperSport 5 Africa |
| Malta | GO Sports |
| Mauritania | beIN Sports Arabia 14 HD, beIN Sports Arabia 1 HD, beIN SPORTS CONNECT Arabia |
| Mauritius | SuperSport 5 Africa |
| Mexico | FOX Play Latin America, Fox Sports Cono Sur |
| Monaco | beIN Sports 1 |
| Montenegro | Arena Sport 3 |
| Morocco | beIN Sports Arabia 14 HD, beIN Sports Arabia 1 HD, beIN SPORTS CONNECT Arabia |
| Mozambique | SuperSport 5 Africa |
| Myanmar | Skynet Myanmar |
| Namibia | SuperSport 5 Africa |
| Nepal | TEN Sports India |
| Netherlands | Ziggo Sport Golf, Sport1 Go |
| Nicaragua | FOX Play Latin America |
| Niger | SuperSport 5 Africa |
| Nigeria | SuperSport 5 Nigeria, SuperSport 5 Africa |
| Norway | Viaplay Norway, Viasat Hockey |
| Oman | beIN Sports Arabia 14 HD, beIN Sports Arabia 1 HD, beIN SPORTS CONNECT Arabia |
| Pakistan | TEN Sports India |
| Palestinian Territory | beIN SPORTS CONNECT Arabia, beIN Sports Arabia 14 HD, beIN Sports Arabia 1 HD |
| Panama | FOX Play Latin America |
| Paraguay | Fox Sports Cono Sur |
| Peru | FOX Play Latin America, América Televisión, Fox Sports Cono Sur |
| Philippines | beIN Sports 2 HD |
| Poland | Canal+ Sport, Canal+ Sport Online, Belarus 2 |
| Portugal | Sport TV3 |
| Qatar | beIN SPORTS CONNECT Arabia, beIN Sports Arabia 1 HD, beIN Sports Arabia 14 HD |
| Romania | Dolce Sport 1 |
| Russia | Belarus 2 |
| Rwanda | SuperSport 5 Africa |
| Sao Tome And Principe | SuperSport 5 Africa |
| Saudi Arabia | beIN SPORTS CONNECT Arabia, beIN Sports Arabia 14 HD, beIN Sports Arabia 1 HD |
| Senegal | SuperSport 5 Africa |
| Serbia | Arena Sport 3, RTS 1 |
| Seychelles | SuperSport 5 Africa |
| Sierra Leone | SuperSport 5 Africa |
| Singapore | Eurosport Asia |
| Slovakia | Digi Sport 3 |
| Slovenia | Kanal A |
| Somalia | beIN Sports Arabia 1 HD, beIN SPORTS CONNECT Arabia, beIN Sports Arabia 14 HD |
| South Africa | SuperSport 5 Africa, SuperSport 5, SuperSport Maximo |
| South Sudan | beIN Sports Arabia 1 HD, beIN Sports Arabia 14 HD, beIN SPORTS CONNECT Arabia, SuperSport 5 Africa |
| Spain | beIN Sports Connect S.P. |
| Sri Lanka | TEN Sports India |
| Sudan | beIN Sports Arabia 14 HD, beIN SPORTS CONNECT Arabia, beIN Sports Arabia 1 HD |
| Swaziland | SuperSport 5 Africa |
| Sweden | Viasat Hockey, Viaplay Sweden |
| Switzerland | RTS Deux, RTS Sport, TeleClub Sport 2, RSI La 2, TeleClub Sport Live |
| Syria | beIN Sports Arabia 1 HD, beIN SPORTS CONNECT Arabia, beIN Sports Arabia 14 HD |
| Taiwan | ELTA TV |
| Tanzania | SuperSport 5 Africa |
| Togo | SuperSport 5 Africa |
| Trinidad And Tobago | FOX Play Latin America |
| Tunisia | beIN Sports Arabia 1 HD, beIN SPORTS CONNECT Arabia, beIN Sports Arabia 14 HD |
| Turkey | Tivibu Spor 2 |
| Uganda | SuperSport 5 Africa |
| Ukraine | Belarus 2 |
| United Arab Emirates | beIN SPORTS CONNECT Arabia, beIN Sports Arabia 14 HD, beIN Sports Arabia 1 HD |
| United Kingdom | BT Sport 2, BT Sport Live Streaming |
| United States | Fox Soccer 2GO USA, Fox Sports GO, Fox Sports 2 USA |
| Uruguay | FOX Play Latin America, Fox Sports Uruguay, Fox Sports Cono Sur |
| Venezuela | FOX Play Latin America |
| Yemen | beIN Sports Arabia 1 HD, beIN SPORTS CONNECT Arabia, beIN Sports Arabia 14 HD |
| Zambia | SuperSport 5 Africa |
| Zimbabwe | SuperSport 5 Africa |