First Team News
1
Demichelis: We needed to win
Martin Demichelis admits that City needed their 3-1 win against Southampton.
Goals from Kevin De Bruyne, Fabian Delph and Aleksandar Kolarov secured the victory and Demichelis feels that City have recovered their confidence after two successive defeats.
"Today we needed to win," said Demichelis.
"We always try to play the way people want us to play, to play attractive football, but today the objective was to go back to winning ways, to recover a bit of confidence and to go back to the top of the table – we'll see about that after the Leicester v Manchester United match."
The 3-1 win at the Etihad marked the Argentine's third 90 minutes in a week and, although he admits it wasn't his best performance of the season today, he believes that he is more than comfortable playing as part of the back four – no matter who is alongside him.
"To be truthful, it was a bit of time since I've played and now I've played three games in a week with very little recovery time between them," Martin reflected.
"To be honest with you, I don't think today was my best performance of the season but I'm always there when the team and the manager need me to play."
He continued: "I feel comfortable playing with any of my team mates. The idea and our style of play is always the same, regardless of the players that play in defence.
"I've worked together for a long time with Mangala and Vinny and with Nico in the national team. As I said, the idea is always the same and we try to work always the same way."
Midfielder Fabian Delph echoed Demichelis's statements about bouncing back from two successive defeats and said the game was about giving a reaction to Manuel Pellegrini.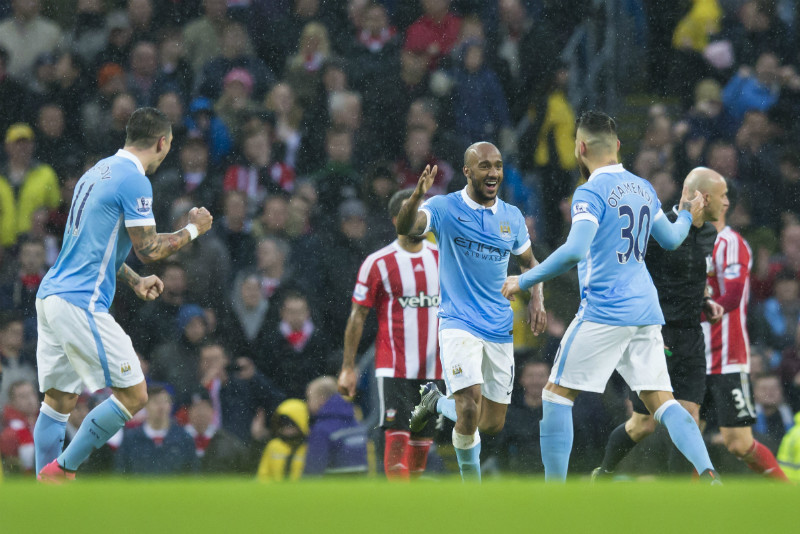 "Football has ups and downs but we've got more than enough quality in the locker to bounce back from difficult weeks," Delph declared.
"It was a very important game. We needed to bounce back.
"We managed to do that and get the three points. It was about giving the reaction to the manager. We did that today, and we'll go home happy. It was very sweet to get my first goal, and I hope things can keep pushing on."