First Team News
1
Pellegrini: Silva still missing for Villa trip
David Silva has returned to training but will not be fit for Sunday afternoon's Villa Park visit.
The playmaker, who suffered an ankle injury playing for Spain against Luxembourg last month, should be back after the international break, according to Manuel Pellegrini.
Gael Clichy and Fabian Delph are back in contention after they were named on the bench against Sevilla in midweek but City's Chilean boss hinted that they will have to be patient before being named in his starting line-ups.
"Maybe Clichy and Delph are not ready to start but they are to be on the bench and that's important," Pellegrini said.
"Clichy can play on both sides which is important as Zabaleta is injured. Silva is working – his ankle is not 100% fit. He tried last week to play a small-sided game but he couldn't. I hope after these 15 days he will be OK.
"The Spanish national team know David cannot play and so there is no problem
"We hope that all of the players will have recovered after the break and that there will be no injuries. It's very important to have the whole squad.
"I hope that after the break we can rotate as we have to play a lot of games - you cannot win trophies with just 11 players."
It marks Fabian Delph's first return to Villa Park since his summer move to the Etihad Stadium and his manager was quizzed on whether the midfielder can expect a frosty reception.
Pellegrini was calm on the notion and insisted that Delph will want to face his former employers after missing so much of the season through injury.
Manuel explained: "Maybe it's the same as when we played against Sevilla with Jesus Navas.
"Fabian played at Villa for a long time but he's a professional player and now plays with us. I know he wants to play as he's had so many injuries.
"It's good for Fabian to play for England too as he's working normally.
"He played some minutes in the Champions League and maybe he will play some on Sunday. It's good for him to play for his national team."
Much is made of the so-called "new manager bounce" and with Villa appointing Remi Garde in the week preceding this match, it's a phrase that will doubtless be in the air in Birmingham this weekend.
The City boss accepted the legitimacy of this phenomena and declared that his team will have to be every bit as good as they were against Sevilla on Tuesday if they are to get the three points.
"There is no easy games in the Premier League, especially against Aston Villa," he said.
"Always when you have a new manager, you have some reaction.
"They're at the bottom, they have a new manager, so they have the motivation not to be relegated.
"He [Garde] was at Carrington two years ago but I don't know him too much.
"He was a friend of Patrick Vieira's so he wanted to talk about football and working – he's a young, experienced manager at an important club like Lyon. I am sure, after this game, he will have a good career at Villa.
"I spoke with the players and we talked about doing what we did against Sevilla. We can't just think we can do the same this time unless we have the same concentration - it will be a tough game."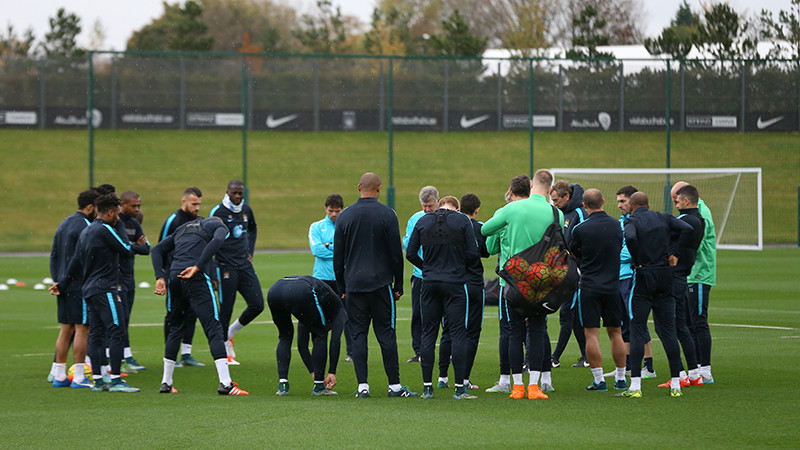 Inevitably, Pellegrini was also asked about Villa's new captain Micah Richards who spent one year working under the 62-year old at the Etihad.
Manuel added: "Unfortunately for Micah, who was an important player for this team as he came through the youth ranks, he had so many injuries while he was here, in the one season with me.
"After that he went to Italy and then went to Villa. He's an important player as he was with us."