Men's Team
1
Swansea v City: Five defining games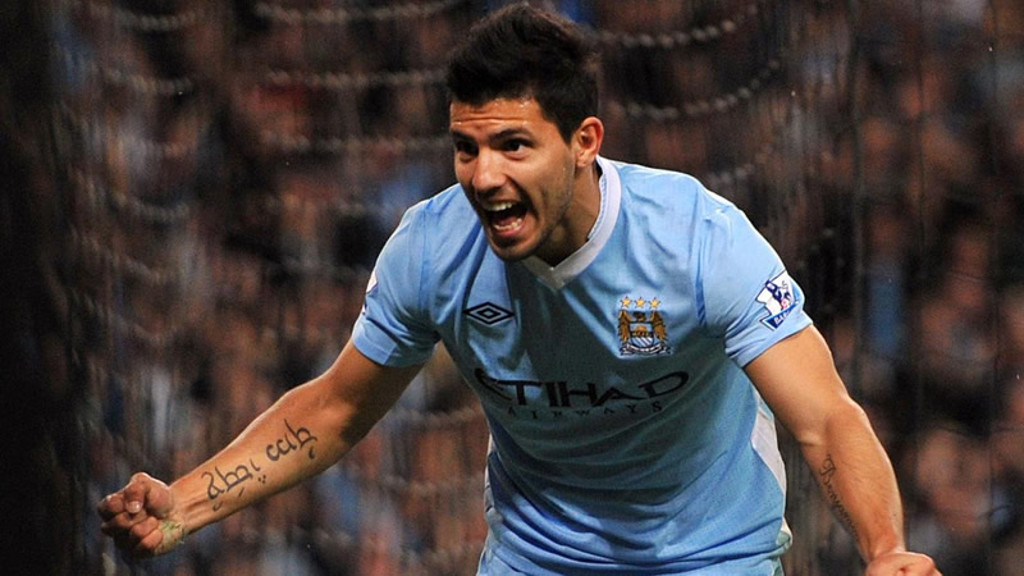 Aguero Celebrates
Sensational goals and classic encounters... City and Swansea have treated us to lashings of both down the decades.
With a focus on the more recent set of skirmishes, we've put together a list of clashes that sparked the imagination of both sets of fans, neutrals and pundits.
Featuring such moments as Sergio Aguero's debut, a Dennis Tueart special and a Kolarov rocket, we've managed to narrow it down to just five...
Tueart improvises – 1982
Handed an indirect freekick at the tightest of angles hugging the penalty area touchline, Dennis Tueart was forced to improvise. He enlisted the help of a willing teammate to lift the ball off the ground, before striking on the volley into the roof of the net past the astonished defensive wall and despairing goalkeeper.
Asa Hartford's goal proved crucial in a 2-1 victory, but unfortunately for the Scot, no one was likely to remember his strike for very long.
The 25,000 strong Maine Road crowd knew they had witnessed something special, a ray of light in a dark season that finished with both clubs suffering relegation. City took two attempts to bounce back, while Swansea had to wait until 2011 to dine once more at the top table.
Dream debut - 2011
City's record signing needed just eight Etihad Stadium minutes to begin his journey towards legend status in the home faithful's hearts.
Sergio Aguero entered the stage from the bench just minutes after Edin Dzeko had hit the opener in City's 2011-12 curtain-raiser against Swansea and his very presence seemed to ignite a match that had so far refused to spark.
His first was a tap-in assisted by the boot of home-grown hero Micah Richards, before Aguero himself laid on the goal for David Silva that the Spaniard's majestic display thoroughly merited.
Excitement rippled around the stands as the Argentine forward put Swans to the sword and crowned off a simply sensational debut with a cracker from 25 yards in stoppage time to make it 4-0. Aguero had arrived – in effortless style.
Heartbreak at the Liberty - 2012
When Joe Hart pushed away Scott Sinclair's penalty in March 2012, the jubilant away fans thought City had weathered the worst that Swansea and the referee's whistle could throw at them.
Roberto Mancini's men were chasing another valuable three points in a thrilling title race, but hopes faded when the Swans took a deserved lead through Luke Moore with less than 10 minutes left.
Disappointment turned to delight as Micah Richards powered home a late header before wheeling away to celebrate, but devastation swiftly followed as the realisation dawned the offside flag had been raised.
City surrendered the Premier League top spot to neighbours United for the first time in five months to put a big dent in title hopes…although as time would prove, far from a knockout blow.
Nasri at the double – 2013
Enjoying the form of his life, Samir Nasri was in no mood to slacken off ahead of the festive period when City welcomed Swansea to the Etihad in December 2013.
It looked as if the Welsh outfit would be in for a long afternoon when Negredo found the opener just eight minutes in, but the Swans held strong and it required some French genius to unlock the door for a second time.
Yaya Toure drove forward in typical fashion before threading the perfect ball, but Nasri still had to wriggle clear of several covering defenders before applying the unerring finish.
He added a second layer of gloss to a Man of the Match display by slotting home City's third after an inch perfect cutback from Pablo Zabaleta. The Swans would not be the last to fail in taming the Frenchman.
Kolarov solo - 2014
Exactly one month after the two sides faced off at the Etihad, City and Swansea renewed hostilities on the first day of January 2014. Manuel Pellegrini's men had claimed first blood with a 3-0 home victory, but arrived in Wales knowing the club had not won in Swansea for 30 years.
Nerves were not eased when Wilfried Bony cancelled out Fernandinho's opener right on the stroke of half time, but Yaya Toure's low shot restored the advantage just before the hour. With a place at the table's summit beckoning – if only for a few hours – Aleks Kolarov refused to settle for a single goal advantage.
Picking up the ball in his own half, he turned Swansea defenders inside out before cutting inside and firing home from a full 30 yards. It proved crucial, ensuring Bony's second in stoppage time did not spoil the belated New Year's Party.
If that little lot hasn't got you in the mood for Sunday, this next video might do the trick.
Some of the best goals City have scored against the Swans, all in one handy highlights reel. Enjoy...