First Team News
1
Hart: We answer to the fans
joe
Goalkeeper Joe Hart hailed the City fans after his superb performance in the 1-0 victory over Spurs at White Hart Lane.
The travelling fans went home in great spirits after Sergio Aguero's superbly taken first-half strike proved decisive at White Hart Lane.
City were also indebted to Hart for a string of fine saves throughout the game.
"We didn't play well today but we've done what people have done to us," Hart said.
"We started off a bit frantic then we got it together, with Sergio up front he's always going to get us a goal and we defended with our lives at the back and we got the win.
"It was a terrific run from David, an easy pass for me and Sergio does the rest, which he's proved that he's absolutely fantastic at."
After a rocky spell of form early in 2015, City have bounced back with three successive wins against West Ham, Aston Villa and now Spurs.
When asked about the criticism that was aimed City's way before the victory run, Hart said the Club were always clear on their priorities.
"We don't answer to anyone outside the Club," he said. "We answer to our fans, the owners, the players and that's who we are and who we've always been.
"There was great support again today and we've given them something to travel down to London for. We've not won in London before today so it's much appreciated for all the journeys they've travelled and hopefully this was worth it."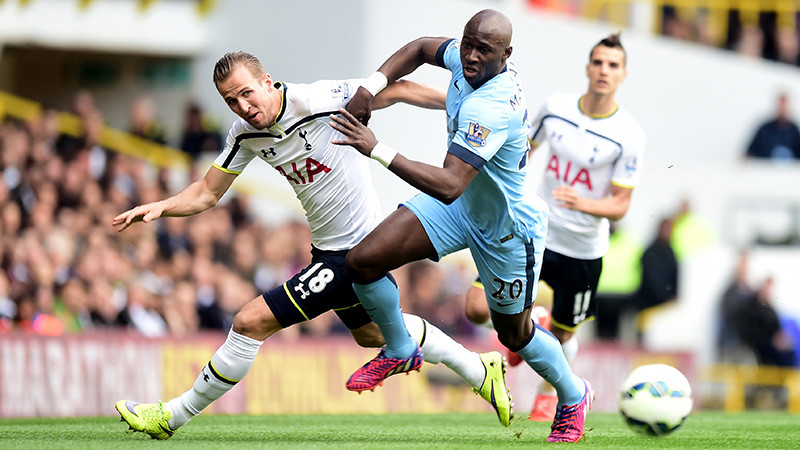 Hart denied Paulinho, Roberto Soldado, Ryan Mason and Erik Lamela at various points during the game, but was most proud when he thwarted man of the moment Harry Kane in the second half.
"The one where I had to stay on my feet," Hart reflected when asked which was his favourite save.
"I made it a little uneasy coming out and me and Martin had a bit of a mix up and I saved it but Fernando was behind me and someone else on the line so I was just keeping him guessing as long as I could."
Hart also took time to congratulate Chelsea after they secured the Premier League title with victory over Crystal Palace.
Hart added: "First of all congratulations to Chelsea a well deserved. To lead from the front, we've done that before and struggled to keep it but great respect to them and they know we'll be back next year.
"They're going to get stronger, we're going to get stronger as are other teams around us, I'm sure it's going to be another exciting season."