First Team News
1
Only Messi and Ronaldo ahead of Aguero
??????
Only Cristiano Ronaldo and Lionel Messi are in front of Sergio Aguero in the race for the Europe's most coveted individual honour – the Golden Shoe.
Though there's no real chance Kun can win the award this year - the Ronaldo/Messi battle has long dominated the Golden Shoe tables for several years - take two of the planet's most outstanding footballers out of the equation and Sergio leads the rest of Europe in the mini-league trailing the La Liga pair's wake.
The rankings are based on league goals only and each country has a difficulty factor to equate the goals ratio scored.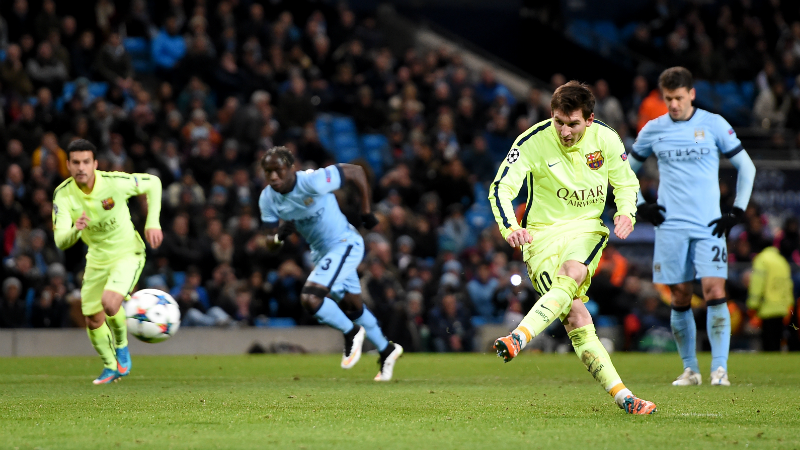 The top leagues are given a factor of two, so every goal scored in La Liga, Premier League, Bundesliga, Primeira Liga, Serie A and Ligue 1 is worth two points, whereas Holland's Eredivisie and the leagues around the rest of Europe are scored at 1.5 points per goal.
Sergio is ahead of players such as Neymar, Harry Kane, Carlos Tevez and Diego Costa and is likely to win the Premier League's Golden Boot with a five-goal lead of Spurs striker Kane.
While Messi and Ronaldo continue to score goals for fun for Barcelona and Real Madrid respectively, chances are third spot in the Golden Shoe award will be considered a triumph in itself.
Kun, no doubt, will want to eclipse the La Liga pair and take the honour himself in coming seasons – something that will surely happen sooner rather than later.
The leader board is:

Pos Player Team Nation Goals Factor Pts
1. C. Ronaldo Real Madrid ESP 42 2.0 84.0
2. L. Messi FC Barcelona ESP 40 2.0 80.0
3. S. Aguero Man City ENG 25 2.0 50.0
4. J. Soriano RB Salzburg AUT 30 1.5 45.0
5. Neymar FC Barcelona ESP 22 2.0 44.0
6. A. Griezmann Atletico M ESP 22 2.0 44.0
7. E. Zahavi Maccabi T A ISR 28 1.5 42.0
8. A. Lacazette Lyon FRA 27 1.5 40.5
9. J. Martinez FC Porto POR 20 2.0 40.0
10. H. Kane Spurs ENG 20 2.0 40.0