Men's Team
1
The Last Time: Burnley v City, 2010
There are only two survivors in the squad from our last Premier League trip to Turf Moor.
Vincent Kompany was in the starting line-up and Dedryck Boyata was on the bench for City's 6-1 win over Burnley on Saturday 3 April 2010.
Roberto Mancini's side were 3-0 up inside seven minutes which is the quickest they've ever found themselves in such a commanding lead in Premier League history.
To put that into context, the closest City have come to accumulating such an early three-goal advantage was in the 5-0 win over Newcastle last month when they managed it in 21 minutes.
Emmanuel Adebayor opened the scoring after just four minutes in what was the Blues' first league game at Turf Moor in almost a decade, before Craig Bellamy and Carlos Tevez notched the second and third in the fifth and seventh minutes respectively.
Patrick Vieira, who started and scored the fourth 13 minutes later, also remains at the Club in his capacity as Elite Development Squad Head and the Frenchman recalls what he described as close to a perfect game.
"It was a fantastic win, we started the game so well," he smiled.
"We knew that we needed to show we were the better team and we were great from the first minute.
"We may have scored more after the break or have kept a clean sheet but it's difficult to play the perfect game. We created chances, we scored six goals and we played well as a team.
"When I arrived at the Club, I wasn't at my best physically but in this game I felt like I was back to my best and benefiting from playing a run of games. Of course I was delighted to score."
As BBC Sport's Les Roopanarine put it: "As a statement of intent in the four-way joust with Tottenham, Liverpool and Aston Villa for the final Champions League spot, City's free-spirited exhibition of attacking football could not have been more emphatic."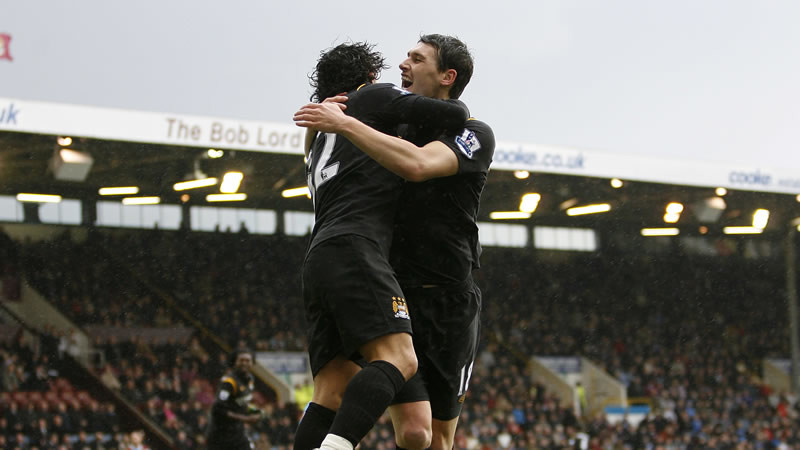 City went in at the break 5-0 up, thanks to Adebayor's second goal of the game, meaning Kompany's 58th minute header was the only goal for the away side after the restart.
With the pitch barely in playable condition due to a torrential downpour, the biggest concern for away supporters inside Turf Moor was the possibility of an early abandonment.
Fortunately, Alan Wiley allowed the game to finish and City strengthened their hold on fourth place, although they would eventually be pipped to the final UEFA Champions League berth by Spurs.
Here's the squad from the day along with details on where the players are plying their trades today.
City XI: Given (Aston Villa), Onuoha (QPR), Toure (Liverpool), Kompany (still at Club), Sylvinho (retired, assistant to Roberto Mancini at Inter), A Johnson (Sunderland), Barry (Everton), Vieira (retired, now Head of EDS), Bellamy (retired, now Cardiff City academy coach), Tevez (Juventus), Adebayor (Spurs)
Subs: Nielsen (without club, left Motherwell last week), Garrido (Norwich City), Boyata (still at Club), De Jong (Milan), Wright-Phillips (QPR), Nimely (Port Vale), Santa Cruz (Cruz Azul)