Joe Hart celebrated his 100th Premier League clean sheet in the 3-0 win over West Brom, almost nine years after making his City debut against Sheffield United.
That game against the Blades ended in a 0-0 draw so it was fitting that the future England No.1 should begin life in the top flight with a shut-out.
Of course, after establishing himself as City's first choice, the arrival of Shay Given meant Joe had to fight for his place and as a result, he spent the 2009/10 campaign on loan with Birmingham City, keeping 12 clean sheets for Blues and being voted the club's Player of the Year before.
New manager Roberto Mancini kept a close eye on his progress and when the loan was over, installed him as his No.1 at City in time for the 2010/11 campaign

...Hart 100..
Hart didn't disappoint with a stunning goalkeeping display in his first game back - the opening fixture of the season away to Spurs - with a performance that defied belief, helping City to a 0-0 draw that would almost certainly have otherwise ended in a heavy defeat.
That would be one of 18 clean sheets for Hart who ended the campaign by winning the prestigious Barclays Golden Glove award – a fantastic achievement.
Though Joe would keep one shut-out less during the Blues' title-winning campaign of 2011/12, he again won the Golden Glove award with a total of 17 games where he remained unbeaten and in 2012/13, he made it three Golden Gloves in a row with another 18 clean sheets – a total of53 in three seasons.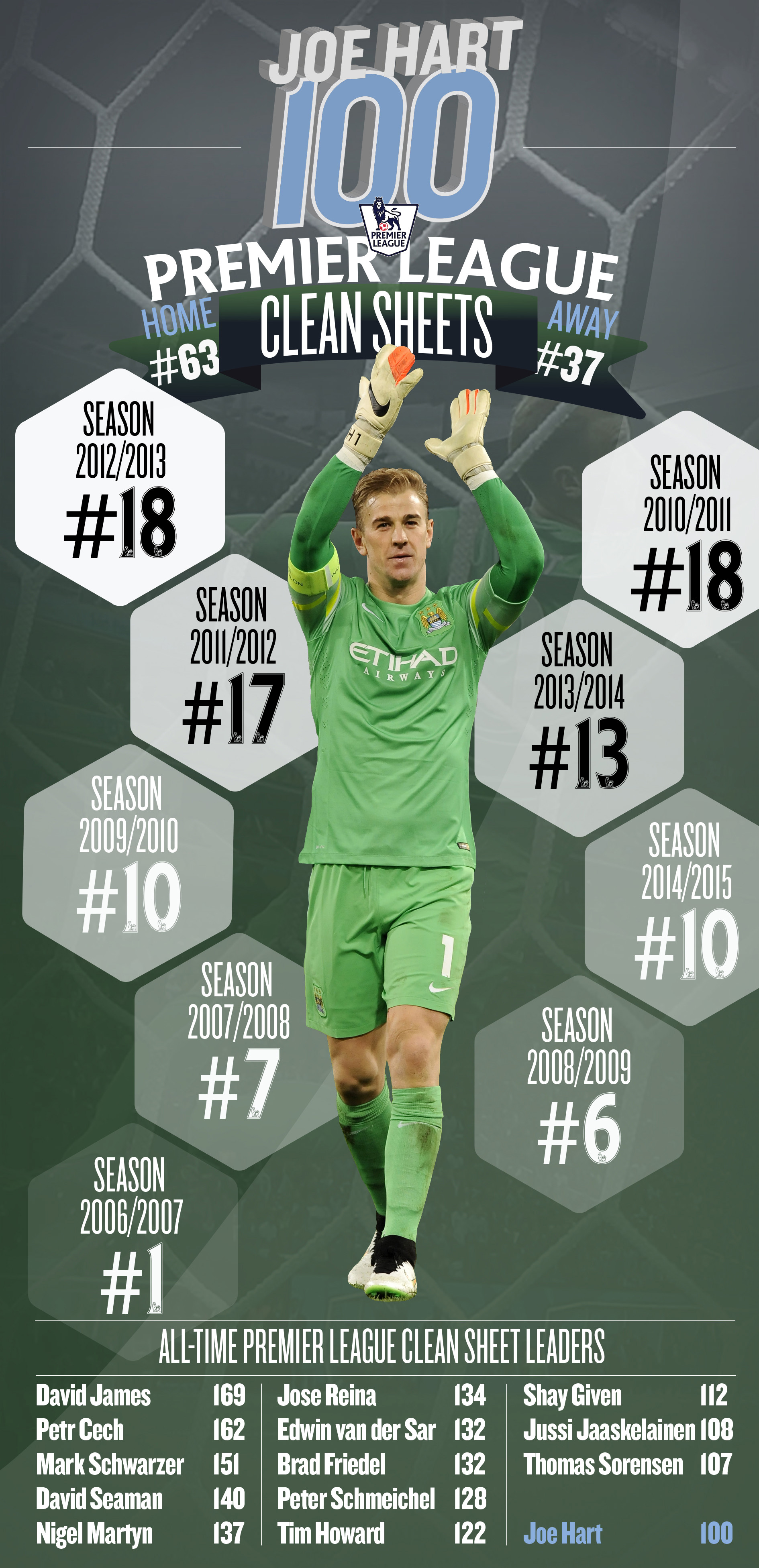 Only former Liverpool keeper Pepe Reina and Chelsea's Petr Cech have managed to win the Golden Glove three times so far.
Though the Blues failed to keep a shut-out for 10 successive games through December, January and part of February this season, the win over West Brom was Joe's tenth clean sheet of the campaign.
With two of the four ahead of him in this year's list unfortunately out with injury – Southampton's Frasier Forster (13) and West Brom's Ben Forster (11) - it appears that only Liverpool's Simon Mignolet and Swansea's Lukasz Fabianski (both 11) along with United's David De Gea (10) are serious rivals for this season's Golden Glove.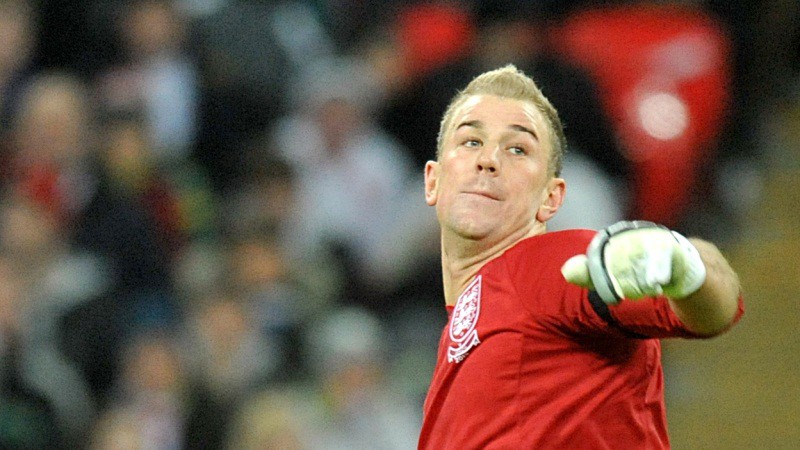 Of his 100 to date, nine shut-outs have come against Wigan Athletic while the next best is Stoke on eight. Joe has also kept the strike force of Newcastle at bay on seven occasions with West Brom and Aston Villa (both six) making up the Top 5.
For the record, Joe has four clean sheets each against Arsenal, United and Chelsea and three against Liverpool

...citation here...
Joe, positioned at No.14 in the Premier League's all-time clean sheet list, has some way to go to catch leader and former City keeper David James who holds a considerable lead on 169.
Of the 13 keepers ahead of him, however, only Tim Howard (122) plays regularly for his side while Thomas Sorensen (107), Shay Given (112) and Petr Cech (162) tend to be back-up keepers at present.
All of this, of course, comes on the back of arguably one of the greatest goalkeeping performances by a City keeper after Hart's epic display against Barcelona last Wednesday – perhaps only Bert Trautmann's courage of continuing with a broken neck in the 1956 FA Cup final would shade Joe's Nou Camp epic.
Internationally, Joe has kept 26 clean sheets in 48 England appearances and will move into fourth in the all-time list if he keeps out Lithuania at Wembley this weekend.
Here's some of Joe's best saves - pre Barcelona!
Joe's Top 5 games (all comps):
Barcelona 1 City 0 (UCL)
A performance which Lionel Messi claimed Joe to be "a phenomenon" – the City keeper made 10 excellent saves on a night to remember, even though the Blues ultimately lost the game.
Hart makes at least four stunning saves as City cling on against the Bundesliga champions to help earn a precious group point.
Spurs 0 City 0 (PL)
An incredible display by Hart on his return to City from Birmingham. As the Blues are pummelled in the first half, Joe makes five top class stops plus another three after the break in a breath-taking afternoon's work.
Though beaten twice, the fingertip save from Stuart Naismith with the score at 2-1 to City was crucial in the outcome – the save of a fantastic goalkeeper and one of the saves of the season.
Joe's personal favourite City game – and by his own admission not a match he greatly influenced the outcome of. It was all about the result and the emotion on an unforgettable day, polarized in the embrace by Gael Clichy and Joe at the end of the game.