Men's Team
1
Talking Points: April is the cruellest month?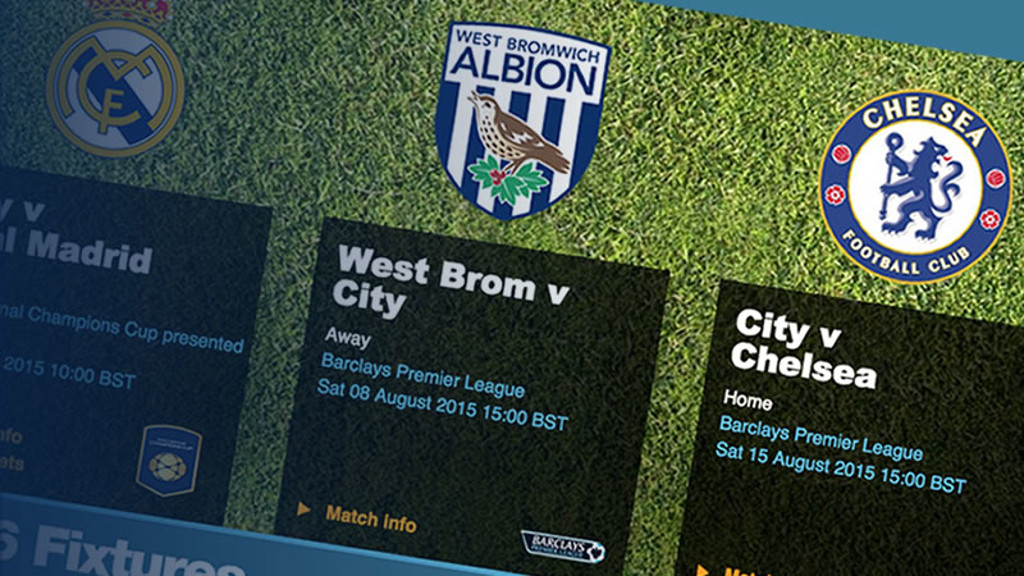 A skeleton of City's 2015/16 Premier League season has now been formed but what does it all mean?
The common consensus from fans and pundits alike appears to be that City have one of the toughest run-ins of the clutch of fancied teams for the title.
Of course the fixtures will move and a clearer picture of the season-to-be will emerge when broadcast picks are made and our UEFA Champions League schedule is known but, for now, let's look at five things we learned on Fixture Release Day… sorry, #FixtureReleaseDay.
April (and May) are the cruellest months?
Following a meeting with champions Chelsea at Stamford Bridge in mid-April, Manuel Pellegrini's side must negotiate four more games against teams which finished in the top half last season before the end of the campaign, including an away clash with Southampton and a visit from Arsenal on the penultimate matchday.
Although City have won their last two games at the Liberty Stadium, this will be the first time we've rounded off our season away from home in five years and Swansea City are not a side known for rolling over as their eighth place finish last time out demonstrates.
Another Merry Christmas?
No club has enjoyed December's annual fixture pile-up more than City in the last two seasons.
On the way to the title in 2013/14, we racked up six wins out of seven in the league and went unbeaten throughout the month in all competitions, also defeating Bayern Munich and Leicester City in the cups.
Last year we managed to temporarily rein in Chelsea with five wins from six, only dropping points in the final game of 2014: a 2-2 draw with Burnley.
If we are to replicate that and enjoy another fun-filled festive period, we'll have to come out of four away games against Stoke, Arsenal, Leicester and Watford in tact while Swansea and Sunderland will be visiting the Etihad.
CityTV reaction
Opposition view
Let's take a check on how West Brom and Chelsea supporters have reacted to news that they face City in the opening two games of the campaign…
42-year record to go?
The new South Stand expansion at the Etihad is likely to mean that a 42-year record will fall when Chelsea visit for City's first home game of the 2015/16 season.
It was 24 February 1973 when Sunderland visited us in the League Cup fifth round and more than 54,000 attended before Maine Road's North Stand was converted from terracing to seating.
City's new capacity of 54,000 in August 2015 should mean that Chelsea's visit is a huge occasion in more ways than one.
Rival run-ins
We've looked at City's run-in already, but let's look at the rest of last season's top five…
Liverpool arguably have the toughest start, taking on Arsenal and Manchester United away from home, while Arsenal and United have (on paper at least) the gentlest.
As for the run-ins, City's looks the choppiest as discussed above and United's blend of those newly-promoted from the Championship and teams that finished in the bottom half last year, makes theirs look like the most straightforward.
As ever though, with signings yet to be made and with the inevitable surprise packages yet to be known, only time will tell which are the truly tough games.
City
First five
WBA (a)
Chelsea (h)
Everton (a)
Watford (h)
Crystal Palace (a)
Final five
Chelsea (a)
Stoke (h)
Southamtpon (a)
Arsenal (h)
Swansea (a)
Arsenal
First five
West Ham (h)
Crystal Palace (a)
Liverpool (h)
Newcastle (a)
Stoke (h)
Final five
Crystal Palace (h)
Sunderland (a)
Norwich (h)
City (a)
Villa (h)
Chelsea
First five
Swansea (h)
City (a)
WBA (a)
Crystal Palace (h)
Everton (a)
Final five
City (h)
Bournemouth (a)
Spurs (h)
Sunderland (a)
Leicester (h)
Liverpool
First five
Stoke (a)
Bournemouth (h)
Arsenal (a)
West Ham (h)
United (a)
Final five
Bournemouth (a)
Newcastle (h)
Swansea (a)
Watford (h)
WBA (a)
Manchester United
First five
Spurs (h)
Villa (a)
Newcastle (h)
Swansea (a)
Liverpool (h)
Final five
Villa (h)
West Ham (a)
Leicester (h)
Norwich (a)
Bournemouth (h)
---
Now it's your turn - let's have your thoughts on our programme for the 2015/16 season on Twitter @MCFC.