What gems can the letter 'N' provide as we continue the A to Z of City? And why is Colin Bell our featured image? Read on...
Nash, Carlo
Carlo Nash signed for the Blues midway through the 2000–01 Premier League campaign. He was spotted playing non-league football by a scout from Crystal Palace who came in with the offer of a contract and his stay at Selhurst Park was only ended when Stockport County gave him the chance of regular first-team football and a return to his native north-west.
The big keeper became a firm favourite among the Edgeley Park support and spent several impressive seasons in goal for County. With his contract due to expire in the summer of 2001, Joe Royle moved in with a bid of £100,000 – a fraction of his true worth. Stockport were in no position to bargain and rather than have to watch Nash leave on a free transfer they reluctantly accepted the bid.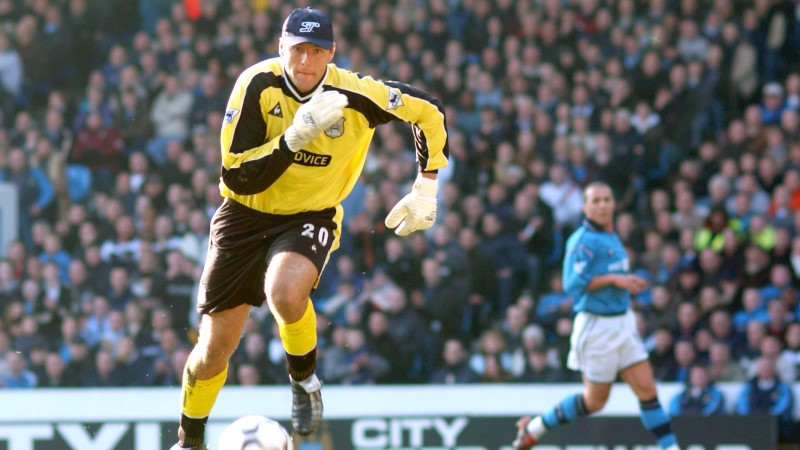 Nash was signed as cover for Nicky Weaver and he made his debut against Arsenal, but within 35 minutes of his debut, he had seen four goals go past him as a rampant Arsenal raced into an unassailable lead. When Kevin Keegan became City's new manager, he began with Weaver then played Nash and by the end of his first season in charge both men had shared the duties on an almost equal basis. The arrival of Peter Schmeichel and then David Seaman saw Nash leave City in 2003 having made 43 appearances.
Nicknames
There have been several player nicknames that have survived the passage of time. 'Buzzer' applied to Mike Summerbee and, for a time, to his son Nicky during his spell at Maine Road. 'Nijinsky' was Colin Bell's (main image) nickname after a thoroughbred champion racehorse.
Joe Corrigan was known simply as 'Big Joe' and another great City keeper was Tony Coton, who was better known by his initials, 'TC'. More recently there has been 'Mozzer' for Andy Morrison, 'The Goat' for Shaun Goater, 'Kinky' for Gio Kinkladze, 'Psycho' for Stuart Pearce and Sergio Aguero is, of course, also known as 'Kun'. David Silva has three – 'Merlin', 'The Magician' and 'El Mago'.
North Stand
Formerly the location of a terrace known as the 'Scoreboard End', the North Stand was completed for the 1972–73 season and reduced the Maine Road capacity by some 12,000. Seats replaced terracing and, with a smart new roof, the North Stand looked slightly out of place with the ageing Main Stand, Platt Lane and Kippax terrace. It boasted a new electronic scoreboard in tradition with the stand it replaced, but the stand lacked atmosphere.
While the New Kippax was being built, many of our livelier supporters were temporarily housed in the North Stand and, with no space for away fans, it took on a new, vibrant life.
The North Stand also housed around 2,500 travelling fans up until Maine Road closed its doors for the last time in May 2003.
Who have we missed? Get in touch with your 'M's and help us with our list of 'n's for tomorrow. Tweet us with your suggestions @MCFC.
A is for Aguero, Argentina and Ardwick
B is for Balotelli, Ballet on Ice and Berkovic
C is for Corrigan, Cricket and Curle
D is for Doyle, Dowd and Dzeko
E for Elano, Elvis the Eagle and Eriksson
F is for Flitcroft, Floodlights and Foe
G is for Goater, Gibson, Golden Goal
H is for Hart, Horlock and Huddersfield
I for Immel, Iheanacho and Ireland
J is for Johnstone, James and Jihai
K is for Kinky, Kippax, Keegan and Kennedy
L is for Lake, Lee and Lescott