Men's Team
1
City A to Z: K is for...?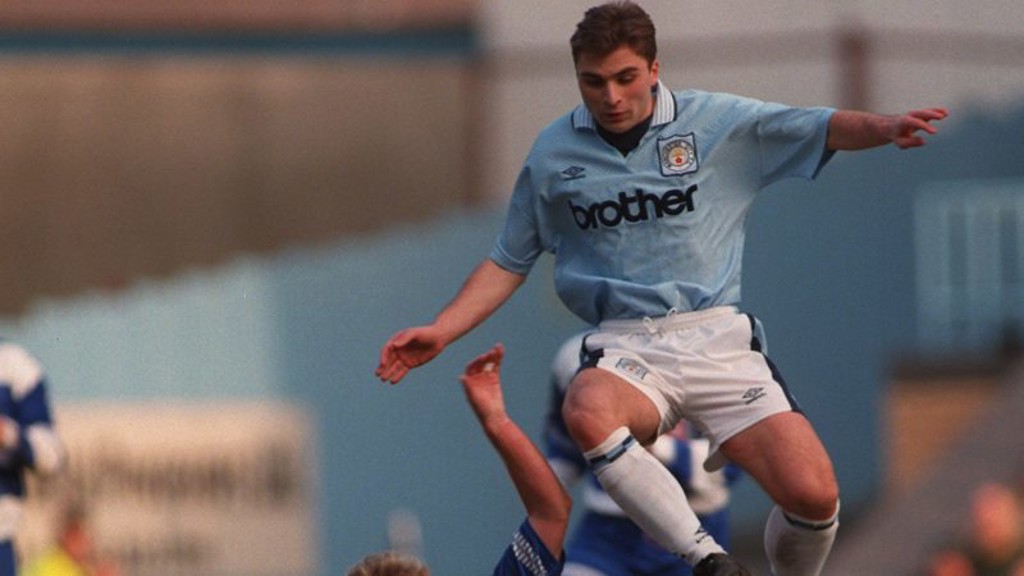 There have been some colourful 'K's in City's history – today we focus on Keegan, Kinky, Kennedy and, of course, the Kippax…
Kevin Keegan
Kevin Keegan returned to club management in June 2001 to take the reins at Maine Road as City boss. His arrival was greeted with excitement after a dour Premier League campaign had ended in relegation and cost Joe Royle his job
Keegan's first remit was promotion and, after bringing in the mercurial talents of Eyal Berkovic along with free transfer acquisitions Stuart Pearce and Ali Benarbia, the Blues swept all aside on their way to the Championship title, scoring 108 goals and entertaining packed houses week in, week out.
His first game against Watford at an electrically charged Maine Road saw the old ground rocking as City rediscovered a swagger with a relentless attacking performance. Take a look...
While other managers may have baulked at playing two precocious playmakers in Benarbia and Berkovic, Keegan said, 'Why not?'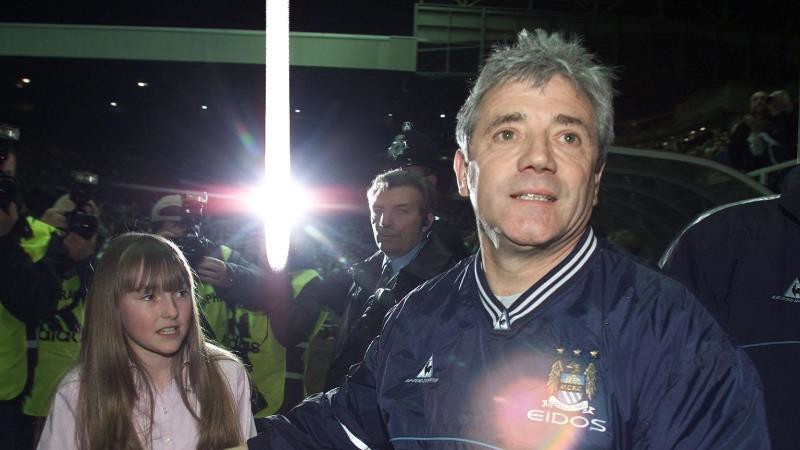 The first campaign back in the top flight saw the Blues also playing the final season at Maine Road and there were a number of highs as City finished in ninth spot and claimed a Fair Play European berth.
The inaugural 2003/04 season at the City of Manchester Stadium proved a difficult one for City who were in danger of being relegated up until the final few weeks, though there were notable highs such as the incredible FA Cup tie away to Spurs where the10-man Blues fought back from 3-0 down to win 4-3.
Keegan quit in March 2005, feeling unable to motivate the players anymore, but his tenure is mostly remembered with fondness by City fans.
Kennedy, Mark
Talented Republic of Ireland winger Mark Kennedy arrived at City for £2m from Wimbledon with a point to prove. His time with Liverpool and Wimbledon had been disappointing but
Joe Royle soon had Kennedy back to his best and he was an integral member of the City side who won a second successive promotion in 2000
Kennedy scored goals as well as making them for the Blues and one of the abiding memories of the promotion-clinching victory at Blackburn was his clinical finish and then the run to celebrate with Joe Royle.
The classy winger failed to continue his progress in the Premiership, only occasionally showing glimpses of his undoubted talents. There was a belief that if Kennedy didn't perform, neither did City, and when the Blues were relegated back to Division One, question marks were once more being put alongside his name while playing at the highest level.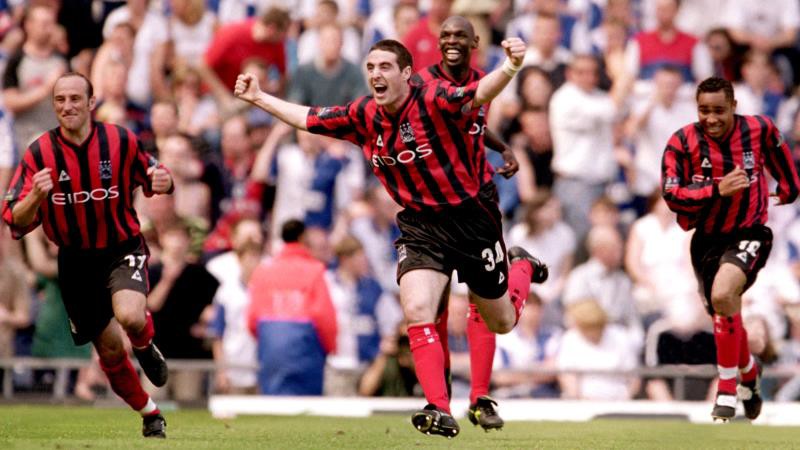 In 2001, shortly before the new season was due to begin, Kennedy was sold to Wolves for £2m by Kevin Keegan. He told the winger that City wouldn't be playing with wide-men and his first-team chances would be limited. He moved on having made 77 appearances for the Club, scoring 11 goals .
Kippax Stand
Home to thousands upon thousands of City fans since 1923, this famous, much-loved old terrace was often the extra man for the Blues as the supporters roared them on to success through the decades.
It could also mean the end of a player if the poor soul wasn't performing well over a period of time! Many an opposing winger has turned a pasty shade of white at the sight of a packed Kippax terrace.
It was over 35 years before a roof was erected to keep the regular Mancunian drizzle off the supporters' heads and, with a smart new covering, the side of the ground known as the 'popular side' was officially named the Kippax Stand.
It was home to 32,000 loyal Blues, though this was reduced to 26,155 when the North Stand was completed in 1971. Further reductions meant that only 18,300 City fans stood in the cavernous old stand near its lamentable demise.
It would be impossible to say how many times City fans have actually stood on the terrace but a safe estimate would be several million. The Taylor Report, a government-backed investigation into the safety of standing areas at football grounds, recommended that all terracing become seated areas, effectively signaling the end for the Kippax as a terraced stand.
City supporters paid their final respects to their favourite part of the ground on 30 April 1994 when City took on Chelsea. Fancy dress, flags and balloons festooned the Kippax and celebrated its 71-year life. Many shed a tear after the final whistle and attempted to chip bits of concrete off steps as a souvenir.
A couple of days later, the demolition teams moved in and pictures appeared in the local media of rubble and steel girders where the Kippax had once stood proudly. From the dust arose the new Kippax, three tiers high and visible for miles around.
The new stand was opened to City fans for the first home game of the 1995–96 season. Many fans groaned as they took their seats in the second and the top tier on first inspection – nothing to do with the perfect view of the pitch, but because Old Trafford was now visible in the distance! Today, 'We are the Kippax!' gets an occasional airing from City fans at the Etihad.
Kinkladze, Gio
Francis Lee undoubtedly masterminded Georgian international Gio Kinkladze's £2m move from Dynamo Tbilisi. City were without a manager for several months during the summer of 1995 yet the deal moved along at a pace with neither former boss Brian Horton or soon-to-be boss Alan Ball involved in negotiations.
Little was known of the 21-year-old midfielder but Lee was convinced he was going to be an exciting addition to the side. Shortly after Ball was installed as City's new manager, he announced that Kinkladze would have the City fans 'hanging from the rafters' to watch him play.
Many City fans waited to make their own judgement, but Ball would ultimately be proved correct. Here was a player that got people out of their seats with his incredible dribbles and incisive precision passing. He made goals, scored them and invariably there would be at least two or three moments in a game when he could take your breath away.

Each goal he scored for the club was memorable and the solo effort against Southampton when he beat five players before chipping the ball impudently past Dave Beasant is regarded by most as the best ever goal by a Manchester City player.
'Kinky', however, couldn't stop the Blues escaping relegation and left the pitch in tears when a 2–2 draw with Liverpool was not enough to prevent City returning to the murky waters of Division One.
The vultures hovered over Maine Road waiting to pick the bones clean. Kinkladze was the jewel in City's slightly off-kilter crown and Celtic, Liverpool and Barcelona were all continually linked with £10m swoops for him.
Kinkladze stayed on for two more years as City attempted to regain their top flight status, but some questioned his value to a side scrapping to keep their heads above water and with Ball, then Frank Clark both failing to resurrect the Blues, Joe Royle arrived in the final months of the 1997/98 season but couldn't stop relegation to the third tier.
Royle believed Kinkladze's future lay elsewhere and after 121 appearances and 22 goals, the Georgian was sold to Ajax.
That's all for our list of City 'k's… Let us know along with your suggestions for tomorrow where we'll have an 'L' of a time on Twitter @MCFC.
A is for Aguero, Argentina and Ardwick
B is for Balotelli, Ballet on Ice and Berkovic
C is for Corrigan, Cricket and Curle
D is for Doyle, Dowd and Dzeko
E for Elano, Elvis the Eagle and Eriksson
F is for Flitcroft, Floodlights and Foe
G is for Goater, Gibson, Golden Goal
H is for Hart, Horlock and Huddersfield
I for Immel, Iheanacho and Ireland