Men's Team
1
City A to Z: C is for…?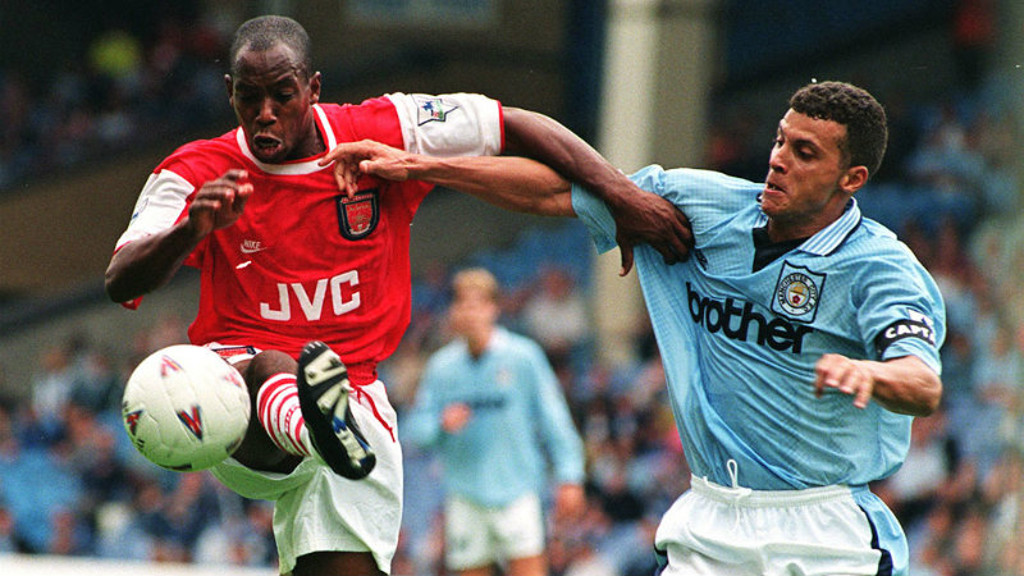 mcfc barnsley connections
Yes, 'C' is for City, but that's too obvious... what else does the letter stand for when it comes to MCFC?
Cricket
Many sportsmen are multi-talented and several former City players could have gone on to play different sports professionally.
Former City player Jack Dyson was a talented all-rounder for Lancashire, scoring 4,433 runs and taking 161 wickets between 1954 and 1964.
Dyson played 72 games for City (1951–61) in all competitions and scored 29 goals, including one in the 1956 FA Cup final.
Joe Hart is a man on the current playing staff who potentially could have been cricketer if football had not taken off for him.
England's no.1 was at Worcestershire Academy for two years where he was a pretty handy left-arm bowler in his youth.
Joe plays cricket with England international Joss Butler
Sam Cowan
Sam Cowan served City for 11 seasons in defence, making more than 400 appearances.
He captained the side in the 1933 FA Cup final against Everton and after being on the losing side he told King George V that his team would be "back next year to win it".
Sure enough, the Blues returned to win the trophy the very next year, just as he'd predicted.
After leaving City, Cowan became trainer at Brighton and set up a successful physiotherapy practice near to the Seagulls' home ground.
City asked if he would like to become the team manager in 1946 and Cowan, though still living near Brighton, accepted.
He guided the Blues to the Division Two Championship but the travelling meant the position became impossible for him and he decided to concentrate full-time on his practice on the south coast.
How successful Cowan might have been as a manager, one can only guess...
Joe Corrgian
'Big Joe', as Corrigan was affectionately known at Maine Road, played 592 games for City in a period stretching over 17 years.
Corrigan's early days were difficult and he was far from a crowd favourite as he struggled with confidence and form. His inconsistency led to him being transfer-listed in 1974, but Joe was determined to prove the doubters wrong.
He buckled down and improved to such an extent that he was called up to the England squad and would surely have been the Three Lions' number-one choice had he not been unfortunate enough to have been born at around the same time as Peter Shilton and Ray Clemence.
However, fans at Maine Road were in no doubt about Corrigan's qualities and they voted the big man Player of the Year in 1976, 1978 and 1980.
With the emergence of Alex Williams and the lure of a fresh challenge overseas, Corrigan left City in 1983 to join Seattle Sounders in the USA.
Keith Curle
Classy centre-back Keith Curle was signed by Peter Reid in the summer of 1991 for £2.5 million – a British record fee at the time paid for a defender.
The ex-Wimbledon skipper was immediately installed as captain by Reid and quickly won over any doubters with his leadership qualities and defensive ability.
He may not have been as dominant in the air as some central defenders that have played for the Blues, but he was slick, polished and more than a little unfortunate not to have won more than the three England caps that he did (all, incidentally, out of position).
"Curley-Wurley", as the City fans had christened him, eventually joined Wolves in 1996 after five successful seasons at Maine Road and later moved to Sheffield United.
The now-51-year old currently manages Carlisle United following spells in charge of Mansfield, Chester, Torquay and Notts County.
Gael Clichy
French full-back Gael Clichy joined City from Arsenal in the summer of 2011 and it didn't take long for him to claim his first silverware in Manchester.
Gael started all but ten Premier League games as Roberto Mancini's men went on to end a 44-year wait for a league title in 2011/12.
His euphoric embrace with Joe Hart at the full-time whistle of the final game of the campaign against QPR is one of the iconic images of an unforgettable day in the Club's history.
Since, the Toulouse-born defender has shared left-back duties with Aleksandar Kolarov and, to date, he's made more than 140 appearances for City in all competitions.
He won the league again in 2014 and lifted the Capital One Cup to add to the league and FA Cup titles he won with the Gunners.
Hart and Clichy: Title celebrations 11/12
A is for Aguero, Argentina and Ardwick