Men's Team
1
Silva eager to continue fine form
David Silva has challenged his side to keep their impressive records intact when Arsenal visit the Etihad Stadium on Sunday afternoon.
City head into the clash undefeated since early November, with six wins in seven at the Etihad Stadium, and are unbeaten against the Gunners in their last five competitive matches.
Arsenal head into the game in fine form themselves but have failed to win at the Etihad Stadium since October 2010. They currently lie 11 points behind Manuel Pellegrini's men in the Premier League table.
Despite that gap and although this meeting occurs perhaps too early in the season to be deemed a 'title decider', Silva acknowledges every point is crucial - even at this stage - and anticipates an entertaining encounter as the champions bid to stay hot on the heels of league leaders Chelsea.
He asserted: "Arsenal are in a good vein of form but we are at the moment as well so I think it's going to be a good game.
"It's important we go away with the three points. We have done well against them in recent years so let's hope that good record against them continues.
"It's important we try and limit chances to a minimum and to be able to do that, we need to stay alert at all times across the field."
Having lifted two domestic titles, the FA Cup, the Community Shield and the Capital One Cup during his time with City, the Spaniard is no stranger to success and insists his side will do everything possible to retain their league crown for the first time.
He added: "We realise whenever you start out a season playing in the Premier League, you know what a massive - almost grandiose - achievement it is to win the title.
"We're aware this is a very very competitive league and we're playing against some good sides with some top quality players.
If we were able to win another title, it would be fantastic.
On the subject of top quality players, Alexis Sanchez's arrival and instant success in England has earned the Chilean much praise in the media in recent weeks, including positive comments from fellow countryman Pellegrini in the manager's pre-match press conference.
When asked of his own thoughts on the Arsenal star's impact at the Emirates Stadium, Silva, who has netted three goals in his career against the North London outift, purred: "He's a fantastic player.
"He's doing really well and he's having a great season. He's helping the team a lot and I think he deserves credit because he's a great, great player.
"To add to his skill, he's got a huge appetite for the game and real hunger and I think that's very important too.
"I think he can be a good player in this league for a good few years to come but let's hope that against us, it's not his day and we can carry on taking advantage of that!"
Silva himself has also received deserved acclaim for a string of superb displays, earning him the Player of the Month award for December.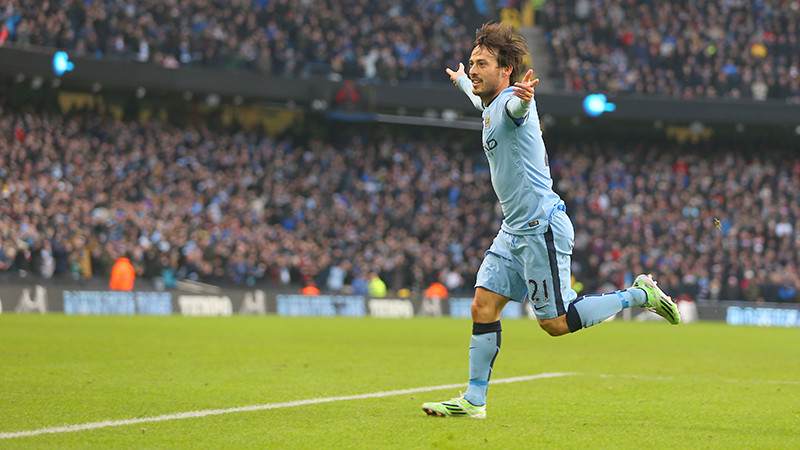 Reflecting on his his recent performances, which have merited six league goals, he beamed: "I'm very happy - not just with my form this season but all the years I've been here.
"I feel I've always strived to try and improve all the time and I think I am continuing to improve. It's very important to get on the mark and score goals.
"The fact I'm playing closer towards the opposition's goal has helped me get chances to score. Now, I'm a little bit more central and I'm starting to convert a few more.
"The main thing is though that improvement can serve us by hopefully helping us to win some titles at the end of the season. That's what we all want."
---
Would you start Silva this afternoon? Have a go at predicting the starting XI - plus the result and scorers - in the City Matchday app!
Whether you're sitting in your seat at the Etihad Stadium, on the move, or watching from your sofa on the other side of the globe, City's smartphone app will transport you behind-the-scenes to the heart of the action on game day.
Enjoy exclusive pictures and videos, check out up-to-date stats on the game, cast your vote on the Man of the Match and more!