First Team News
1
Talking Points: Gone in 60 seconds…
Unpicking a disappointing result to discover where Monday night's game against Arsenal was won and lost.
Here are five things we learned at the Emirates…
A pivotal minute…
Following an opening ten minutes that was easy on the eye but lacking in goalmouth incident, City began to wrestle control of the match over the next 20 minutes.
Arsenal were favouring the approach that won them the last meeting between these sides at the Etihad, sitting deep and inviting pressure before attempting to launch counter attacks but this gameplan wasn't proving to be as effective on their own patch.
That was until the 33rd minute – a pivotal 60 seconds which turned the game in the Gunners' favour.
Should De Bruyne have crossed for Silva instead of taking on the shot? From the replays, it looks as though he took the correct decision in shooting as David was being crowded out in the middle.
If Kevin's shot had nestled in the far corner, instead of drifting agonizingly wide, it could have been a very different game but, as it was, Walcott scored a world class goal at the other end and gave the hosts the luxury of choosing their moments to attack for the remaining hour.
Player of 2015?
With City committing men up the field in a desperate bid to get back into the game, it was inevitable that gaps would emerge for the Gunners to exploit.
Fortunately, the away side had a goalkeeper in the form of his life to deny Ramsey brilliantly once and Campbell twice.
Is there a better goalkeeper at one-on-ones in world football than Joe Hart? The numbers of times City and England's no.1 comes out on top when he really ought to be second favourite is remarkable.
If there was an award for City's best player of 2015, Joe would surely be a frontrunner.
His performance against Barcelona earlier in the year was one of the greatest City goalkeeping performances in living memory but Joe has also shown he is capable of keeping his concentration for 90 minutes and making those one or two saves that turn one point into three.
Fighting to the end…
Against Stoke at the Britannia Stadium, City looked bereft of ideas and out on their feet - never looking the least bit likely to reverse the two-goal deficit.
It was a different situation against Arsenal as the away side actually grew stronger as the second half wore on.
If the game had been five minutes longer, you'd have backed Manuel Pellegrini's side to find the equaliser but it was just too little, too late.
The Chilean was happy with the spirit he saw from his side, remarking: "I think the way we played in the second half we are going to be an important team in fighting for the title."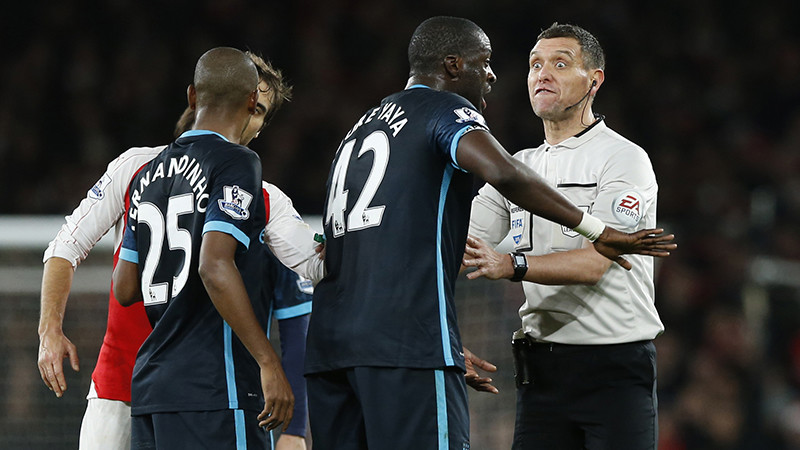 Worrying trends…
While there was nothing City could really have done to prevent the opening goal - the second, which effectively finished us off, was certainly avoidable.
That seems to be the way of it for the Blues at the moment, with one concession soon leading to another, and with goals at the other end hard to come by - especially away from the Etihad Stadium – it's a trend which is preventing us from finding any kind of consistency.
In our last five Premier League away games, we've lost three and conceded eight goals, scoring just one goal.
To make matters worse, City have now kept just two clean sheets in 21 competitive games – this, after starting the season with five consecutive shut-outs.
Our only saving grace at the moment appears to be that teams around us are similarly struggling for a consistent run of results, so we're still very much in touch with those above us with plenty of opportunity to put things right coming up fast.
No consolation…
From Terry Phelan's stunning solo goal against Tottenham in 1992, to Elano's amazing strike against Middlesbrough in the infamous 8-1 defeat, City history is littered with stunning consolation goals and we've had a couple of them to add to the list in recent weeks.
Aguero scored one of our goals of the season so far against Liverpool in the 4-1 defeat and Yaya Toure scored another contender for that accolade last night.
I'd say Boxing Day would be a good time to get back in the habit of netting stunning goals as insurance-providing "party goals" – what say you?