First Team News
1
Best of 2015: Top five moments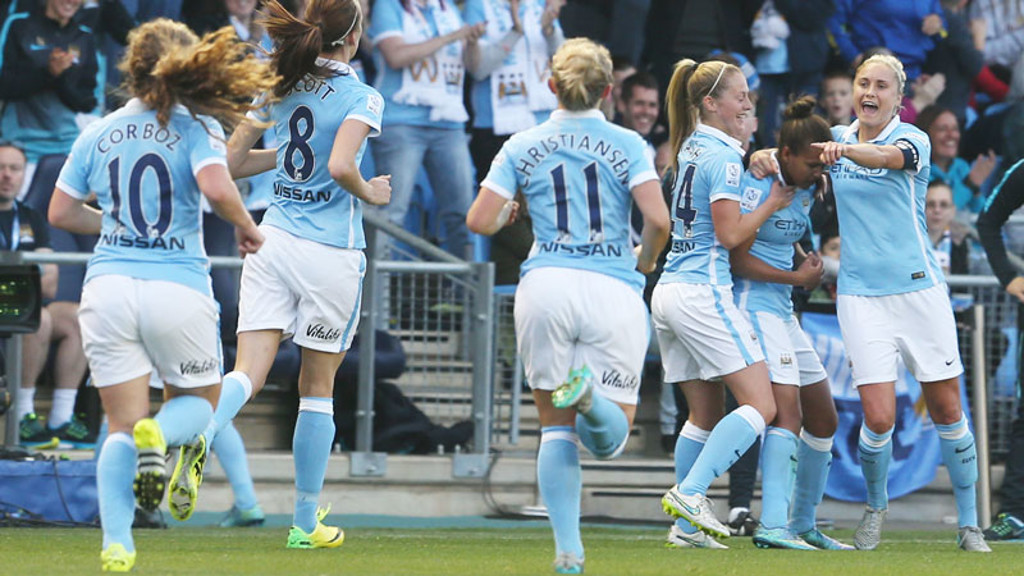 Group
Review of 2015: City journalist Caroline Oatway chooses her top five MCFC moments of the year
Chinese philosopher Confucius once said: "Choose a job you love and you'll never have to work a day in your life."
I can confirm he knew what he was talking about.
I can't imagine a better job than one which allows you to follow your beloved football club every single day, combining one's passions of football and sports writing.
As Mark Booth and Paul Handler agree, 2015 has brought up plenty of highlights for we City journos. Here are my top five personal memories from the year...
Girl power
As a female football fan, women's football has always been close to my heart.
When I was young, I started my (very short) "career" with City in their under-13s side, with the opinion it would only be a temporary hobby with no chance of progression (not that I'd have made it anyway but you get the point). That wasn't down to the Club - it was just the way things were.
How wrong I was. It's 2015 and women are now professional footballers - they're being paid to play the beautiful game.
Their matches are on television and radio; they're winning awards; their faces are on posters and you can choose to play as them on FIFA 16. Young female footballers have role models.
This year of course has been historic for English women's football - the Lionesses secured a bronze medal at the World Cup in Canada, with five City stars making the trip and returning home as heroes.
The greatest achievement, for me, wasn't the physical souvenirs around their neck - it was the impact they made back home, capturing the hearts of the nation and bringing the game into the spotlight. Club attendances were smashed and perceptions were (finally) challenged.
From a personal point of view, it's so pleasing to see children (girls and boys) sporting the names of female footballers on the back of their shirts. It's something that wasn't on offer when I was growing up - and I'm delighted to see it now.
MCWFC make history - again!
There was more joy to come in the women's game at Club level.
Inspired by their international success, City's England quintet spurred the Blues on to an astounding unbeaten streak in the second half of the season, winning eight of nine league games.
The run clinched a top-two finish in the FA Women's Super League - an all-time high for Nick Cushing's side - and a Champions League spot for the first time.
There were some cracking goals netted in that period too, including a couple of stunners from Toni Duggan - one of which scooped the Club's Nissan Goal of the Season Award at City Live. The striker became the first female player to win the award.
The records continued to fall, as the final home game attracted an unprecedented 3,180 to the Academy Stadium, demonstrating the creation of a new fanbase and the continued positive effect the Lionesses' success was having.
MCWFC turned professional just two years ago - their journey has been incredible. Though I'm ever so slightly jealous that the players are living my (original) dream, I'm honoured to have accompanied them on their road to becoming top-flight title contenders.
Roll on the 2016 European tour!
Top of the pile in Group D
It may seem pretty obvious why I've chosen City's 4-2 Champions League win over Borussia as a highlight, although I do have other reasons for picking it.
On this glorious night at the Etihad Stadium, I was on Matchday Centre duty (live text commentary, for those who are unaware).
I can't really describe what's it's like to attempt to report minute-by-minute action on a game which is turned on its head late on with three goals in five minutes - crucial ones at that.
With the Blues 2-1 down at the break, I remember writing something along the lines of: "With the lack of chances we've created, I can't see us scoring two."
Oh, how wrong I was - though (for once), I was delighted to be so. I hate to admit it but press box etiquette was well and truly thrown out of the proverbial window when Wilfried Bony added the fourth.
Anyway, after my poor keyboard had cooled down (I'm pretty sure it was on fire at one point), there was a moment or two to reflect on the incredible events we'd all witnessed.
City somehow finished top of the group and I was simply left in awe of this beautiful game and how wonderful it is that it can still throw up surprises, no matter how long you've been a fan.
Introducing... Kelechi Iheanacho
There's nothing sweeter than beating United, is there? At any level; especially when you come from behind to do so.
In May of this year, I saw our Elite Development Squad do just that at the Academy Stadium and was lucky enough to witness one moment of magic from a youngster, which I'll never forget.
Step forward Kelechi Iheanacho.
With the Blues trailing through an Ashley Fletcher strike on the stroke of half-time, the Nigerian produced a piece of individual brilliance to level the score and ignite a comeback.
Turning his marker midway through the United half, the striker had one thing on his mind and skipped past a second challenge before slotting coolly past the goalkeeper with the composure of a World Cup winner to delight the Blue faithful.
It was such a beautiful goal that I actually had to compose myself before tweeting it out. Sometimes, you just need to sit back and appreciate such acts of genius. This was one of those occasions.
Stoke 1-4 City
In eight visits to the Potteries in my City-supporting life, I had only seen the Blues triumph once - in an FA Cup clash in 2013.
On a night off in February, I stood in the away end at the Britannia Stadium expecting little from what was a crucial clash for the Blues' title credentials.
We needed to close the gap on Chelsea but with such a poor record at Stoke and having won just once in 2015 - on New Year's Day, it wasn't looking likely.
Yet, the visitors produced an excellent performance to sweep Mark Hughes' men aside in an emphatic victory.
Sergio Aguero struck the opening goal - another pleasing fact, as the Argentine had been absent since the beginning of December through injury - and City responded well to surrendering their 1-0 lead with an impressive attacking display in the second half.
Although the title race ended in Chelsea's favour, this win was significant at the time, keeping City's hopes of another league crown alive at a pivotal point in the campaign.
The manner of the victory was a bonus.
What are your top moments of 2015? Let us know on Twitter @MCFC.