First Team News
1
City v Borussia: Global TV listings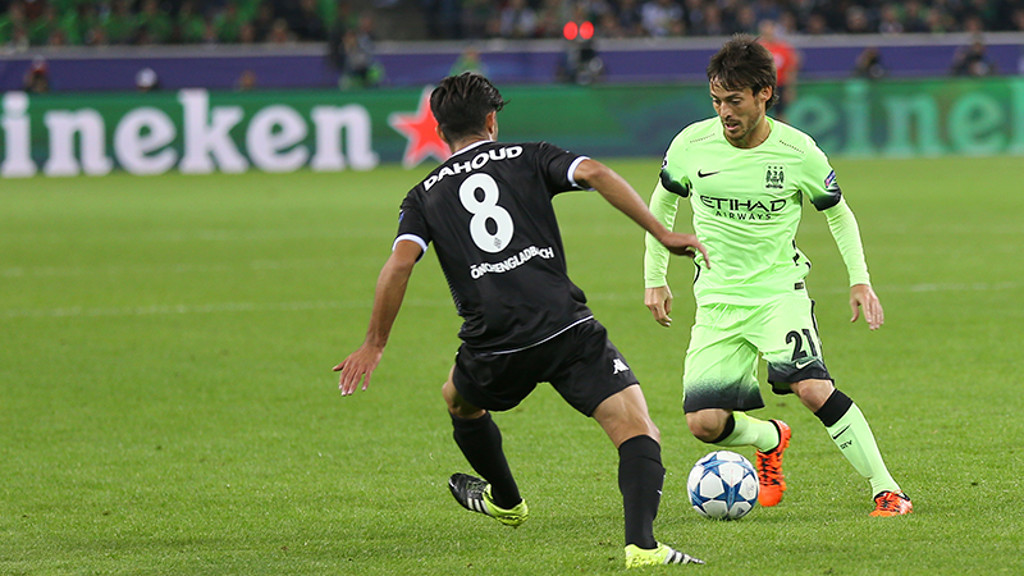 David Silva
City return to Champions League action with the visit of Borussia Monchengladbach on Tuesday night.
In their final group game, the Blues need a victory to stand any chance of finishing top, while the German outfit seek a win to seal a Europa League spot.
It's another crucial encounter and you won't want to miss a kick, so find out which broadcasters are showing the game where you are, courtesy of livesoccertv.com...
| | |
| --- | --- |
| Algeria | beIN SPORTS CONNECT Arabia, beIN Sports Arabia 12 HD |
| Angola | SuperSport 5 Africa |
| Argentina | ESPN Play Latin America, ESPN Latin America Andina, ESPN Cono Sur, ESPN Play Argentina |
| Australia | beIN Sports Connect Australia |
| Austria | Sky Sport 3/HD, Sky Go Deutschland, Sky Sport 2/HD |
| Bahrain | beIN SPORTS CONNECT Arabia, beIN Sports Arabia 12 HD |
| Belgium | Club RTL, Proximus 11+ |
| Belize | ESPN Play Argentina |
| Benin | SuperSport 5 Africa |
| Bolivia | ESPN Cono Sur, ESPN Play Argentina, ESPN Play Latin America, ESPN Latin America Andina |
| Bosnia and Herzegovina | Arena Sport 4, Klik SPORT |
| Botswana | SuperSport 5 Africa |
| Brazil | ESPN Latin America Andina, ESPN Play Latin America, ESPN Cono Sur |
| Bulgaria | Voyo Sport |
| Burkina Faso | SuperSport 5 Africa |
| Burundi | SuperSport 5 Africa |
| Cameroon | SuperSport 5 Africa |
| Canada | TSN1 |
| Cape Verde | SuperSport 5 Africa |
| Central African Republic | SuperSport 5 Africa |
| Chad | beIN Sports Arabia 12 HD, beIN SPORTS CONNECT Arabia, SuperSport 5 Africa |
| Chile | ESPN Latin America Andina, ESPN Cono Sur, ESPN Play Latin America, ESPN Play Argentina |
| China | Sina Sports, LeTV, CCTV 5+ VIP, QQ Sports Live, PPTV Sport China |
| Colombia | ESPN Play Argentina, ESPN Cono Sur, ESPN Play Latin America, ESPN Latin America Andina |
| Comoros | SuperSport 5 Africa |
| Congo | SuperSport 5 Africa |
| Congo DR | SuperSport 5 Africa |
| Costa Rica | ESPN Play Argentina |
| Cote D'Ivoire | SuperSport 5 Africa |
| Croatia | Arena Sport 4, Klik SPORT |
| Cyprus | Cytavision Sports 3 |
| Denmark | Viaplay Denmark, TV3 Sport 2, Viasat Xtra 1 |
| Djibouti | beIN Sports Arabia 12 HD, beIN SPORTS CONNECT Arabia, SuperSport 5 Africa |
| Ecuador | ESPN Cono Sur, ESPN Play Latin America, ESPN Latin America Andina |
| Egypt | beIN SPORTS CONNECT Arabia, beIN Sports Arabia 12 HD |
| El Salvador | ESPN Cono Sur, ESPN Latin America Andina |
| Equatorial Guinea | SuperSport 5 Africa |
| Eritrea | SuperSport 5 Africa |
| Estonia | Viasat Xtra 1 |
| Ethiopia | SuperSport 5 Africa |
| Finland | Viasat Xtra 1, Viaplay Finland |
| France | beIN Sports MAX 7 |
| Gabon | SuperSport 5 Africa |
| Gambia | SuperSport 5 Africa |
| Germany | Sky Sport 2/HD, Sky Go Deutschland, TeleClub Sport Live, Sky Sport 3/HD |
| Ghana | SuperSport 5 Africa |
| Greece | OTE Sport 5 |
| Guinea | SuperSport 5 Africa |
| Guinea-Bissau | SuperSport 5 Africa |
| Hong Kong | Soccer Betting Channel 64, Cable TV Channel 203 HD, LeTV |
| Hungary | Sport 2 Hungary |
| Iceland | Stöð 2 Sport 3 |
| India | Ten HD |
| Indonesia | Orange TV Indonesia, beIN Sports 2 HD |
| International | Youtube |
| Iran | beIN SPORTS CONNECT Arabia, beIN Sports Arabia 12 HD |
| Iraq | beIN Sports Arabia 12 HD, beIN SPORTS CONNECT Arabia |
| Ireland | BT Sport Live Streaming, Setanta Sports Ireland, BT Sport 2 |
| Italy | Premium Calcio 1 |
| Japan | SKY PerfecTV LIVE, Sukachan 5 |
| Jordan | beIN Sports Arabia 12 HD, beIN SPORTS CONNECT Arabia |
| Kenya | SuperSport 5 Africa |
| Kuwait | beIN Sports Arabia 12 HD, beIN SPORTS CONNECT Arabia |
| Latvia | Viasat Xtra 1 |
| Lebanon | beIN SPORTS CONNECT Arabia, beIN Sports Arabia 12 HD |
| Lesotho | SuperSport 5 Africa |
| Liberia | SuperSport 5 Africa |
| Libya | beIN SPORTS CONNECT Arabia, beIN Sports Arabia 12 HD |
| Macedonia | Klik SPORT |
| Madagascar | SuperSport 5 Africa |
| Malawi | SuperSport 5 Africa |
| Malaysia | Astro Supersport |
| Mali | SuperSport 5 Africa |
| Malta | Go Sports 3 |
| Mauritania | beIN Sports Arabia 12 HD, beIN SPORTS CONNECT Arabia |
| Mauritius | SuperSport 5 Africa |
| Mexico | ESPN Play Latin America |
| Montenegro | Arena Sport 4, Klik SPORT |
| Morocco | beIN SPORTS CONNECT Arabia, beIN Sports Arabia 12 HD |
| Mozambique | SuperSport 5 Africa |
| Namibia | SuperSport 5 Africa |
| Netherlands | Sport1 Go, Sport1 Racing |
| Niger | SuperSport 5 Africa |
| Nigeria | SuperSport 5 Nigeria, SuperSport 5 Africa |
| Norway | Viasat Sport Norway, Viaplay Norway, Viasat Xtra 1 |
| Oman | beIN SPORTS CONNECT Arabia, beIN Sports Arabia 12 HD |
| Palestinian Territory | beIN Sports Arabia 12 HD, beIN SPORTS CONNECT Arabia |
| Panama | ESPN Play Latin America |
| Paraguay | ESPN Cono Sur, ESPN Latin America Andina, ESPN Play Latin America |
| Peru | ESPN Cono Sur, ESPN Play Latin America, ESPN Latin America Andina |
| Philippines | beIN Sports 2 HD |
| Poland | nSport+, Canal+ Sport Online |
| Portugal | Sport TV5 |
| Qatar | beIN SPORTS CONNECT Arabia, beIN Sports Arabia 12 HD |
| Russia | NTV+ Football 3, NTV+ Sport Online |
| Rwanda | SuperSport 5 Africa |
| Sao Tome And Principe | SuperSport 5 Africa |
| Saudi Arabia | beIN SPORTS CONNECT Arabia, beIN Sports Arabia 12 HD |
| Senegal | SuperSport 5 Africa |
| Serbia | Klik SPORT, Arena Sport 4 |
| Seychelles | SuperSport 5 Africa |
| Sierra Leone | SuperSport 5 Africa |
| Singapore | 111 mio Sports 1, SuperSports CH 202 |
| Somalia | beIN SPORTS CONNECT Arabia, beIN Sports Arabia 12 HD |
| South Africa | SuperSport 5, SuperSport 5 Africa |
| South Sudan | SuperSport 5 Africa, beIN Sports Arabia 12 HD, beIN SPORTS CONNECT Arabia |
| Spain | beIN Sports Connect S.P. |
| Sudan | beIN Sports Arabia 12 HD, beIN SPORTS CONNECT Arabia |
| Swaziland | SuperSport 5 Africa |
| Sweden | Viasat Xtra 1, Viaplay Sweden |
| Switzerland | TeleClub Sport Live |
| Syria | beIN SPORTS CONNECT Arabia, beIN Sports Arabia 12 HD |
| Tanzania | SuperSport 5 Africa |
| Togo | SuperSport 5 Africa |
| Tunisia | beIN SPORTS CONNECT Arabia, beIN Sports Arabia 12 HD |
| Uganda | SuperSport 5 Africa |
| United Arab Emirates | beIN SPORTS CONNECT Arabia, beIN Sports Arabia 12 HD |
| United Kingdom | BT Sport Live Streaming, BT Sport 2 |
| United States | Fox Sports GO, ESPN Deportes+, Fox Soccer 2GO USA, Fox Sports 2 USA,ESPN3 USA |
| Uruguay | ESPN Play Latin America, ESPN Cono Sur, ESPN Latin America Andina |
| Venezuela | ESPN Play Latin America, ESPN Latin America Andina, ESPN Cono Sur |
| Yemen | beIN SPORTS CONNECT Arabia, beIN Sports Arabia 12 HD |
| Zambia | SuperSport 5 Africa |
| Zimbabwe | SuperSport 5 Africa |