First Team News
1
My favourite game: Martin Demichelis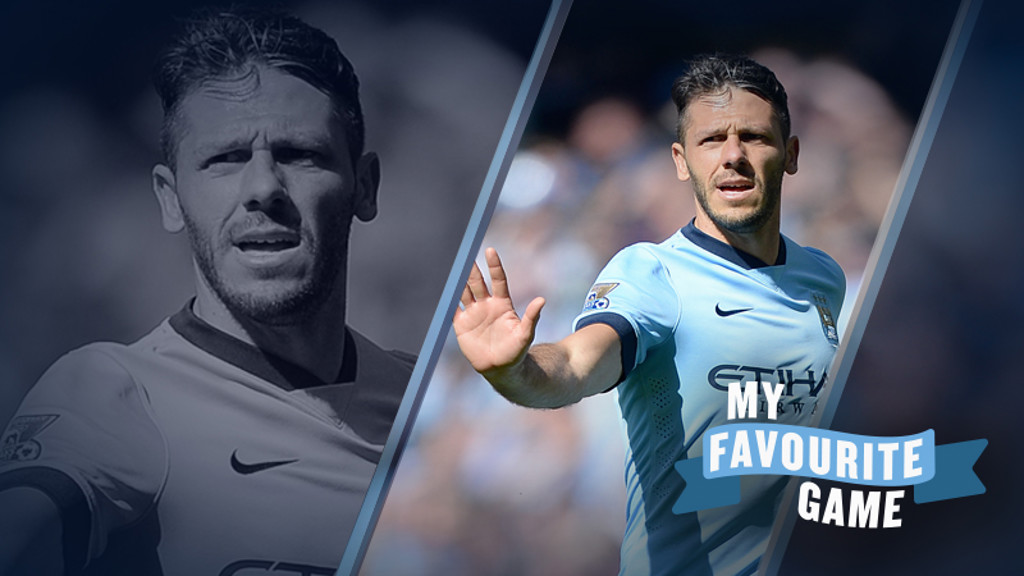 In the fourth of our series of players' favourite City matches, here is Martin Demichelis' choice...
A recurring theme is emerging for My Favourite Game - strikers love a goal flurry while defenders and goalkeepers crave a clean sheet. It's understandable and that pattern continues with Argentina international Demichelis.
After a rock solid second season in sky blue, 'Demi' could have chosen from a number of impressive displays and in his first year with the Club, his performance in the 2-0 win at Hull where the Blues were reduced to ten men fro 80 minutes or so, must have crossed his mind.
However, it was another game that he enjoyed more and in many ways, it turned out to be the perfect smash and grab...
The game: United 0 City 3, 25 March 2014
From the moment the game kicked off, it seemed as though there was no way City were not going to win this game.
Slick, focused and clinical, the Blues had a title to win and United were not going to stand in their way and after just 43 seconds, City were ahead as a sweeping move ended with Samir Nasri's low shot striking the post and Edin Dzeko tucked the rebound home

...My Favourite Game...
It didn't get much better for the Reds, either. Though the Blues spurned a number of opportunities, Demichelis and Vincent Kompany were dominant in defence and though United clung on, the second goal killed the game off and it was Dzeko again who did the damage with a clever side-foot volley that gave David De Gea no chance.
Yaya Toure added a late third to put the icing in the cake and City powered on towards the title.
The victory put City three points behind leaders Chelsea with two games in hand and just nine matches to play - though there were still plenty more dramas ahead in the title race...
Now watch and enjoy...
Martin's thoughts: "My favourite game was the derby at Old Trafford in 2014. It was more than just because we beat United 3-0 on their own ground. It was a great game, we were strong in defence, midfield and attack and it was a very good result for us at a crucial time. We went on to win the title and this victory meant a lot to our fans."
Media reaction: "The only proximity between City and United was in postcodes but the distance grows. City's margin of victory may look considerable but it still did not reflect the visitors' ­superiority. Manuel Pellegrini's side were hungrier, faster, stronger, more intelligent and better organised than David Moyes's anaemic hosts, shadows of the champions they became last season. It did not feel like a derby. It felt like a mismatch." Henry Winter, The Telegraph