First Team News
1
Guest column: Marc Riley
6 Music DJ and lifelong City fan Marc Riley kicks off our new guest columnist spot…
"Metaphor: A figure of speech in which a word or phrase is applied to an object or action which is not literally applicable."
Though having said that, sometimes it is! The phrase I have in mind is 'swimming with sharks'. This metaphor in particular meaning one has found oneself an environment where you are surrounded by ruthless peers who are equally or even more hell-bent on getting what they want as you are.
It could well be used to describe the scenario faced by the top tier of English football. The prizes and glamour are dazzling and hugely desirable. The fame immeasurable. The Kudos priceless.
The rivalry sometimes bordering on incendiary. Coincidentally, our first home game of the season sees the newly-expanded Etihad 'welcome' the current holders of these riches. Chelsea FC. The team that prevented the Blues (sky blue variety) from bagging the holy grail that is two Premier League titles on the bounce.
The perceived wisdom is that in truth we perhaps didn't give CFC enough to worry about in certain parts of the season and following the Christmas fixtures, almost gifted them the title.
But let's face it, we're relatively new to 'all this'! We came second in the oft-called 'best league in the world' and live to fight once again on European soil. Result. Plus we're more experienced now. I'm confident our trophy cabinet will be creaking under new weight come May 2016.
At this point it'd be rude not to say goodbye to the outgoing players and show a warm welcome to those on the ever-increasing incoming list and for me the most important name of the list of exports - James Milner who I know will always be well thought of by City supporters.
You may need to forgive the 'shark/metaphor' element in this my first missive of the season - but you see I'm just about to go off (wait for it) 'swimming with sharks'

...Marc Riley...
Actually the inverted commas are misleading on this occasion. I'm not going to spend this weekend trying to outwit Chris Evans in a joke-athon. I'm not going to be involved in a head-to-head 'play-off' with Steve Wright in the afternoon (nor indeed any other part of the day).
No, when I say I'm going swimming with sharks I mean exactly that! Big Scottish sharks, 22 foot-long sharks off the Isle of Mull - basking sharks to be specific. Up Scotland way.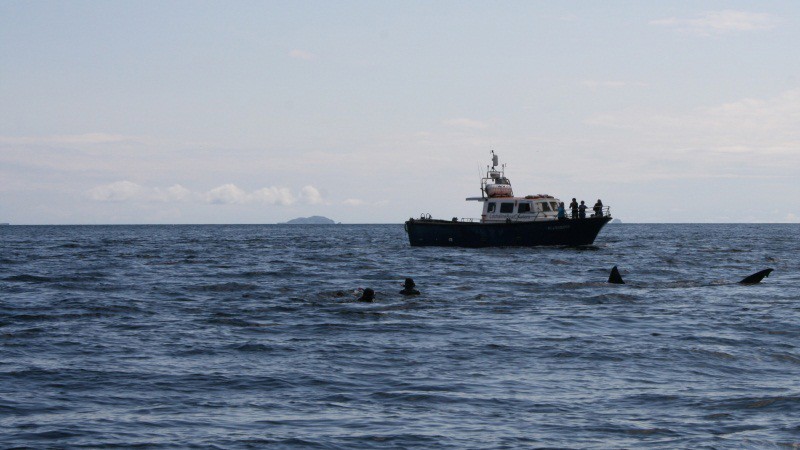 They don't really have any teeth and the usual joke being "but they could give you a nasty suck" (not to mention knock your block off with a swish of their gigantic tail) - but these prehistoric creatures set the pulse racing, I can tell you.
If you cast your mind back to the dying embers of THAT game against QPR and you'll recall exactly how hard the heart can pound.
The scariest part of this pastime being that you never really know if one is lurking unseen in the depths behind you. A bit like when we crept up behind Liverpool and nabbed the title off them in the May of 2014.
On this watery-white-knuckle ride I will be accompanied by two other Blues (Mike and Matt)…and one lone Liverpool supporter (Richard). Truth be told Matt, Mike and I will be keeping a watchful eye on both the big fish and our red friend. Sunday 11 May 2014 will be mentioned not once…
I've done this activity once before. With two Chelsea supporters! Now that really was dangerous…
Upwards and onwards – come on City!
Catch Marc's show from 7pm Monday-Thursday on BBC 6 Music digital radio