Men's Team
1
Hart: We matched Bayern and deserved draw
web-Joe-hart-super-save.jpg
A tough result to take but City's last gasp defeat to Bayern Munich is not terminal to their UEFA Champions League hopes.
It was a case of the ex for the Barclays Premier League champions as former City man Jerome Boateng struck in the 90th minute to give hosts Bayern Munich a 1-0 win on match day one.
One player who certainly didn't deserve to be on the losing side was Joe Hart.
The City keeper made a string of incredible saves, calling to mind his inspired performance against Borussia Dortmund at the Etihad in 2012.
The England international was philosophical in defeat and stated his belief that his team would have been good value for at least a point.
"We fought hard all night against a really good team and had chances as well - we played well but just a nasty deflection at the end has done us and Jerome Boateng comes back to haunt us," Hart said.
"If that Kun chance goes in at the end it would have been a completely different story.
"It would have been a well deserved draw, we made good clearances, we made good blocks and we made them work hard for everything. I tend to be busy against German teams but it's just a shame we didn't come away with the result – that's the important thing.
"We showed that we can match Bayern Munich but we have some very tough games now and we have to play well against CSKA and Roma now.
"Last year we had a poor start against Bayern but we won the rest of our games and qualified - we're confident we can do that again this time."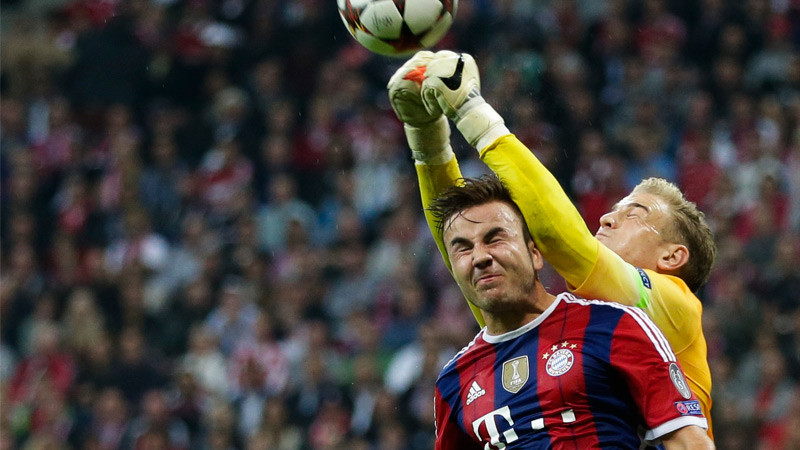 Bacary Sagna was singing off the same hymn sheet, putting forward the argument that his team did enough to share the spoils.
The Sens-born full-back made his Champions League debut for his new club and is keen to put the defeat out of his mind to concentrate on the visit of Jose Mourinho's unbeaten Chelsea at the weekend.
"We kept working really hard until the end and it was a goal at the end but we had chances as well," Sagna reflected.
"We played against great players, one of the best teams in Europe but we defended as a team.
"We kept the ball, not as much as they did but we played well and of course we're disappointed. We need to think about Chelsea now as we have a very difficult game on Sunday.
"It's very bad because until the end we were focused and we conceded a poor goal."
City were denied a penalty in the 83rd minute when David Silva appeared to be felled by Mehdi Benatia in the area.
Sagna felt as though the Spanish official should have pointed to the spot but doesn't want to waste time ruing what might have been.
"To me it looked like a penalty but the referee is human, he didn't whistle and unfortunately it wasn't given," he said.
"Everyone can make a mistake, I don't want to think about it because it can happen and we have important games to come."