Men's Team
1
Injured quintet missing for Wednesday clash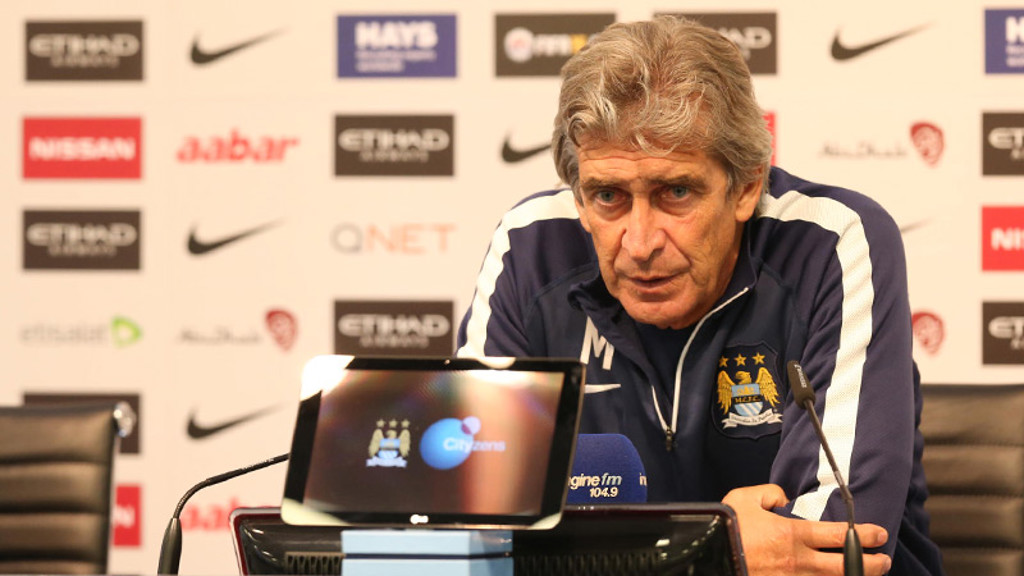 Manuel Pellegrini has confirmed that five City players will miss the Capital One Cup clash with Sheffield Wednesday through injury.
Sergio Aguero, David Silva, Samir Nasri, Fernando and Stevan Jovetic join the suspended Pablo Zabaleta on the sidelines as City get their defence of the Capital One Cup under way against the Owls at the Etihad Stadium.
However, the manager declared in his pre-match press conference that Aguero and Silva are likely to recover in time to face Hull on Saturday, while Jovetic and Fernando are also nearing a return.
Pellegrini said: "For tomorrow Sergio Aguero is not in the squad list because he has a problem with his knee, David Silva has a problem with his ankle and Pablo Zabaleta is suspended. Fernando and Stevan Jovetic are continuing to recover from their injuries and Samir Nasri has a groin problem.
"I think David and Sergio will recover without any problems for Saturday, Stevan will maybe be ready but if he cannot play on Saturday he will be ready for Tuesday. Fernando and Nasri will wait until next week."
The manager is therefore likely to name a changed line-up for the visit of the Owls, and he added: "All the players during this year, especially now we have to play seven games in 21 days, will have an opportunity to show what they can do."
Pellegrini cautioned that Sheffield Wednesday are enjoying a good run of form coming into this clash at the Etihad Stadium, and will present a difficult obstacle to progress in the competition which gave City's boss his first trophy on English soil last March.
The Chilean declared: "Every time that we play in this competition, and not only our team but every team, when you play against a Championship team it is very difficult. The motivation is not the same and they will come here and try to win.
"We had different experiences last season. We were eliminated here in the FA Cup against Wigan who were a Championship team.
"We won the Capital One Cup and we hope that tomorrow we can start in the same way as we played [in that competition] last year, because we won it with conceding just one goal and winning all our games.
"I know Sheffield Wednesday are in a very good moment and in the last ten games they have only lost one, but I am sure that tomorrow that the team will be conscious that we are playing to continue in the Capital One Cup."
City are also looking to bounce back after a tricky week of fixtures that pitted them against Arsenal, Bayern Munich and Chelsea within the space of eight days.
While the Premier League Champions are without a win in their last four encounters, Pellegrini insisted he is unconcerned about the team's form after some impressive team displays.
"I think we were very unlucky not to win one of those games," the boss argued. "If you don't win you have some problems that you must improve. But I am not worried because I don't think we are playing badly, especially in the games against Arsenal and Chelsea when we played very well.
"But it is important now for us to start adding three points in every game."
Asked about recent rumours concerning Sunday's goalscorer, Frank Lampard, he added: "Frank will stay with us until January. Before January he has nothing to do in the United States because they are not working. In January we will see what is happening here and we will make a decision then."
---
There is only one way to watch Wednesday night's Capital One Cup third round clash with Sheffield Wednesday live.
The first step towards defending our trophy won at Wembley in March will not be shown live on TV anywhere in the UK, so make sure you're at the Etihad Stadium on Wednesday 24 September.
Prices start at £5 for under-16s and £15 for adults, so no excuses: get your ticket now and make sure you don't miss out!