Men's Team
1
Pellegrini: Aguero one of the world's best
Manuel Pellegrini paid tribute to Sergio Aguero and Joe Hart but emphasised that the performance of the whole team was crucial in victory over Spurs.
Aguero scored all four goals as City ran out 4-1 winners while Hart made a number of crucial saves, including denying Roberto Soldado from the penalty spot.
The manager was quick to praise both players but said he was delighted with the display from every player on the pitch, although he felt mistakes were made.
Pellegrini told the press after the full time whistle: "First of all when we win a game it is not just because of one or two players. I think the whole team had a good performance.
"Of course when you score four goals as Kun did today or make as many saves as Joe Hart it is very important for our team. But it isn't fair not to talk about James Milner, Jesus Navas, Kompany or Sagna and what they did because all the team played well, although we made some mistakes."
However, the boss claimed that now Aguero is fit and firing he will demonstrate exactly why he is heralded as one of the world's top forwards – even if he doesn't score four every week.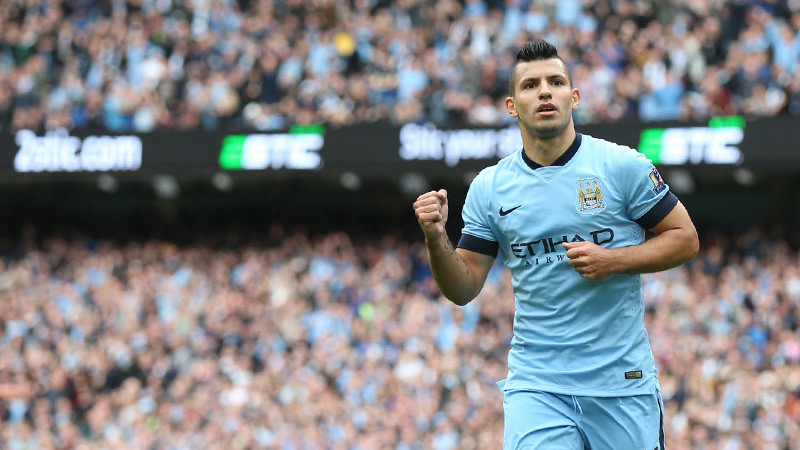 Said the Chilean: "I am not just saying this because he scored four goals today, but I think Kun is one of the best three or four strikers in the world. Last year he had injuries but now this season he is working very well - he didn't start the first game so he could be 100% fit.
"He won't score four every game but he will demonstrate why everyone says he is one of the best players in the world.
"Joe is the no.1 keeper in England. He made important saves today especially the penalty, but he also made a good save in the first five or six minutes which was important so we did not start with conceding a goal.
"We need every player in the team at a high level if we are going to do something."
City fans packed inside the Etihad Stadium were treated to a Saturday lunchtime thriller, comprising five goals, four penalties and a red card, but Pellegrini declared the scoreline could have been higher.
The manager underlined the importance he places on attractive, attacking football from his side, as well as delight in securing all three points after the international break.
The boss declared: "I think it was a very amusing game for the fans. We won 4-1 and the score could have been 7-3 as both teams had clear chances to score. It is important for the fans for us to be an attractive team, but maybe also not to make so many mistakes.
"It is very important to win this game after the international break and it is always difficult when you don't have the players to work with during the week. So I am very happy."
Pellegrini also gave an update on Frank Lampard, who was forced to depart the field during the first half on a stretcher.
"Frank has a muscle injury," Manuel explained. "We will see tomorrow after the scan but for the moment he will not travel to Russia."