Men's Team
1
Time to end the jinx says Zabaleta
Pablo Zabaleta hopes City can finally end their Stadium of Light hoodoo on Wednesday evening.
The champions have lost four successive games away to Sunderland, all by a score-line of 1-0 – and the granite Argentinian defender believes this is the perfect opportunity to lay the bogey team tag to rest.
"We need to kick on and make sure we get the result we need at Sunderland which is another really tough game on the road for is," said Zabaleta.
The Stadium of Light is a very tough place to go – especially for us – and I've never won there as a player

...Zabaleta...
"I was at the club the last time we won there in 2008, but I'd just signed and wasn't in the team. In fact, maybe I'm the jinx!
"But runs of results like this are there to be ended and if we play the way we did at Southampton we have a good chance of coming away with a victory."
Pablo revealed the team are feeling confident after comfortably dispatching Southampton on Sunday but believes beating Gus Poyet's side will be a tough nut to crack on their own ground.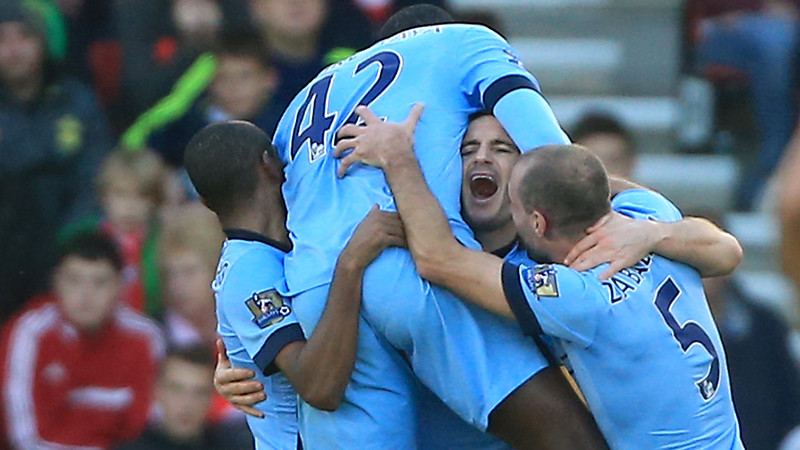 "I felt after the game that we had performed much more like the way we know we can play and we were happy," he said.
"Collectively we needed to improve and though there is still a long way to go, our win at Southampton was our third in a row which ended a great week for us.
"With the quality we have up front with their speed and ability, if we are given the space to hurt teams, we will. I don't expect there to be similar space up front against Sunderland because against Chelsea, they changed the way they played and defended much deeper – they did a really good job, too.
"Defensively they've been really solid apart from that one game against Southampton – but we will see because maybe they will play with width and try and attack us."
Zaba is also looking forward to seeing two former team-mates who he believes will continue to blossom on Wearside in the coming years.
"Adam Johnson is a really good lad and a fantastic player," he said. "It is difficult to play against a player like that because he attacks you on the outside or the inside – he prefers to cut inside more and try and get a shot away but he can be dangerous. He's been doing well for Sunderland and I pleased for him.
"It'll also be good to see Jack Rodwell as well. He's a young player who had bad luck with injuries at City and that made it difficult for him to hold down a regular place in the team, but I think he'll do really well at Sunderland because he' s a great player, too